The Terminal
Added security has turned a quick trip to the airport into a marathon experience. Extensive waits are not uncommon, transforming once bustling mini-municipalities into holding patterns. Imagine spending all day waiting for a flight. Imagine spending nine months waiting for a flight that never comes.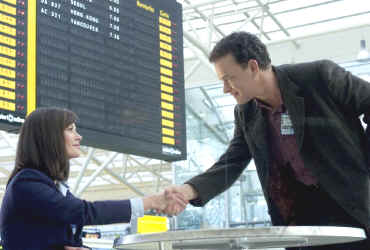 That's the plight facing Viktor Navorski (Tom Hanks), a East European tourist who literally becomes a man without a country traveling to New York City. While in the air, Navorski's small country Krakozhia is overthrown during a political coup, invalidating his passport and visa. Unable to return home (all flights have been canceled) and unable to enter the United States, Navorski is forced to live in the airport terminal until his legal status changes.
Speaking little English and short on funds, Navorski makes himself at home in the guest lounge and finds creative ways to make ends meet. What sounds like a fantastic piece of whimsy is based in reality, and as presented by director Steven Spielberg, writers Sacha Gervasi and Jeff Nathanson, and Hanks, becomes a wonderful, entertaining slice of life comedy.
It's not a perfect film, but when all is said and done, "The Terminal" embraces us with its wit, charm and good nature. Even the quasi-villain, a by-the-book security director played by Stanley Tucci, doesn't like what he's doing, hoping that Navorski's problem will work itself out before he is forced to make some tough choices.
"The Terminal" is grounded at every turn by a terrific Hanks who effortlessly guides us through the ebb and flow of a man who comes with no pretense or agenda. He is what he is, someone you can take at face value, an attribute that first distances and then endears him to the other terminal employees who become his extended family.
This is very much the work of an older Spielberg, a director who feels comfortable exploring the human condition on a human level. He has a great ally in Hanks, whom he directed in "Saving Private Ryan" and "Catch Me If You Can." Hanks reliably conveys the spirit and confusion of a stranger in a strange land, someone so pure and honest he refuses to lie even if it means his freedom.
Hanks redeems his larger-than-life turn in "The Ladykillers" with a performance filled with nuance and subtlety. It's not so much a performance as a realization. Even with the accent, we immediately accept Hanks as Navorski. Like him, we are immediately thrown into a chaotic world, and his confusion becomes ours. As Navorski begins to accept his fate and assimilate among the other employees, the writers are able to put life under a microscope. It's a unique microcosm filled with a kaleidoscopic of characters who are either passing through or just passing time.
Those passing time include custodian Gupta (Kumar Pallana), who amuses himself by watching those just passing through slip on his wet floor; baggage handler Mulroy (Chi McBride), who organizes card games to divvy up unclaimed loot; Enrique (Diego Luna), a food service worker who has a crush on immigration official Delores (Zoe Saldana); and sympathetic custom agent Ray (Barry Shabaka Henley).
While they form Navorski's extended family, he is attracted to Amelia (Catherine Zeta-Jones), a flight attendant who mistakes him for a frequent flyer. Nursing a broken heart, Amelia is attracted to Navorski's sincerity, an attraction that reminds us that true love can just drop out of the sky.
There isn't a bad performance in the film, and with "The Terminal," Spielberg reminds us that human drama can be just as interesting as spectacle.
Terminal Layover
Hanks becomes veritable man without a country
THE TERMINAL
Tom Hanks, Catherine Zeta-Jones, Stanley Tucci, Chi McBride, Diego Luna. Directed by Steven Spielberg. Rated PG-13. 129 Minutes.
LARSEN RATING: $7.00