Sprung
The first time I saw actor Joe Torry, he played a gang member's brother on television's "ER." He blamed Anthony Edwards' character Mark Greene of allowing his brother to die, and was suspected in the brutal beating of Greene in the men's restroom. It was an intense, angry role, and Torry played it so well that I had a hard time warming up to him in the wild, romantic comedy "Sprung." It didn't take me long to warm up to "Sprung," however.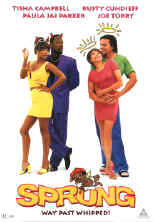 I was instantly smitten with writer-director Rusty Cundieff's twisted take on dating in the 1990's. As the film wore on, so did my reservations about Torry. It's a tribute to how good Torry is that he can play both good and bad guys with equal conviction. He and the rest of the cast are fabulous in "Sprung," a film that at first glance doesn't look like anything more than another sex comedy. Don't get me wrong, there's plenty of sex in "Sprung," yet director Cundieff manages to make it sexy rather than sexual. "Sprung" is actually two movies in one. The first is a sweet, good natured romantic comedy that Doris Day and Rock Hudson would have made today if she weren't so old, and he wasn't dead. The second is a wild and wooly slapstick comedy along the lines of "Booty Call." Cundieff brings them together with the assurance of a seasoned director. He has you laughing one moment, swooning the next. He also stars as Montel, a sweet and sometimes naive photographer whose best friend is Clyde (Torry). Clyde is the polar opposite of Montel. He's a player, and will do anything to meet his quota. They're as different as night and day, which puts them in good company with Brandy (Tisha Campbell) and Adina (Paula Jai Parker). Brandy is the responsible law clerk who dreams of becoming a lawyer, while Adina is a money-hungry player who comes equipped with her own "man-scan" (just one of the film's funny cinematic flourishes). Fate brings them together at a party, with Clyde and Adina hitting the sheets before the they know each other's last names. In true romantic comedy fashion, Brandy and Montel don't hit it off, but we know it's just a matter of time before true love wins them over. On the other hand, after one night in the sack, Adina and Clyde hate each other's guts. When they see their best friends falling in love, they conspire to break them up. Will true love win out? That's just one of the many surprises in Cundieff's surprisingly engaging film. Cundieff fills the film with theatrical touches like animation, split screens, fairytale trimmings, and within the context of the film they work incredibly well. That's because it's easy to invest in the characters, even when they're involved in some outrageous scheme. Cundieff is very appealing as an actor, while Tisha Campbell is always a delight. She's especially strong here. I had such a blast spending time with Paula Jai Parker and Joe Torry as Adina and Clyde that they should star in their own movie. "Sprung" features a very appealing soundtrack that features more soul and pop than hard-core hip hop. It reminded me of the "Waiting to Exhale" soundtrack. I'd buy it. As for the film, there's enough laughs and heart in it to make more than one viewing worth the time and effort.
COMPLETE CHECK-UP
VISION: [ X ] EXCELLENT [ ] GOOD [ ] RESUSCITATE [ ] D.O.A.
Gorgeous 1.85:1 widescreen digital transfer is sharp and vibrant. The colors are vivid and striking, while the blacks are dense. The flesh tones are especially attractive. No noticeable signs of pixelation or compression artifacts. The overall image displays great depth and definition. Very nicely done.
HEARING: [ X ] EXCELLENT [ ] GOOD [ ] RESUSCITATE [ ] D.O.A.
Outstanding 2.0 Dolby Surround track fills the room with a wide range of sound, from the sharp, clear witty dialogue, to the excellent mix of pop and soul songs. No noticeable distortions. The bass lines are strong and impressive, while the high range is deep and penetrating. Ambient noises sound natural, while the stereo separation is distinct.
ORAL: [ ] EXCELLENT [ X ] GOOD [ ] RESUSCITATE [ ] D.O.A.
Spanish and French Subtitles.
COORDINATION: [ ] EXCELLENT [ X ] GOOD [ ] RESUSCITATE [ ] D.O.A.
Playful interactive menus that are perfectly themes to the film's title, plus a healthy number of chapter stops. There's a behind-the-scenes featurette, plus cast and crew information. The DVD also features the original theatrical trailer, and if you click on the Trimark logo on the main menu page, there's a hidden theatrical trailer for "Eve's Bayou."
PROGNOSIS: [ X ] EXCELLENT [ ] GOOD [ ] RESUSCITATE [ ] D.O.A.
I had to stop myself from laughing long enough to write this review. "Sprung" springs to life on DVD.
VITALS: $29.99/Rated R/108 Min./Color/24 Chapter Stops/Keepcase/#VM6884D
ATTENDING RESIDENT: John Larsen
PATIENT: SPRUNG
BIRTH DATE: 1997
HMO: Trimark Home Video