Spellbound
Like most Alfred Hitchcock films, the lead character in "Spellbound" is haunted by something in his past. In "Marnie," Tippi Hedren went over the deep end every time she was exposed to bright red. Jimmy Stewart learns that he has been stricken by "Vertigo" after he lets his partner fall to his death off a high rooftop. Even Anthony Perkins was troubled by the death of his mother in "Psycho," a secret he kept to himself with horrendous effect.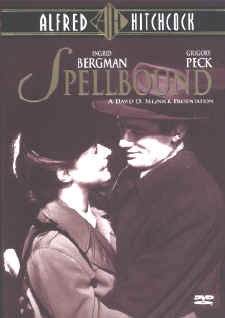 The best Hitchcock characters are those who are forced to face their innermost fears in order to reach the light at the end of the tunnel.
Parallel lines on a white background are what trigger violent outbreaks in Dr. Edwardes (Gregory Peck), who has arrived at a mental asylum to take over as director. His affliction not only scares Dr. Edwardes, but also Dr. Constance Petersen (Ingrid Bergman, in the first of three films for the Master).
She learns is that Dr. Edwardes is actually an amnesiac who may have been responsible for the disappearance of the real Dr. Edwardes. After an interesting, almost hypnotic trip, Petersen learns that Edwardes is actually John Ballantine, and his panic attacks are the result of a deep guilt that has been eating away at him since childhood.
The mystery continues as Ballantine and Petersen attempt to find out what happened to the real Edwardes.
Moody and atmospheric, "Spellbound" is classic Hitchcock. Ben Hecht's screenplay is a tight little exercise in suspense and romance. Petersen loves Edwardes, but she is also frightened by him. She hopes that her love will be enough to see him through. By setting the film in a mental institute, Hitchcock and Hecht allow themselves the ability to explore themes that would have seen absurd in any other setting.
The psychobabble being dispensed is only a smoke screen to advance the plot. Once again Hitchcock explores duality in his characters. A lot of images are seen in mirrors or reflections. You're never sure if what you are seeing is the real thing.
The dream sequence is one of Hitchcock's best, a surreal exploration into the mind of madness. Hitchcock used artist Salvador Dali to create the 20-minute sequence in the film, which is filled with abstract images.
"Spellbound" has always been considered a fringe Hitchcock film. People rarely mention it when they recall their favorite Hitchcock films. The DVD (and video) by Anchor Bay hopefully will make this little masterpiece gain wider attention.
COMPLETE CHECK-UP
VISION: Excellent

1.33:1 Aspect Ratio

Delivered in the film's original theatrical aspect ratio, the digital transfer is sumptuous. Anchor Bay has done an excellent job of coming up with a negative that is virtually free of any wear and tear. There are a couple of lines and some minor flecking, but for the most part, the images are sharp. Blacks are strong and impenetrable, while whites and grays are absolutely stunning. Depth of field is amazingly deep, with nice attention to detail. No compression artifacts visible.
HEARING: Good

Dolby Digital Mono

Decent Dolby Digital Mono soundtrack gets the job done. Clean soundtrack allows for strong dialogue mix and virtually no hiss or distortion.
ORAL: Poor

No closed captions or subtitles.
COORDINATION: Poor

Aside from the main and scene access menu, there isn't much here. Move along.
PROGNOSIS: Good

The film alone is a keeper. The treatment it gets on DVD pushes it home.
VITALS:

$24.98/Not Rated/111 Minutes/B&W/16 Chapter Stops/Keepcase/#DV10810
ATTENDING RESIDENT: John Larsen
PATIENT: SPELLBOUND
BIRTH DATE: 1945
HMO: Anchor Bay Entertainment