Small Time Crooks
All roads lead home, so it's not surprising that filmmaker Woody Allen returns to his roots 31 years after he wrote and directed "Take The Money And Run."
His latest, "Small Time Crooks," is a reflective comedy that proves everything old is new again. With the daft assurance of his earlier work and the bold strokes of his recent, "Small Time Crooks" emerges as the perfect Woody Allen film for the new millennium.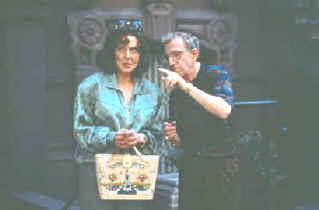 Like the cookies that prove central to the plot, "Small Time Crooks" is a delicious treat. Every bite delivers a feast filled with scrumptious dialogue and rich performances.
Not only is "Small Time Crooks" the first Allen film of the new millennium, it also marks the first time that he has worked with Elaine May. Even though their careers frequently crossed paths, it's mind-boggling to believe that these two comic geniuses have never shared the same stage of film frame.
The pairing is such a natural, you wonder what took them so long to find each other. May's earlier stand-up work with director Mike Nichols established her as Allen's female equivalent. Together, Allen and May are a delight. Their union is just one of the many pleasures of "Small Time Crooks."
As usual, Allen has assembled a brilliantly funny cast to tell the story of a former con whose dreams of financial freedom involve a bank heist. It's easy to see why actors want to work with Allen. His ability to write interesting, flesh and blood characters and situations are obviously more incentive than money, because everyone in the cast, regardless of box office appeal, gets paid the same.
This arrangement forces everyone to work from the same page, and it's this mutual respect that makes "Small Time Crooks" so engaging. You not only believe in the characters, you want to become part of their lives for an hour-and-a-half. By the time the film is done, you feel like you know Ray and Frenchy Winkler and their friends.
Allen is Ray, an ex-con who takes care of his wife Frenchy (Tracey Ullman) by working as a dishwasher. It's a nowhere job going nowhere fast, so Ray looks for way out. His dream of retiring to Florida with Frenchy comes within grasp when he decides to break into a bank. Banding together with a group of dimwit ex-cons (Michael Rapaport, Tony Darrow, Jon Lovitz), Ray plans to tunnel from the basement of a nearby store under the bank. As a front, Ray allows Frenchy to sell her cookies from the store. It's not long before the cookies are a hit, and Frenchy is forced to hire her cousin May (Elaine May).
As Frenchy's cookie empire grows, in the basement it's a case of the blind leading the blind. When Ray and his accomplices aren't flooding the basement, they're tunneling the wrong way. These mishaps and the addition of extra characters reminded me of director Howard Morris' 1967 comedy "Who's Minding The Mint?"
In that film, Treasury worker Jim Hutton is forced to team up with a group of oddballs in an effort to break into the Treasury and print some missing money. Allen fills Ray's attempts with numerous humorous roadblocks, including an unexpected visit from a police officer.
At that moment, Allen does something extraordinary. He takes the film into a different direction. Instead of a film about inept criminals (territory he covered in "Take The Money and Run"), Allen makes "Small Time Crooks" a bittersweet Valentine about simple people trying to live beyond their means and failing.
The message is be careful what you wish for, because you might get it. That's what happens to Ray and Frenchy, who become filthy rich when the cookies become a national guilty pleasure. They finally have more money than they can spend, yet Ray and Frenchy are no longer happy. He yearns for the simpler times, while she aspires to become a socialite.
There are so many layers in Allen's screenplay, but the fish out of water angle serves him best. The humor is familiar yet more sophisticated. While Frenchy is off taking culture lessons from questionable art dealer David (Hugh Grant, at his most smug), Ray is finding joy in the simple things, which include May.
May serves as the perfect foil, because she never does anything out of malice. She's sweet and simple, and occasionally shrewd. Most of the time she's a space case (but not nearly as accident prone as May's similar character in "A New Leaf"), but every now and then she says something absolutely brilliant. You're never sure what's going to come out her mouth.
"Small Time Crooks" serves as a reunion of sorts for the rest of the cast and crew, who have worked with Allen on previous projects. Ullman, so funny in "Bullets Over Broadway," is delightful and ultimately poignant as a woman who understands her station in life, but would give anything (and does) to get off at another stop.
Michael Rapaport ("Mighty Aphrodite"), Tony Darrow ("Bullets Over Broadway") and Jon Lovitz are hysterical as Ray's criminal cohorts, especially Rapaport, whose character Denny is obviously not hitting on all cylinders.
Like last year's "Sweet & Lowdown," "Small Time Crooks" looks sensational. Director of Photography Zhao Fei's warm, amber tones perfectly reflect the sensibilities of the script, as does Santo Loquasto's handsome production design. Allen compliments the comedy and pathos with his usual selection of Big Band music, and even surprisingly slips in The Champs "Tequila," a radical departure for the director.
"Small Time Crooks" delivers big time laughs, a hearty tribute to Allen's entire career. All roads lead home, and Allen's rediscovery of his roots will delight fans old and new.
FUNNY MONEYWoody Allen locks up likeable Crooks
SMALL TIME CROOKS
Woody Allen, Tracey Ullman, Elaine May, Hugh Grant, Jon Lovitz, Michael Rappaport, Tony Darrow, Elaine Stritch in a film directed by Woody Allen. Rated PG. 91 Minutes.
LARSEN RATING: $7