Shrek 2
You can't keep a good Ogre down, and if "Shrek 2" is any indication of what to expect from the big green guy (with apologies to the Hulk), who would want to? "Shrek 2" defies conventional box office wisdom, a sequel that is not only as good as the original, but in many ways, better.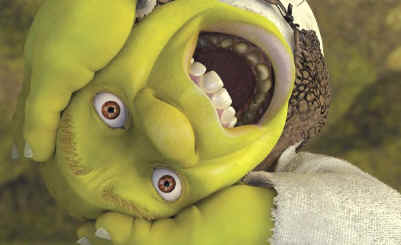 I laughed so hard and felt so good after leaving the theater I immediately wanted to get back in line and see it again. "Shrek 2" demands a second viewing. The filmmakers jam-pack every frame with something funny or interesting, a computer-generated visual feast with something for everyone. "Shrek 2" successfully reaches across all demographics. Kids will love the characters and slapstick humor, teens and adults will appreciate the cultural references and sword-sharp wit.
"Shrek 2" picks up exactly where "Shrek" ended, with Shrek (voice of Mike Myers) and Princess Fiona (Cameron Diaz) enjoying their honeymoon. Back in the swamp, the happy couple are surprised to find Donkey (Eddie Murphy) shacking up in their hut, nursing a broken heart after being left by Dragon. Before they can tell Donkey to get his ass out, Shrek and Fiona are summoned by Fiona's royal parents to Far Far Away, a royal kingdom that looks amazingly like Beverly Hills.
Like the Willie Nelson song, Shrek, Fiona and Donkey find themselves on the road again, headed towards a family reunion that will test their love for each other and for Fiona's parents, who believe their daughter is human and has married Prince Charming (Rupert Everett). Surprise turns to anger when The King (John Cleese) refuses to accept the union and hires feline assassin Puss "N" Boots (Antonio Banderas) to get rid of his son-in-law.
What makes the "Shrek" films, based on the books by William Steig, so endearing and timeless, is their plots are based on the very fairytales being spoofed. Even though the dialogue and landscapes feature current and classic references, the films follow traditional fairytale paths that are familiar to us. Take away the cultural references and the "Shrek" films still work. As they continue, the "Shrek" films will also serve as a cultural barometer. Ten years from now you'll still be able to appreciate "Shrek 2" on two levels: as entertainment, and as a 24-frame-per minute flip book on what was hip and cool at the time.
Technology allows the filmmakers to push the computer animation boundaries, creating photo- realistic characters that effortlessly draw us into their fairytale world. We don't see Shrek or Fiona as Ogres. We see them as soul mates who just happen to be green. Even as the rest of the fairytale kingdom conspires against them, we root for Shrek and Fiona. That alliance makes their victory our victory, and like loyal Donkey, we find ourselves standing side-by-side with Shrek as he fights for the woman he loves.
He's a true hero, and voiced by Mike Myers and animated with zestful zeal, a spirited creation that should live on for many sequels. It may not be easy being green, but it sure is a lot of fun.
Snappily Ever After
"Shrek 2" excels in irreverent humor and biting wit
SHREK 2
Voices of Mike Myers, Eddie Murphy, Cameron Diaz, Antonio Banderas, John Cleese, Julie Andrews, Jennifer Saunders, Larry King. Directed by Andrew Adamson, Kelly Asbury, Conrad Vernon. Rated PG.
LARSEN RATING: $8.00