Shaft
Sitting on the shelves of my video library are copies of films such as "Shaft," "Coffy," "Truck Turner" and "Superfly." I have these films in my video library not because of their historical significance, but because of their personal significance.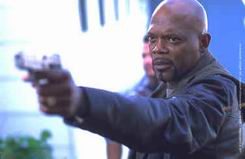 As a young teen, I remember sitting through double features of these films in old, dark theaters that are now just memories. Fortunately, the films are still with us, providing an invaluable link to a time and place that no longer exists: the early 1970's.
Almost 30 years after making cinematic history, "Shaft" is back on the big screen, and I couldn't be more pleased. "Shaft" arrives on the heels of "Gone in 60 Seconds," another remake of a popular 70's film. The results are as different as night and day. There was no reason to remake "Gone in 60 Seconds."
"Shaft," on the other hand, is an icon who demands another visit. 1971 was the perfect time and place for a bad, cool cat like "Shaft," played with no-nonsense prowess by Richard Roundtree. Freed of a restrictive movie code system, the filmmakers reveled in the period by making films that were more cutting edge and adult.
This was the perfect stomping ground for black private eye John Shaft, who mixed business with pleasure and a healthy dose of brutality. "Shaft" launched a genre all its own known as blaxploitation.
Usually made on the cheap by B studios like American International Pictures, these films touched a nerve in American audiences, and crossed all ethnic boundaries. They became hits because they gave audiences what they wanted: a strong hero (or heroine), and lots of sex and violence.
The new "Shaft" remains true to the formula, but sadly lacks the sex. It's hard to imagine "Shaft" without a babe in his arms, yet director John Singleton's respectful remake moves at such a clip there's hardly time to care. Instead, enjoy the powerful performance of Samuel L. Jackson, who not only inherits the dream role of any black actor, but makes it his own.
Jackson kicks butt as New York Police Detective John Shaft, infamous for his zero tolerance policy for crap. He doesn't dish it, he doesn't want any back. Pray for those who shove it in his face. That would be enough to piss off most men, but we're talking about "Shaft." Jackson perfectly conveys this attitude, punctuating every word with a believability that would make most criminals wet themselves.
The screenplay by Richard Price, Shane Salerno and Singleton is extremely serviceable and timeless in its theme. Their decision to make the plot about a race murder could have actually been a "Shaft" film back in the 1970's. By tossing in a variety of bad guys of all races, the writers and Singleton avoid finger pointing or preaching.
When the suave, racist son (Christian Bale) of a New York developer kills a black man, detective John Shaft makes it his mission to see that justice is served. After spending two years on the lam in Switzerland, the son returns home and forces Shaft to play his hand. Knowing that justice will never be served, Shaft quits the force. Now he's a free agent, and that is bad news for the scum of New York.
Filled with tough dialogue and action, "Shaft" also delivers a colorful gallery of supporting characters. Jeffrey Wright (Basquiat) has a lot of fun with Peoples Hernandez, a smarmy drug dealer who constantly rubs Shaft the wrong way. Toni Collette (The Sixth Sense) is extremely fragile as a witness to the murder, while Bale mixes charm and chump with equal results.
In keeping with the spirit of the 1971 film, the filmmakers have found room for original star Richard Roundtree, who plays Shaft's uncle. Like any film based on an institution, these connections are important to audiences. I remember the audience's reaction when the television "Brady" brood popped in the "The Brady Bunch Movie." The same applies here. Roundtree's absence would have cheated the audience.
Singleton and his crew of magicians take the original's foundation and build a modern tribute to the genre on it. From the nostalgic yet hip credits (think James Bond meets Seven) to Issac Hayes' funky title song, the filmmakers have created a film that remains true to its source. David Arnold's musical score is honestly reflective of the first film while Patrizia Von Brandenstein's production design suggests that time has stood still for "Shaft."
Singleton does a splendid job behind the camera. He doesn't try to be too flashy. Singleton understands the strengths of the genre, and engages them. Donald E. Thorn's photography is crisp and clean, while editor John Bloom has fun with numerous wipe fades that were all the rage back in the early 70's.
What disappointed me the most about "Gone in 60 Seconds" was that the filmmakers forgot they were making an exploitation film. Singleton doesn't forget, he revels in it. In return, he delivers an immensely entertaining film that is both nostalgic and reverent. You never feel insulted. Instead, you come out of the theater pumped up and invigorated. I hope this "Shaft" follows in the tracks of its predecessor and goes on to become a franchise.
I'd like to see more of this cool cat!
COPPING AN ATTITUDEJackson gives us the Shaft in respectful remake
SHAFT
Samuel L. Jackson, Vanessa L. Williams, Christian Bale, Jeffrey Wright, Busta Rhymes, Dan Hedaya in a film directed by John Singleton. Rated R. 98 Minutes.
LARSEN RATING: $7