Secret Window
From the mind of Stephen King comes "Secret Window," a psychological thriller starring Johnny Depp as a King-sized burnt-out writer looking for inspiration for his next novel. If anyone knows about writers-on-the-brink it's King, whose novels include "The Shining" and "Misery."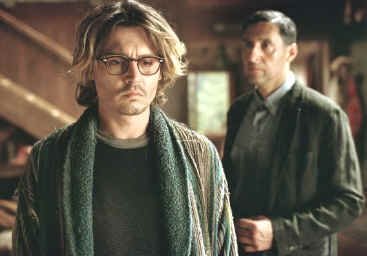 "Secret Window," based on King's novella "Secret Window, Secret Garden," is an effective adaptation by writer-director David Koepp, who captures King's sense of whimsy and dread and neatly packages it into a ninety-minute fright fest. Unfortunately "Secret Window" runs ninety-six minutes, and serves as a reminder that King has never been a master of wrapping up a good story.
One has to look no further than "The Stand" to understand what I mean. King is a master storyteller, but more often than not runs out of ideas before the last chapter is done. "Secret Window" is no exception.
Depp, looking unkempt and disheveled, is extremely watch-able as popular crime writer Mort Rainey, holed up in a desolate cabin trying to pound out his latest novel. Writer's block in the least of Rainey's problems. He's just caught his wife (Maria Bello) with another man (Timothy Hutton, who starred in the King movie "The Dark Half") and is getting divorced. Now a ranting and raving stranger (John Turturro) has shown up at his door claiming Rainey has stolen his story.
Knowing full well that his manuscript predates the lunatic's claim by several years, Rainey dismisses the claim and the man, a decision he soon regrets. When a campaign of violence escalates between the two men, Rainey hires a "fixer" (Charles S. Dutton), a former cop with a knack for getting tough jobs done. Like in the novella, King lays out all of the groundwork for a tidy little "cabin fever" thriller: a frazzled man forced to prove his innocence, a stranger with a debt to settle, an isolated location, lots of rain and things that go bump in the night.
Koepp, the acclaimed screenwriter-turned-director, is the perfect person to bring all of these elements to the screen in a taut and entertaining fashion. As the writer-director of "Stir of Echoes," Koepp proved his ability to create unnerving suspense and creepy imagery. Even though he's working on a more superficial level, Koepp still manages to get under our skin.
"Secret Window" is blessed to have Depp at the helm, an actor who can keep a straight face under the most absurd conditions. With Koepp's reassurance, Depp takes some courageous leaps of faith. His conviction is the key that unlocks this Pandora's box of gothic chills. Koepp dispenses a lot of information by having Rainey talk to himself, and Depp never makes us feel like it's being done for our advantage. There's nothing worse than when characters explain the plot to the audience.
Turturro is positively frightening as John Shooter, the proverbial bad penny who keeps turning up. Like Julian Beck's fire and brimstone Preacher Kane in "Poltergeist II," Turturro commands the screen with his over-the-top evil. When they first meet, Shooter turns Rainey's porch into his own personal pulpit, preaching the truth behind "vengeance is mine."
"Secret Window" is very insular. Most of the action takes place in or near the cabin, the perfect setting for a battle of wills. None of this would seem plausible in the light of day, so Koepp keeps everyone, including the supporting characters and the audience, in the dark. There are moments when he telegraphs plot points and revelations, but fortunately the cast is talented enough to reinterpret the message.
There have been as many Stephen King movie adaptations as Ron Jeremy films, and while some have been limp, "Secret Window" rises to the occasion.
Here's Johnny…Secrets shattered in latest King thriller
SECRET WINDOW
Johnny Depp, John Turturro, Maria Bello, Charles S. Dutton, Timothy Hutton, Len Cariou. Directed by David Koepp. Rated R. 96 Minutes.
LARSEN RATING: $6.00