The Santa Clause
It's hard to believe that "The Santa Clause" was released four years ago. Since then, it's combination of clever humor, heart and seasonal spirit have made it a perennial holiday favorite. The film's star, Tim Allen, was riding the crest of his success on television's "Home Improvement." Allen's comic timing made him a natural for the big screen, and he hit pay dirt with "The Santa Clause."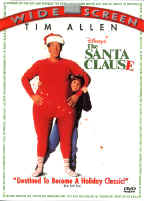 Allen brought along director John Pasquin, who has guided him through the first few seasons of "Home Improvement." Together, working from a very funny and tender script by Leo Benvenuti and Steve Rudnick, the duo recreate their small screen chemistry on the big screen. Allen is sensational as Scott Calvin, a toy company executive who shares his young son with his ex-wife Laura (Wendy Crewson), who is now married to a self-righteous psychiatrist named Neal (Judge Reinhold).
Scott wants to be a better father, but is so immersed in work that he can't spend the time he wants with his son. All that changes Christmas Eve, when son Charlie (a very engaging Eric Lloyd) wakes his dad up because there's a noise on the roof. Charlie thinks it's Santa Claus, and he's right. Unfortunately, Scott scares the jolly fat man, who slips and falls to his demise. Scott retrieves a card from Santa's suit that requests he put on the suit, and that the reindeer would know what to do. Reindeer? Scott and Charlie climb up on the roof, and lo and behold, there's Santa's reindeer. Through some dumb luck and pleading by Charlie, Scott puts on the suit. Too bad he didn't read the fine print, because whoever puts on the suit agrees to become the next Santa.
Scott and Charlie wind up at the North Pole, where lead elf Bernard (David Krumholtz) clues Scott in on his new duties. He'll be allowed to return home until Thanksgiving, when he will have to return to prepare for the big day. When Scott awakens the next morning, he thinks it was all a dream. Charlie knows better, but his insistence that he and his father went to the North Pole upsets poor Neal, who believes that Scott is delusional.
Then Scott begins the transformation. A couple of extra pounds at first, then a few gray whiskers. Then before he knows it, Scott has filled out enough to wear the Santa suit, and sports a full beard. He has become Santa, and it's up to Charlie to convince him to fulfill his duties. How Scott rises to the occasion and helps save his relationship with his son makes for a wonderful finale to a wonderful film.
There is so much humor and heart at work in "The Santa Clause" that it's hard to ignore it's charm. I've seen the film numerous times, and yet I still found myself laughing, and towards the end, teary-eyed. The cast is superb, especially Allen. He sets the tone for a fun, frothy film.
COMPLETE CHECK-UP
VISION: [ X ] EXCELLENT [ ] GOOD [ ] RESUSCITATE [ ] D.O.A.
Once again, another superior digital transfer from the folks at Disney. Hardly a trace of compression artifacts. Instead, enjoy the vivid colors, the warm and pleasing flesh tones, and the solid as a rock blacks that never waver. "The Santa Clause" has been transferred in it's original 1.85:1 widescreen ratio, and it looked sensational on my TV. The images displayed great definition and depth.
HEARING: [ X ] EXCELLENT [ ] GOOD [ ] RESUSCITATE [ ] D.O.A.
Vibrant 5.1 Dolby Digital Surround track puts you right in the middle of the movie. Strong basses, crystal clear high ends and excellent separation. Detailed ambient noise and no distortion whatsoever. There's also a French Language Dolby Surround track that is just as succinct.
ORAL: [ ] EXCELLENT [ X ] GOOD [ ] RESUSCITATE [ ] D.O.A.
Closed captioned in English.
COORDINATION: [ ] EXCELLENT [ ] GOOD [ X ] RESUSCITATE [ ] D.O.A.
The original theatrical trailer, nice but standard issue main and scene access menus, and cross-promotional title suggestions.
PROGNOSIS: [ X ] EXCELLENT [ ] GOOD [ ] RESUSCITATE [ ] D.O.A.
It just wouldn't be Christmas without "The Santa Clause."
VITALS: $29.99/Rated PG/97 Min./Color/17 Chapter Stops/Keepcase/#14898
ATTENDING RESIDENT: John Larsen
PATIENT: THE SANTA CLAUSE
BIRTH DATE: 1994
HMO: Walt Disney Home Video