Rush Hour
The buddy movie is alive in well in the form of "Rush Hour," a thoroughly engaging action-comedy teaming Asian superstar Jackie Chan with American comedian Chris Tucker ("Friday"). It's a tried and true formula that when it works, works well. The buddy cop comedy has been around for decades.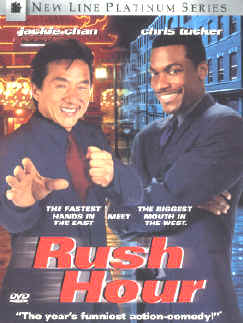 Alan Arkin and James Caan traded quips and insults in "Freebie in the Bean" in the 1970's. Eddie Murphy and Nick Nolte crossed paths and barbs in "48 Hrs." in the 1980's. Now comes the teaming of Chan and Tucker in "Rush Hour," and the results are red hot. "Rush Hour" grossed $140 million in theaters, proving that audiences are hungry for this sort of film. Working from a functional and occasionally inspired script by Jim Kouf and Ross LaManna (with an uncredited assist from Jeff Nathanson), director Brett Ratner ("Money Talks") pumps up the action and laughs with this mis-matched buddy film that gives fans the best of two worlds. Not only do we get the high-kicking action of Chan, we get the motor mouth laughs of Tucker, who is poised here to become the next Eddie Murphy.
The plot is functional, yet it's the performers who make the film so memorable. Chan is excellent as Detective Lee, a Hong Kong cop who manages to break up a smuggling ring. Unfortunately, the leaders of the group manage to slip away and escape to the United States. It's there where they kidnap the daughter of the Chinese consul (Julia Hsu, extremely bright and feisty), a personal friend and former student of Lee back in Hong Kong.
So it's only a matter of time before Lee is summoned to Los Angeles by the consul to help find his daughter. Lee's interference doesn't sit well with the FBI, who look for a way to keep Lee occupied while they do their job. They turn to LAPD Captain Diel (the ever durable Philip Baker Hall) for a babysitter, who is more than happy to send troublesome undercover detective James Carter (Tucker).
Carter's assignment is to keep Lee away from the investigation, an assignment that becomes impossible to fulfill when Lee insists on getting in on the action. What makes a good buddy movie a great buddy movie is conflict, and there's a lot of conflict in "Rush Hour." Not only do you have the cultural gap between Lee and Carter, there's also minor conflicts between the two stars and the FBI agents in charge, and between Carter and female detective Tania Johnson (Elizabeth Pena).
These conflicts arm the writers with enough witty banter and asides to keep both the stars happy. Tucker is hilarious as the confidence man with a badge, while Chan seems to have a blast starring in his first major American film. His English is limited, but the words that come out of his mouth are gems. It's fun to watch Chan and Tucker volley the dialogue around like a game of tennis. The film contains its share of close calls and action-packed scenes, including an explosive shoot- out in a museum and an explosion that rocks numerous city blocks.
Ratner avoids the sophomore jinx by delivering a film that's definitely more assured and entertaining than his first film "Money Talks," which starred Charlie Sheen and Tucker. Ratner knows where to put the camera, and how to maximize a laugh. Filled with close calls, outrageous physical stunts, and superior production detail (the nifty score is by Lalo Schifrin, the dazzling cinematography by veteran Adam Greenberg), "Rush Hour" is grand entertainment that sizzles from the first frame to the last. Hang around for the credits and you'll be rewarded with outtakes from the film.
COMPLETE CHECK-UP
VISION: [ X ] 20/20 [ ] Good [ ] Cataracts [ ] Blind
Superior digital transfer captures the sharp as a tack cinematography of Adam Greenberg with precision and ultimate respect. Working from a pristine master, the transfer is virtually free of compression artifacts, noise or pixelation. Instead, you get strong colors and saturation, excellent flesh tones that are as honest and pure as they come, and industrial strength blacks and shadows that never give up the ghost. "Rush Hour" features meticulous lighting designs, and not once does the transfer upset the natural tones and colors. The blues are sharp and vivid, the reds exciting and vibrant, the yellows hot as the sun. Delivered in the film's original 2.35:1 widescreen ratio (enhanced at 16:9 for widescreen televisions), the DVD displays outstanding field of depth and excellent attention to detail.
HEARING: [ X ] Excellent [ ] Minor Hearing Loss [ ] Needs Hearing Aid [ ] Deaf
That noise you hear is my neighbors banging on my front door, begging me to close my windows and doors while watching "Rush Hour." This is one film where you have to crank up the volume to truly appreciate the fine-tuned soundtrack mix. That way you can appreciate the thundering basses that rock the Casbah, and the crystal clear high ends that pierce the air with precision. The dialogue mix is excellent, never missing a beat, which is important in this film. The stereo and spatial separation is profound and distinctive, coming at you from every direction. Lalo Schifrin's catchy score pours out of every speaker with clarity, while the ambient noise is so realistic it's annoying at times. No noticeable hiss or distortion, just pitch-perfect sound that fills the room with an intensity that demands you crank up the volume. The DVD features both a 5.1 Surround and Stereo Surround soundtrack, and while both deliver the goods, for the best presentation, choose the 5.1 track.
ORAL: [ ] Excellent [ X ] Good [ ] Poor
Closed captions in English for the hard of hearing.
COORDINATION: [ X ] Excellent [ ] Good [ ] Clumsy [ ] Weak
Once again, this New Line Platinum Series DVD lives up to its name. Here's what's on the disc:

Running audio commentary with director Brett Ratner. Surprisingly, Ratner's commentary isn't nearly as hyperactive as he appears on the DVD's behind-the-scenes documentary. Ratner is a ball of energy, yet the director's commentary is rather lackluster. He sounds either bored or worn out. It's the usual gathering of thoughts and ideas about making a big budget action film with two big stars and lots of explosions. Watch the documentary instead for a better idea of Ratner's enthusiasm for the project.

A second audio track featuring commentary from composer Lalo Schifrin and his isolated musical score. While it's hard to understand some of Schifrin's phraseology, it's a delight to be able to hear his musical score without the usual distractions like dialogue and sound effects.

Numerous deleted scenes which are more needless ends or beginnings of other scenes. There are one or two gems here, but for the most part they're just add ons to push up the value of the DVD.

A lengthy behind-the-scenes documentary "A Piece of the Action-Behind the Scenes of Rush Hour." Learn everything you always wanted to know about the making of "Rush Hour," and then some. Besides the usual star quotes, the documentary features numerous rehearsal shots showing how Chan meticulously blocks out an action scene. One lengthy scene shows how Chan comes up with the blocking for an intricate gun exchange. It's fascinating stuff. See how the special effects teams rigged the film, and helped Chan in creating some of his outrageous stunts. One unexpected bonus is watching director Ratner get larger as the film progresses. He starts off pleasantly plump, but by the end of the shoot he's larger than life. Not that it's a bad thing, just funny to watch.

The DVD also includes Ratner's first student film, a rather ubiquitous effort called "Whatever Happened to Mason Reeve?" Remember Reese, that adorable little kid who starred in all of those commercials from the 1960's and early 70's? If not, you will once you see this weird little film about how his fame got the best of him. Ratner admits that it's not a very good film, and I tend to agree with him.

Even though the box art only lists on music video, the DVD contains two music videos directed by Brett Ratner, including the early effort "Nuttin' But Love" by Heavy D, and a "Rush Hour" music video by Dru Hill called "How Deep is Your Love," featuring footage banned from MTV. The music videos can be watched as is or with commentary by Ratner. The transfer on the Dru Hill video (shot on location in Hong Kong) isn't nearly as sharp and vivid as the rest of the DVD. Patterns seem to give the transfer a hard time.

The DVD also features the usual array of cast and crew bios, the original theatrical trailer, and handsome animated menus that utilize the theme of the film.

DVD-ROM extras include the traditional script-to-screen feature that allows computer users with a DVD- ROM drive to read (and print out) the script, and jump to their favorite scene with the click of a button. For interactive game fans, there's "Say What," where you have to match quotes to characters in the movie, and "Don't Blow It," a race-against-time game. In the "Fast Lane" section, you can check out Jackie Chan's history and view a map of every broken bone in his career, plus an in-depth look at comedian Chris Tucker's career. Finally, there's an FBI Dossier information containing in-depth production notes on the film. These extras are only available to viewers who have DVD-ROM players on their PCs. The disc won't work on a Mac.
PROGNOSIS: [ X ] Excellent [ ] Fit [ ] Will Live [ ] Resuscitate [ ] Terminal
"Rush" right out this very "Hour" to pick up a copy of this enormously entertaining box office smash.
VITALS: $24.99/Rated PG-13/97 Minutes/Color/37 Chapter Stops/Snapcase/#N4717
ATTENDING RESIDENT: John Larsen
PATIENT: RUSH HOUR-PLATINUM SERIES
BIRTH DATE: 1998
HMO: New Line Home Video