Ronin DVD
They first meet in an out-of-the-way pub, late at night, during a rain shower. The perfect setting for a little intrigue. They're nameless at first, but hey, isn't that Robert De Niro? Yeah, and the woman behind the bar, wasn't she Truman's fantasy in "The Truman Show?" That guy sitting at the bar? Didn't he double-cross Tom Cruise in "Mission: Impossible?" And speaking of double-crossing, isn't that guy in the booth the same person who tripped up Harrison Ford in "Patriot Games?"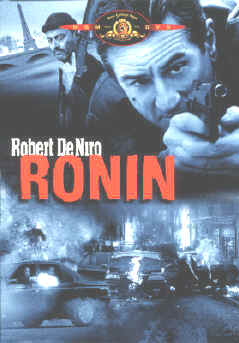 The answer is yes, yes, yes, yes and yes. In "Ronin," director John Frankenheimer wisely casts familiar faces to flesh out his thriller about a crack team of professionals hired to retrieve a silver case. This is important because Frankenheimer and writers J.D. Zeik and Richard Weisz waste no time kicking the film into high gear. Before the film is over, we'll know about these characters, but it's important for us to immediately identify with them.
"Ronin" looks and plays like one of those great 1970's detective thrillers. It's tough, it's gritty, and it doesn't rely on process shots or special effects to tell its story. What you see is what you get, and you get an eyeful. Despite some clumsy plot points, I really liked "Ronin." It reminded me of Frankenheimer's "The French Connection II," which like "Ronin," takes place in France, and deals with a relentless pursuit. As the film opens, the team meets in one of those great film noir abandoned warehouses, where leader Deirdre (Natascha McElhone) clues them in on the job.
The international crew has been assembled to retrieve a silver briefcase. Like us, that's all they know. In true Hitchcock fashion, it's not what's inside the briefcase that's important. It's the "McGuffin." De Niro is excellent as Sam, a no-nonsense ex-CIA agent now working as a gun for hire. You just know that if things go wrong, Sam will be the one to take charge. All great teams need a coordinator (think of Radar on "M*A*S*H"), and Vincent (Jean Reno) is one of the best. Cars, guns, clothes? He can take care of it. Spence (Sean Bean) is the English weapons expert, charged with securing the necessary firepower.
Larry (Skipp Sudduth) the expert driver, and Gregor (Stellan Skarsgard) the electronics expert. They're all working for an anonymous source, sort of like "Mission: Impossible" meets "Magnum P.I." The team goes to work immediately, laying out an elaborate plan that involves daring undercover work and precision driving. It's during these moments that the writers take a little time to introduce the characters and their causes. After all, what kind of men would take such a dangerous job for only $5,000 a week plus expenses? The director and the writers do a splendid job of delivering this expository dialogue without dragging out the film.
Instead, once "Ronin" kicks into gear, it's non-stop thrills. The team manages to pull off the job, but not before one of their own double-crosses them. At this point, the only tangible is that Sam is the only person you can trust, and even then, he seems to be hiding something. "Ronin" features some hair-raising chase sequences that turn the small, cobbled streets of France into demolition derby.
Catch your breath and hold on for dear life, because these scenes are truly spectacular. They're also questionable when you consider how many innocent people probably got killed so these guys could complete their mission. The driving and stunt team deserve a standing ovation. Frankenheimer has always been great with actors, and "Ronin" is no different. Every performance shines. De Niro is memorable as the middle-aged former agent who just wants to work.
McElhone is as mysterious as she is beautiful. You immediately sense an attraction between Sam and Deirdre. Jean Reno, as always, is excellent as a man with a sense of honor. Even though the film goes on ten minutes too long, and features a couple of clumsy moments, I still highly recommend "Ronin." It's thrill-a-minute escapist entertainment that will leave you breathless.
COMPLETE CHECK-UP
VISION: [ X ] 20/20 [ ] Good [ ] Cataracts [ ] Blind
A breathtaking widescreen (2.35:1, 16:9 enhanced) and standard transfer on a flipper disc. Excellent authoring delivers a sharp, vivid image with hardly a trace of compression artifacts and no pixelation whatsoever. The digital transfer not only respects the director and cinematographer's intentionally subdued look, but recreates it with perfection. There's great attention to detail and exemplary depth-of-field. The flesh tones are superior, while the color saturation is strong with no obvious bleeding or fading. The color scheme is purposely drab, yet every frame is alive with clarity. The blacks and shadows are industrial strength, while the whites are crisp and clean. An excellent presentation that makes it easy to get lost in the action.
HEARING: [ X ] Excellent [ ] Minor Hearing Loss [ ] Needs Hearing Aid [ ] Deaf
Tres chic! One of the most impressive 5.1 Dolby Digital Surround tracks I have ever heard. The thundering basses literally shook the room, while the middle and high ends were so clean and crisp you'd swear they were live. The stereo separation, both left and right and front to back are precise as they come. The 360 degree sound mix envelops you, putting you right in the middle of the action. The dialogue mix is superior, while the ambient noise is so realistic you have to turn off the movie to make sure those footsteps you heard were actually in the film and not someone outside. To fully appreciate the soundtrack of "Ronin" you have to crank up the volume, and the digital mix holds up without a trace of hiss or distortion. Elia Cmiral's Japanese-influenced score sounds sharp, filling every speaker with a fluid stream of immaculate music. For kicks, there's also a 5.1 Dolby Digital Soundtrack in French, which seems more than appropriate. The sound on "Ronin" is so state-of-the-art that it will rank as the disc of choice to impress your friends and neighbors with your sound system.
ORAL: [ ] Excellent [ X ] Good [ ] Poor
Closed captions in English and French language subtitles.
COORDINATION: [ X ] Excellent [ ] Good [ ] Clumsy [ ] Weak
While not nearly as jam packed as some special editions, the "Ronin" DVD features one of the film's alternate endings that explains what happened to the Natascha McElhone character, plus a wonderful feature-length commentary with director John Frankenheimer. Frankenheimer speaks eloquently and with such enthusiasm for his art that you hang on his every word. I especially liked that Frankenheimer was willing to share the difficulties of making such a difficult film, an how he cheated on numerous occasions. These cheats involve some fancy editing that seamlessly connect to locations together, and without Frankenheimer's help, you would never know the cuts are there. The director shares his thoughts on working with the international cast (Frankenheimer claims that the "Ronin" cast is one of the best he's ever worked with) and the enormous support he got from French officials, who allowed him to shoot (literally) on the streets and back alleys in and outside of France. I also appreciated Frankenheimer's frankness in regards to trusting the intelligence of his audience. For instance, he purposely omits an on-screen location card because he felt that since the a character just mentioned the name of the city it wasn't necessary to plaster it all over the screen. Bravo. The DVD also comes with an informative 8-page booklet with fascinating behind-the-scenes tidbits.
PROGNOSIS: [ X ] Excellent [ ] Fit [ ] Will Live [ ] Resuscitate [ ] Terminal
Every "Ronin" DVD should come with seatbelts as an extra. Strap yourself in and hang on for one of director John Frankenheimer's best films in years. Riveting entertainment.
VITALS: $24.99/Rated R/121 Minutes/Color/32 Chapter Stops/Keepcase/#907439
ATTENDING RESIDENT: John Larsen
PATIENT: RONIN
BIRTH DATE: 1998
HMO: MGM Home Entertainment