Richard Pryor – Live In Concert
The DVD should be subtitled "There's Something About Hairy," or "The Ghost and Mr. Pryor." "Richard Pryor – Live In Concert" is a digital transfer nightmare*. Imagine the headache: a black comedian with pitch black hair wearing black pants and a dark red shirt standing against a pitch black curtain.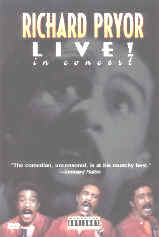 The transfer is ripe with annoying pixelation, creating a ghostly effect. Pryor's hair takes on a life all its own, and whenever Pryor moves about the stage, the motion creates a smear that reminded me of the slow- motion scenes in "The Six Million Dollar Man." Just dreadful.
There are a couple of instances where Pryor whips the microphone cord, creating what looks like a strobing effect. That said, let me move on to the creative content. Shot live on stage Long Beach almost twenty years ago, "Richard Pryor – Live in Concert" was filmed for theatrical distribution. Pryor has just come off a good year on screen ("Silver Streak") and two personal events that he claims changed his life. Pryor had a run in with the law after an argument with his estranged wife led to him "killing her car," and then later that year suffered a heart attack.
All of this is fodder for material that runs the gamut from downright hilarious to downright offensive. That's why the DVD comes with a Parental Advisory Label for explicit lyrics. I don't mind so much the blue humor, but Pryor starts off the evening by using the "N" words more times than Mark Furhman. I understand that this was almost twenty years ago, but it's still offensive. When he finally settles down, Pryor finds humor in subjects that affect everyone. He's especially funny talking about relatives, including his feisty grandmother who doled out the punishment, and standing up to his father for the first time.
I've always liked Richard Pryor, and he's very funny when he sticks to material that isn't so offensive. He doesn't need to be blue to be funny. His characterizations are right on, including a hunting trip that ends on one of that grin and "bear" it notes. Pryor's life after this concert took some unexpected turns, including a quadruple bypass operation and a fiery accident that left him scarred. So "Richard Pryor – Live in Concert" serves as more than a time capsule of his life and times. It serves as a tribute to a man who had the ability to mix controversy with laughs and get the job done.
COMPLETE CHECK-UP
VISION: [ ] EXCELLENT [ ] GOOD [ X ] RESUSCITATE [ ] D.O.A.
At first I thought I was on an acid trip like some of the audience members. The DVD is a digital nightmare, a poor transfer that makes Richard Pryor look like he's entertaining in another dimension where his every motion is recorded in slow motion. Pryor's hair is especially a problem, bouncing around like it has a life of its own. Watch his face when he goes from one expression to the next and he looks like a character in a digital video game. The conditions of the concert (black curtain, minimal lighting) may have been adequate for film and video, but they're extremely problematic for DVD. Pixelation is evident throughout the concert. When Pryor is standing still in a long shot, the picture looks fine, but that only happens once every ten minutes or so. If you rub mud in your eyes and watch through a dirty window draped with thick curtains you might not notice the color smearing. Presented in pan-and-scan.
HEARING: [ ] EXCELLENT [ x ] GOOD [ ] RESUSCITATE [ ] D.O.A.
The Dolby Digital Stereo gets the job done, but ignores the surround tracks. Whoever miked the original stage show did a decent job of separating Pryor from the rambunctious audience. Those efforts don't go unnoticed on the DVD.
ORAL: [ x ] EXCELLENT [ ] GOOD [ ] RESUSCITATE [ ] D.O.A.
Subtitles in English, French and Spanish.
COORDINATION: [ ] EXCELLENT [ ] GOOD [ x ] RESUSCITATE [ ] D.O.A.
Give MPI Home Video points for adding some background data on Pryor, even if some of it is sketchy. The info includes movie and television credits, a discography, and key points in his life, including the names of his five wives. His health problems also get billing here. Nice interactive menus are easy to maneuver. The Chapter stop are mislabeled. Instead of the 24 listed on the scene access menu and on the accompanying literature, there are actually 25. They run one ahead after the first chapter.
PROGNOSIS: [ ] EXCELLENT [ ] GOOD [ X ] RESUSCITATE [ ] D.O.A.
After everything that Richard Pryor has been through, the heart attack, the accidental burning, the quadruple bypass, multiple sclerosis, he's still in better shape than the DVD of his concert.
* Received an e-mail from someone who owns both the out-of-print Vestron Video and the DVD. He states that the video displays the same "ghosting" effect as the DVD. That lets MPI off the hook. So folks, this is the best it's going to get. Your purchase depends on how much you really like Richard Pryor in concert. Thanks Jim S. for your help on this matter. I've changed my rating accordingly.
VITALS: $24.98/Not Rated/78 Min./Color/25 Chapter Stops/Keepcase/#DVD7084
ATTENDING RESIDENT: John Larsen
PATIENT: RICHARD PRYOR – LIVE IN CONCERT
BIRTH DATE: 1979
HMO: MPI Home Video