Rebel Without a Cause
More than 40 years after its release, "Rebel Without a Cause" still packs quite a wallop. Even though its story and situations may be outdated, who can deny the star power of the film? Here was James Dean, hot off of "East of Eden," playing what has become the ultimate in teen angst.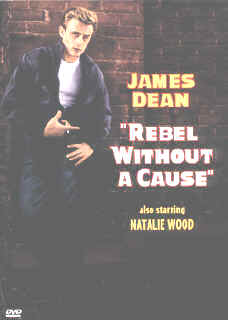 His girlfriend was played by Natalie Wood, while their best friend was played by Sal Mineo. Together, they were the Three Musketeers, an unbeatable trio who would live forever in our minds. Unfortunately, all three would meet tragic deaths later in life. For Dean, it would come sooner than later. While filming "Giant," Dean was killed in a head-on car collision.
Later, Mineo would be stabbed to death in an alley. Finally, Wood would accidentally drown while sailing with her husband Robert Wagner and friend Christopher Walken. However, for that one brief, shining moment, all three would deliver performances that would shape the way Hollywood looked at teenagers. Sue, movies in the fifties were filled with plenty of teen angst, but none captured the brooding monotony of the experience better than Dean.
His Jim Stark truly was a "Rebel Without a Cause." He was an outsider, a loner, whose life is changed when he meets young and pretty Judy (Wood). They meet inside a police station, where it instantly becomes clear that Jim and Judy are to be star-crossed lovers. He's the bad boy, even though he comes from a decent, loving family. Judy is the nice girl who desperately wants to be bad.
Their courtship is witnessed by Plato (Mineo), a nice kid who can't stay out of trouble. Plato has a big mouth and a hot temper, attributes which will ultimately prove fatal. What director Nicholas Ray and his writers have created is a little pocket in time where these three are free to explore love and life. Things get heated when Jim becomes involved in a game of chicken on a seaside cliff that leaves one youth dead and Jim searching his soul for meaning. Dean doesn't need to say much in order to convey the torment and feelings raging inside him.
It's there on his face. Even though he seems to have everything in life (a good family, etc.) he's actually empty. He feels lost and disillusioned. Judy actually ignites the spark that is dying inside of him. She's strong and level headed, and sees something in Jim worth saving. Unfortunately, neither Jim nor Judy can save Plato, whose grip on reality has slipped to the point of disrepair. Plato waxes philosophically, yet you understand that it is all an act. Director Ray does an extraordinary job of making all of this matter. He captures teen angst in all of its glory and heartache, and nails it on the head.
Some of the dialogue is a little corny and outdated, yet the message is still there, and it is still relevant. "Rebel Without a Cause" feeds off the energy of its stars and dialogue, and once the film gets going there is no stopping nor denying it.
COMPLETE CHECK-UP
VISION: Excellent

2.55:1 Widescreen

16:9 Enhanced

RSDL

Someone has taken very care of the original negative. Gone is the nightmarish print that has been making the rounds in syndication. In its place we get a beautiful, virtually clean print that is just amazing. There are some age issues (a minute amount of flaking), but overall the images are sharp and vivid. Delivered in the film's original 2.55:1 widescreen ratio (enhanced at 16:9 no less), the colors and their saturation are warm and pleasant. No hot colors or fade outs. Flesh tones are simply marvelous, with realistic tones and shading. Depth of field is startling, especially during the night scenes, while attention to detail is strong. No real compression or noise issues to talk about.
HEARING: Excellent

5.1 Dolby Digital Surround

Mono French

Highly expressive remastered 5.1 Dolby Digital Surround soundtrack. I was afraid that re-mastering the soundtrack would have tinkered with its clarity and definition, but that was not the case. While the stereo split isn't perfect, I was constantly surprised by the faux stereo presentation. The dialogue mix, which is strong and affluent, comes through loud and clear, while the ambient noise and musical cues sound natural. I was also expecting a lot of noise and hiss, but everything from the basses to the middle and high ends sounded terrific. Rear speakers feature lots of action, while surround effects are limited. A pleasant surprise all around.
ORAL: Good

Closed captions in English for the hard of hearing, subtitles in French.
COORDINATION: Good

"Rediscovering a Rebel," a fascinating behind-the-scenes documentary that provides a look at what the film might have looked like in black and white. When Warner realized that they had the makings of a much bigger film on their hands, they abandoned the original black and white footage for widescreen color. Some of the black and white footage survived, and has been included here. The big difference between color and black and white are the little extras. Since color was more expensive, some scenes were trimmed back in terms of extras. The documentary also shows James Dean being matched up with various actors, some of whom were chosen for the film. It's an interesting bit of nostalgia.

Three "Behind The Camera" interviews, with actor Gig Young interviewing James Dean (including his infamous "slow down" speech), Natalie Wood and Jim Backus. Both Dean and Backus appear in western garb, Dean having just stepped off the shoot of "Giant."

Theatrical trailers of all three James Dean films, including "Rebel," "Giant" and "East of Eden." What a collectible collection of trailers.
PROGNOSIS: Excellent

This is one Rebel with a cause. Stop brooding and go get yourself a copy.
VITALS:

$24.98/Not Rated/111 Minutes/Color/35 Chapter Stops/Snapcase/#14069
ATTENDING RESIDENT: John Larsen
PATIENT: REBEL WITHOUT A CAUSE
BIRTH DATE: 1955
HMO: Warner Home Video