Raw Deal
In 1986, former body builder-turned actor Arnold Schwarzenegger was on a roll. It was four years after his starring role in "Conan the Barbarian" and two years after his breakout success in "The Terminator."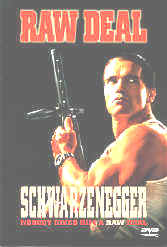 In 1986, he would deliver "Commando," and then cement his reputation the next year with "Predator." 1986 was a good year for Schwarzenegger. And then there was "Raw Deal." "Raw Deal" isn't a horrible film, just a bad one. It's filled with wooden acting, trite dialogue and pedestrian shoot outs and chases. The screenplay by Gary DeVore and Norman Wexler is serviceable at best. They try too hard to come up with cute catch lines for Ah-nuld.
The trend began in "The Terminator" with "I'll be back." Every film after "The Terminator" capitalized on the actor's ability to deliver one-liners. They're really awful (and awfully obvious) in "Raw Deal," but they're in good company. Schwarzenegger isn't bad in "Raw Deal." He actually seems to be having a good time. He looks dapper in his tailor-made suits and can still bring down a room full of bad guys with one punch. Unfortunately, the director John Irvin shoots the action sequences as if he were punch drunk. They're sloppy and ineffective.
I hate shoot-outs where the bad guys deliver more than one-thousand rounds and miss the hero, while the hero only has to shoot off one or two rounds to nail all of them. That's a cliche older than time itself. Schwarzenegger plays former FBI agent Mark Kaminski, who is now a small town sheriff. His wife has turned into a bitter drunk who can't bake, and his life is filled with tracking down common criminals.
All that changes when he's approached by his friend, FBI Chief Harry Shannon (Darren McGavin), who wants Kaminski to infiltrate the organized crime family that killed his son. Shannon promises that he will be reinstated if he succeeds. So Kaminski fakes his death, assumes another identity, and worms his way into the Petrovita organization. His request for employment is met with skepticism by Petrovita's head goon, played by Robert Davi. To prove his loyalty, Kaminski goes along on a couple of missions, using his FBI skills to survive.
It doesn't take before Petrovita (Sam Wanamaker) learns Kaminski's true identity, thus setting the stage for an explosive finale. It's all so by-the-numbers you wonder why anyone bothered. Kathryn Harrold has some nice moments as Petrovita's moll who wants something better in life. Irvin is a much better director (look at "Hamburger Hill," "Widow's Peak" and "Dogs of War") than "Raw Deal" indicates. The cast is comprised of stock players who do and say exactly what you expect of them. No surprises here.
COMPLETE CHECK-UP
VISION: [ ] EXCELLENT [ X ] GOOD [ ] RESUSCITATE [ ] D.O.A.
Nice digital transfer in the film's original 1.85:1 widescreen ratio. It's not spectacular, and the colors are not nearly as striking as I would like, but the overall frame looks sharp. A little murky in the darker scenes, but it could be attributed to the film stock because the interior and daylight shots look much better. The flesh tones are good, and although muted, the color palette is well represented. Not noticeable compression artifacts.
HEARING: [ ] EXCELLENT [ X ] GOOD [ ] RESUSCITATE [ ] D.O.A.
Pretty decent Dolby Digital 2.0 stereo mix is effective without being all encompassing. The sound separation is solid, especially the front to back effects like gunfire and speeding cars. The dialogue mix is strong.
ORAL: [ ] EXCELLENT [ ] GOOD [ ] RESUSCITATE [ X ] D.O.A.
No closed captions or subtitles.
COORDINATION: [ ] EXCELLENT [ ] GOOD [ ] RESUSCITATE [ X ] D.O.A.
When it comes to any form of extras, this DVD is a "Raw Deal." There are 27 Chapter stops, and these are listed on the accompanying literature. Yet on the scene access menus, they only list a handful of the chapters. Like Chapters 1-4. When you click on that selection, it goes to the beginning of chapter one, and not to another menu with all four scenes listed. You can access the scenes individually by clicking on the next scene button. Very strange.
PROGNOSIS: [ ] EXCELLENT [ ] GOOD [ X ] RESUSCITATE [ ] D.O.A.
"Raw Deal" isn't seminal Schwarzenegger, but it probably does have it's share of fans. Whether or not you should include "Raw Deal" in your library all depends on how complete you want your collection to be.
VITALS: $29.99/Rated R/97 Min./Color/27 Chapter Stops/Keepcase/#DV10337
ATTENDING RESIDENT: John Larsen
PATIENT: RAW DEAL
BIRTH DATE: 1986
HMO: Anchor Bay Entertainment