Psycho
What started off as a dare by Director Alfred Hitchcock became a cottage industry for Universal Pictures, spawning two theatrical sequels and two made-for-television (cable) efforts. No one did it like Hitchcock, and this 1960 classic proves that he was indeed the "master of suspense." Audiences flocked to theaters to watch young and innocent Norman Bates (Anthony Perkins) battle against inner demons as he ran the now infamous Bates Motel.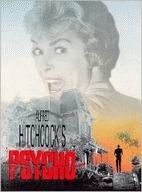 Into Norman's web lands Marion Crane (Janet Leigh), who seeks shelter from the rain but quickly learns that a warm shower isn't all it's cracked up to be. Shot in blood-curdling black-and-white, "Psycho" made brilliant use of light and shadow, creating a constant air of suspense. Perkins rises to the occasion as the two-timing mama's boy who literally wigs out in the final reel. Vera Miles shows up playing Marion's sister, who suspects that she has met with foul play. Martin Balsam also drops by playing a meddling detective who gets too close to the truth. As riveting today as it was almost forty years ago, "Psycho" stands alone as a milestone for filmmaking and filmmakers.
COMPLETE CHECK-UP
VISION: EXCELLENT
Very sharp and perceptive. Nice, vivid black and white transfer. Won't need glasses to appreciate the 1.85:1 widescreen format on a dual layer disc.
HEARING: GOOD
Dolby Digital cleans up the forty-year-old soundtrack nicely, which has been preserved in 2 channel mono. The ominous strains of Bernard Herrmann's strings come through loud and clear.
ORAL: EXCELLENT
"Psycho: The Collector's Edition" features 2 channel mono tracks in English and French, and is close-captioned in English and Spanish.
COORDINATION: EXCELLENT
Universal Studios Home Video's "Collector's Edition" line may be a little pricey, but in the case of "Psycho," it's worth every penny. This truly is a collector's edition, chock full of extras that make collecting DVDs such a pleasure. First of all, it's "Psycho" for goodness sakes. That makes it a must-have in the first place. This is also the first time "Psycho" has been available outside of Laserdisc in the widescreen format, the way it was meant to be seen. So what if Universal didn't go in and digitally re-master the soundtrack into 5.1. It sounds great just the way it is. The real bonus is all of the extras. First and foremost, the documentary "The Making of Psycho" makes the DVD all the more valuable. It's an informative and in-depth look at the making of the film and the controversy that followed its release. You don't have to be a film buff to appreciate the wealth of information being dished up. The DVD features the now-standard scene selections, chapter stops, cast & crew bios & highlights, plus theatrical trailers. But wait, there's more. You get the opportunity to run the shower scene with and without music, an experiment that emphasizes the importance of Herrmann's score. The shower scene storyboards by artist Saul Bass are also included. If there's anything you ever wanted to know about "Psycho," you will learn it here.
PROGNOSIS: EXCELLENT
Hitchcock's classic is alive and well on DVD. No further tests needed.
ATTENDING PHYSICIAN: John Larsen
PATIENT: PSYCHO-COLLECTOR'S EDITION
BIRTH DATE: 1960
HMO: Universal Studios Home Video