The Prophecy DVD
A war is being waged between Heaven and Hell, and Earth has been chosen as the battleground. That's the premise of writer-director Gregory Widen's creepy "The Prophecy," which isn't to be confused with that awful Talia Shire, monster-in-the-woods movie years back.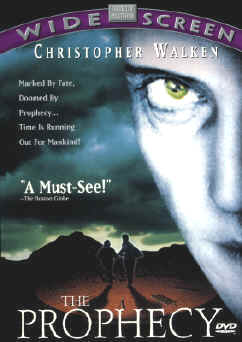 "The Prophecy" is a tidy little thriller that reminded me of the original "Omen" film with Gregory Peck. It stars Elias Koteas (very high profile now thanks to "The Thin Red Line") as a former Priest-wannabe turned police detective who stumbles across a war being waged between the angel Gabriel, who resents God giving man souls, and the other angels, who need to stop Gabriel before he creates Hell in Heaven.
Who better to play the evil archangel than Christopher Walken, who brings such a lusty malevolence to the role. Walken is at his best when he's playing the creepy guy, and he's on his game as the demonic angel who is on Earth searching for the soul of a notorious war criminal. Sent ahead to stop him is kindly angel Simon (Eric Stoltz, keeping his clothes on for once), who clues in Detective Thomas Daggett (Koteas) of the events about to unfold. Since his little problem at the altar during his induction as a priest Daggett has had a little problem with religion.
He's forced to change his attitude when he realizes that Simon was not only right, but an angel. Meanwhile, Simon arrives in a small desert community, where he secures the soul of the war criminal and hides it in the body of a Native American school girl named Mary (Moriah Shining Dove Snyder).
Gabriel beats Daggett to the small town, where he kills Simon in his pursuit of the soul. Daggett finally arrives, and escorts Mary and her teacher Catherine (Virginia Madsen) to an Indian reservation where they hope to drive the evil spirit out. What I really liked about "The Prophecy" was it's ability to tell a compelling story and still be economical. Widen doesn't waste one precious minute, delivering the goods and then getting out. The film moves along at a clip, delivering some devilish images along the way. Since Gabriel is unable to do mortal things like drive, he finds helpless souls moments away from death's door and then brings them back to use as slaves.
Both Adam Goldberg ("Saving Private Ryan") and Amanda Plummer ("The Fisher King") are strong as these rotting servants. Even the devil pops up at the end in the form of Viggo Mortensen, whose pleas with Catherine to stop Gabriel because he doesn't want two hells. While some of Widen's imagery is a little hokey, overall the film has a stunning look. It's filled with believable performances and a tight, taut script. Some may be a little put off with the angel angle, but the film was popular enough in theaters to warrant a direct-to-video sequel.
COMPLETE CHECK-UP
VISION: [ X ] 20/20 [ ] Good [ ] Cataracts [ ] Blind
Nicely rendered 2.35:1 widescreen presentation survives the digital compression with hardly any trace of artifacts. The colors are rich and expressive, while the blacks and shadows are strong, an important asset of any horror film. The color saturation is effective without any bleeding or fading, and the earth tones are especially lifelike. Flesh tones are adequate, but tend to be a little soft in moments. The transfer looks sharp, although there is a problem with horizontal patterns. Otherwise, the clarity of the picture is vivid, with nice attention to detail.
HEARING: [ X ] Excellent [ ] Minor Hearing Loss [ ] Needs Hearing Aid [ ] Deaf
Compelling Ultra-Stereo digital soundtrack gets the job done, and then some. While it's far from definitive, the stereo mix is rich with ambient sound and clean, pure high and low ends. The bass is decent, while the dialogue mix is clear and unobtrusive. No noticeable distortion or hiss. The rear speaker separation is distinct, while the front L-R mix is subtle yet effective.
ORAL: [ ] Excellent [ X ] Good [ ] Poor
Closed captions in English for the hard of hearing.
COORDINATION: [ ] Excellent [ ] Good [ X ] Clumsy [ ] Weak
Standard issue main and scene access menus, plus some alternate title selections.
PROGNOSIS: [ ] Excellent [ X ] Fit [ ] Will Live [ ] Resuscitate [ ] Terminal
"The Prophecy" is a decent thriller, but would probably rate more as a rental than a purchase for your collection.
VITALS: $29.99/Rated R/97 Minutes/Color/17 Chapter Stops/Keepcase/#16454
ATTENDING RESIDENT: John Larsen
PATIENT: THE PROPHECY
BIRTH DATE: 1995
HMO: Dimension Home Video