Primary Colors
When writer Joe Klein's novel "Primary Colors" (written under the pseudonym "Anonymous") was first published, it created quite a stir. Half of the attention centered around who had written the controversial novel.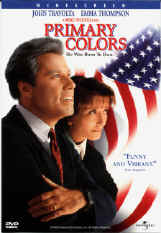 The other half centered around how much "Primary Colors" mirrored Arkansas Governor Bill Clinton's Presidential race. Regardless, "Primary Colors" made for interesting reading. Director Mike Nichols' film of "Primary Colors" didn't create much of a stir at the box office, but thanks to the current White House shenanigans, it looks to have a long and popular life on DVD and video.
They say that every dog has his day, and because Clinton can't keep his privates private, both "Primary Colors" and "Wag the Dog," are enjoying newfound success after the fact. Thank goodness "Deep Impact" and "Armageddon" did well at the box office. In my opinion, Mike Nichols is the perfect director for "Primary Colors." Working from Elaine May's sharp, witty and at times touching screenplay, Nichols guides his marvelous cast through their paces without ever hitting a wrong note.
Since most of the characters in "Primary Colors" are larger-than-life, it would have been easy to play these people as caricatures. That never happens. Instead, the cast, the director and the writer savor the humanity of the characters while finding humor in their weaknesses.
That's what haunts southern Governor Jack Stanton (a puffy John Travolta, who looks and sounds like you know who). Stanton has a weakness for women. Until his run for President, his loving and devoted wife Susan (Emma Thompson doing a terrific Hilary) and his press staff have been able to downplay his libido. Now as a front runner for the Democratic nomination, Stanton's life and past are put under a microscope. It's up to his top flight advisors to control the damage and keep the campaign on track. "Primary Colors" is told through the eyes of idealistic campaign advisor Henry Burton (Adrian Lester at his very best), who reluctantly jumps aboard the Stanton bandwagon. Burton is instantly hooked up with press advisor Daisy Green (Maura Tierney) and damage control expert Richard Jemmons (a no-nonsense Billy Bob Thornton).
Advised by Stanton assistant Howard Ferguson (the always durable Paul Guilfoyle) , the trio follow Stanton on his whistle stops, helping him dodge the bullet. They have their hands full, and when the campaign turns dirty, are joined by campaign dust buster Libby Holden (Kathy Bates in an Oscar-worthy performance). Fresh out of a mental institution, Libby knows all of the dirty tricks and isn't afraid to use them. Aside from "The Candidate" and Taxi Driver," films about political campaigns usual bore me to tears.
While watching "Primary Colors," my eyes were filled with tears, but they were from laughing so hard. The characters are so grounded and real that even in the most outrageous of moments the laughs are real. May's dialogue sparkles, especially the analogy Jemmons' comes up with to ask Susan if she knows about her husband's infidelity. Like all of Nichols' films, the production design is gorgeous, while the tech credits are superior all around. "Primary Colors" is one of those rare films that seems much shorter than its almost two-and-a-half hour running time. You enjoy spending time with these people.
COMPLETE CHECK-UP
VISION: [ x ] EXCELLENT [ ] GOOD [ ] RESUSCITATE [ ] D.O.A.
Superior transfer in the film's original 2.35:1 widescreen ratio. There's no pan-and-scan version on the dual-layer disc. Watch "Primary Colors" and you'll understand that it's the only way to fully appreciate Nichols' composition. He perfectly frames every scene with objects or people, and while I was watching "Primary Colors," I kept wondering how they could maintain the integrity of the scene in a full frame version. You need not worry about that here. The digital transfer is outstanding. Rich, exciting colors played out against strong blacks and solid whites. No trace of pixelation or compression artifacts. Pleasing flesh tones. "Primary Colors" has been enhanced for widescreen televisions.
HEARING: [ x ] EXCELLENT [ ] GOOD [ ] RESUSCITATE [ ] D.O.A.
From the very first strains of Ry Cooder's patriotic music, it's clear that the 5.1 Dolby Digital Surround tracks are working. Perfect sound mix allows for strong vocals and harmonious score. Nichols has filled "Primary Colors" with a K-Tel album's worth of pop and country tunes, and they all sound terrific. I especially appreciated the small, subtle touches, like just a hint of ambient sound from the back speakers. It's so natural you almost forget it's there. No noticeable distortion or drop-outs. A French language 5.1 Dolby Digital Surround track is also included.
ORAL: [ ] EXCELLENT [ x ] GOOD [ ] RESUSCITATE [ ] D.O.A.
Closed captioned for the hard of hearing in English and subtitles in Spanish.
COORDINATION: [ ] EXCELLENT [ x ] GOOD [ ] RESUSCITATE [ ] D.O.A.
The customary production bios, cast & film maker's bios, the original theatrical trailer, scene access and film highlights.
PROGNOSIS: [ ] EXCELLENT [ x ] GOOD [ ] RESUSCITATE [ ] D.O.A.
Unlike one of Stanton's running mates who ends up in a coma, "Primary Colors" shows no such signs. The DVD is alive with stunning visual images and a pleasing sound mix. This was the second time that I've seen "Primary Colors," and I found myself just as invested as I was the first time.
VITALS: $24.98/Rated R/144 Min./Color/40 Chapter Stops/Keepcase/#20283
ATTENDING RESIDENT: John Larsen
PATIENT: PRIMARY COLORS : PRIMARY COLORS
BIRTH DATE: 1998
HMO: Universal Studios Home Video