The Poseidon Adventure
Believe it or not, "The Poseidon Adventure" was the movie that cemented my desire to become a film critic. When I attended Hueneme High School, they offered an elective class called Film Criticism. Due to its popularity, it was only available to juniors and seniors. It served as an English elective, and a lot of jocks took it because it was an easy grade.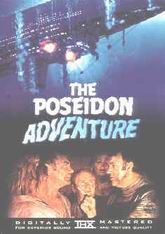 Well, that all depended on who was teaching the class. It was an easy grade if you got on of the tried-and-true English teachers who knew little or nothing at all about movies. They would just show the class the movie and talk about it. Then there was the class by David Penhallow. David Penhallow was one of those great high school teachers who actually cared if his students connected or not. He taught drama and film criticism, and having worked in Hollywood, he knew what he was talking about. If you really cared about films, you made sure that you got in Penhallow's class.
I was a sophomore when "The Poseidon Adventure" came out, and it was one of those movies that a 15 year-old boy couldn't refuse. I was trying to get on the school newspaper staff (I was editor my junior & senior year), so I wrote a review of "The Poseidon Adventure." I wanted to share my excitement with everyone else. I took the review, which was my first, to Penhallow, hoping that he would give me some pointers if necessary. I dropped off the review in the morning before classes started, and came back that afternoon. I asked where the review was, and Penhallow said that he threw it away. I asked why, and he said it was obvious that I didn't write it, that it was too good, and that I must have copied it. That cemented my professional love of movies right then and there.
I also got to be in Penhallow's class my second semester as a Sophomore, and served as a Film Criticism Teacher's Assistant my junior and senior years after Penhallow left. So, you see, "The Poseidon Adventure" holds a place near and dear to my heart, and after watching it recently on DVD, it's still as fresh and exciting as it was in 1972. Who could deny the premise: get a luxury liner full of Oscar winners and familiar faces and then capsize it. "Airport" set the tone for the disaster genre, but it was Irwin Allen who turned the genre upside down in "The Poseidon Adventure," and then sent it towering out of control with "The Towering Inferno." Directed with assurance by Ronald Neame from a extremely likeable screenplay by Stirling Silliphant and Wendell Mayes (based on the book by Paul Galico), "The Poseidon Adventure" is first rate entertainment from it's bow to it's aft. Even though their characters border on caricature, the cast plays every moment with conviction.
Gene Hackman, just coming off an Oscar-win for "The French Connection," is outstanding as Reverend Frank Scott, aboard the luxury liner S.S. Poseidon en route to his new assignment. Also on board are cop Mike Rogo (Ernest Borgnine) and his new wife Linda (Stella Stevens), a former call girl he rescued from the streets; Belle and Manny Rosen (Shelley Winters and Jack Albertson), on their way to Israel to see their grandson for the first time; James Martin (Red Buttons), a lonely haberdasher; Nonnie (Carol Lynley), the lead singer of the ship's band; Susan and Robin Shelby (Pamela Sue Martin and Eric Shea), brother and sister on their way to Greece to reunite with their parents; and Acres (Roddy McDowall), the steward. When the Poseidon is struck by a 90-foot tidal wave and capsizes, Scott convinces the above that their only salvation is trying to reach the bottom of the ship, which is now above the surface. Death and peril face the small group of survivors as they make their way through the twisted and upside down world. There's suspense and excitement around every corner, and quite a few heroic moments that really take their toll. The special effects hold up after all of these years. I must have seen "The Poseidon Adventure" over a dozen times, and I never tire of it's adventure and human spirit.
COMPLETE CHECK-UP
VISION: Good
Except for some wear and tear on the original negative, the digital transfer looks sensational. There's a lot of contrast in "The Poseidon Adventure," from the deep dark blues, to the fiery reds and oranges, and they all look terrific. Delivered in the film's original 2.35:1 widescreen ratio, the images are amazingly sharp, with excellent color saturation and strong blacks. Hardly an ounce of compression artifacts, while even patterns seem to hold their own. The depth of field is good, and details are fine tuned. Flattering flesh tones make everyone look healthy. Handsome transfer for a film that's 27 years old (now I really feel old).
HEARING: Excellent
Functional English and French language mono soundtrack gets the job done.
ORAL: Good
Closed captions in English for the hard of hearing, subtitles in Spanish.
COORDINATION: Good
Exciting, animated main and scene access menus, cast biographies, and the original theatrical trailer. I especially liked the way the little ship icon you use as a pointer turns upside down when you click.
PROGNOSIS: Excellent
In my opinion, "The Poseidon Adventure" and "The Towering Inferno" are must-haves for any DVD collection. Lucky us Fox took such great care in delivering the goods intact.
ATTENDING RESIDENT: John Larsen
PATIENT: THE POSEIDON ADVENTURE
BIRTH DATE: 1972
HMO: 20th Century Fox Home Entertainment