The Peacemaker
"I'm not scared of someone who wants ten nuclear warheads. I terrified of the man who wants just one." Words to live by, especially if you're Dr. Julia Kelly, acting head of the White House Nuclear Smuggling Group.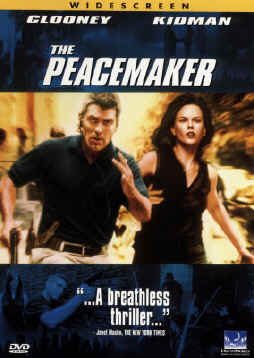 As played by Nicole Kidman in the new thriller "The Peacemaker," Kelly is a strong, very determined scientist who knows her stuff and isn't afraid to speak her mind. Kelly's moxie is about to be put to the test when she's put in charge of a horrifying situation: Someone has stolen 10 nuclear warheads from the former USSR, and has detonated one of them in the Ural's. That means nine more warheads are somewhere en-route between Bosnia and Iran, and it's her job to stop them from crossing the border. Tricky stuff. Enter Lt. Col. Thomas Devoe (George Clooney, perfectly cast), a cocky, self-assured intelligence officer with the Army Special Forces.
Devoe is just what the doctor ordered, but proves more of a headache for Kelly when he's assigned to help her recover the warheads. "The Peacemaker," the first film from Dreamworks Pictures, is a crackling suspense-thriller that never lets up, and that's a problem. From the bristling opening to the nail-biting conclusion, "The Peacemaker" never stops to take a breath. Good for action fans, bad for those wanting more from the characters than their ability to blow things up. Writer Michael Schiffer delivers a taut screenplay that's topical and hair-raising, skillfully directed by Mimi Leder, who keeps the pace fast and furious. Unfortunately, lack of character depth keeps us from really caring about these individuals.
Even the terrorist's motive is kept hush-hush until the last few moments, making his crusade and incentive seem hollow. Instead of being a martyr for his cause, he just comes off as another fanatic holding a grudge against the United States. This emotional detachment plays havoc with the entire film. When a U.S. helicopter is blown up by the Russians, you could care less because we were never introduced to the occupants.
It's just another fiery explosion in a film filled with many such explosions. The action is crackling, from a harrowing mid-train transfer of the bombs that eventually leads to a head-on collision with another train, to a real cliff-hanger involving a truck, a bridge, and a kick-butt fight that threatens to send everyone over the edge. The cast is excellent, including Armin Mueller-Stahl as a Russian liaison and friend of Devoe, and Marcel Lures as the man with a mission. Director Leder, who cut her teeth on television's "E.R.", makes an outstanding big-screen debut. She knows where to put the camera and how to pump up the action. Dietrich Komarov's rich cinematography and Hans Zimmer's haunting score help immensely.
COMPLETE CHECK-UP
VISION: [ X ] 20/20 [ ] Good [ ] Cataracts [ ] Blind
Excellent 2.35:1 widescreen transfer on an RSDL disc features virtually zilch compression artifacts. What is on display is a superior digital transfer that captures the bold and vibrant images with sharp detail. The color saturation is outstanding, creating realistic images that literally jump off the screen. The flesh tones are especially attractive. Clooney and Kidman have never looked better. The blacks hold up under the tightest of scrutiny, creating razor sharp mattes. The DVD has been enhanced at 16:9 for widescreen televisions. My only complaint is that the on-screen subtitles are too bold and tend to bleed, making some of them downright difficult to read.
HEARING: [ X ] Excellent [ ] Minor Hearing Loss [ ] Needs Hearing Aid [ ] Deaf
Dreamworks Home Entertainment DVD's go the distance in terms of audio selection. Not only does "The Peacemaker" contain a vivid 5.1 Dolby Digital Surround track, you can also choose between a French and Spanish language Dolby Surround track. Dreamworks was obviously thinking of an international market when they compiled the DVD, but it's the 5.1 Dolby Digital track that sweeps you into the explosive action and pummels you with crackling basses that suck the air out of your lungs, and expressive stereo separation that pinpoints every detail with accuracy. Powerful dialogue mix never misses a beat, while Hans Zimmer's potent score sweeps through the room with clarity.
ORAL: [ ] Excellent [ X ] Good [ ] Poor
Closed captions in English for the hard of hearing, and subtitles in Spanish.
COORDINATION: [ ] Excellent [ X ] Good [ ] Clumsy [ ] Weak
For a mainstream DVD, there are some uncommon extras on "The Peacemaker" DVD. Included are:
§ An extensive documentary on the technical aspects of the film's stunts. I loved this behind-the-scenes peek because it shows how a major set piece is executed. We go through rehearsals and then the actual filming of the stunt involving three cars playing chicken with each other in a town square.
§ "From the Cutting Room Floor," a hilarious spoof with director Mimi Leder discussing working with practical joker George Clooney. Included are numerous outtakes and bloopers that bring a humanity to the set.
§ The original theatrical trailer and a teaser trailer.
§ Cast & crew biographies and filmographies, and production notes.
§ Action-packed main and scene access menus that incorporate the theme of nuclear terrorism into their motif. Fiery explosions serve as transitions between menus. The scene access menu also features video clips of each scene.
PROGNOSIS: [ ] Excellent [ X ] Fit [ ] Will Live [ ] Resuscitate [ ] Terminal
More attention to back story would have made "The Peacemaker" an ace thriller. It is still powerful, but more of a rental than a keeper.
VITALS: $29.99/Rated R/124 Minutes/Color/16 Chapter Stops/Keepcase/#84160
John Larsen ATTENDING RESIDENT
ATTENDING RESIDENT: John Larsen
PATIENT: THE PEACEMAKER
BIRTH DATE: 1998
HMO: Dreamworks Home Entertainment