Out of Sight
As first dates went, it was one for the record books. While some couple invariably end up in the back seat of a car during the middle of a date, this one began in the trunk. That's where bank robber Jack Foley and Federal Marshal Karen Sisco end up when Sisco accidentally stumbles on Foley's prison break.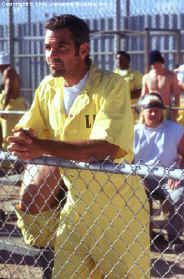 Locked in the trunk of the getaway car, Foley and Sisco exchange views on life, guns and movies. She says that he reminds her of Clyde Barrow from "Bonnie & Clyde," and can't understand how someone like Bonnie Parker could fall so quickly for the gangster.
It's a bristling bit of dialogue, just one of many in Scott Frank's screenplay of Elmore Leonard's book, "Out of Sight." As directed by Steven Soderbergh ("Sex, Lies & Videotape"), "Out of Sight" is the third Leonard novel to make it to the big screen with all of the quirks and perks one expects from a Leonard book. Frank, who also wrote the screenplay for Leonard's "Get Shorty," seems to know the author inside and out. Frank has the unique ability to move the furniture around without upsetting the balance of the room.
Like "Get Shorty" and Quentin Tarantino's "Jackie Brown," "Out of Sight" is filled with sparkling dialogue and likeable criminal types. George Clooney hits pay-dirt as Foley, a charming bank robber who has never used a gun in his lengthy career. Now serving time a hot and steamy correctional institute in Florida, Foley is anxious to stretch his legs. He gets his chance when he piggybacks on an underground prison break, and manages to make it to the outside.
That's where Karen Sisco steps in. At the prison to serve some papers, Sisco stumbles across Foley and attempts to subdue him. She's stopped by Foley's friend, Buddy Bragg (the wonderful Ving Rhames), and locked into the trunk with Foley. Bathed in the red glow of the reflection of the rear lights, Foley and Sisco immediately connect, so much so that he refuses to leave her behind when they reach their rendezvous.
"Out of Sight" is filled with interesting characters doing interesting things. Lopez shines as the determined Marshal who would rather get a gun for her birthday rather than flowers. She perfectly captures the desire of someone who enjoys the danger of her job. Steve Zahn is hilarious Glenn Michaels, Foley and Bragg's point-man who is one planet away from being a space case. Zahn milks Michaels for everything he's worth. His loyalties are about as whacked as his surfer-dude mentality.
When Foley and Bragg jet up to Detroit for a diamond heist, Sisco follows close behind, hoping to score another date with the handsome felon. They get their chance when Foley discovers Sisco is in town, and tracks her down. Their encounter in a hotel room is hot and sexy without being raw, the real sign of an intelligent director. The heist is complicated when another felon, a bad dude named Maurice (Don Cheadle at his best), decides to cut in on the action.
A confrontation at the mansion of millionaire Richard Ripley (Albert Brooks undercover) brings out the worst in everyone. There's so much to recommend "Out of Sight," from it's snappy score that so reminded me of movies like "Three Days of the Condor" and "Killer Elite," and the handsome cinematography of Elliot Davis. Yet it's the delicious performances (not a bad one in the bunch), the striking, intelligent dialogue and the smart direction that make this one of the summer's best films.
CLOONEY'S CRIME CAPER IS "OUT OF SIGHT"
OUT OF SIGHT
George Clooney, Jennifer Lopez, Ving Rhames, Don Cheadle, Steve Zahn, Albert Brooks, Dennis Farina in a film directed by Steven Soderbergh. Rated R. 121 Min.
LARSEN RATING: $7