One Magic Christmas
The first time I saw "One Magic Christmas," I was perplexed. I didn't know what to make of the film. At the time it seemed dark and moody, not really the calling cards of a holiday family movie.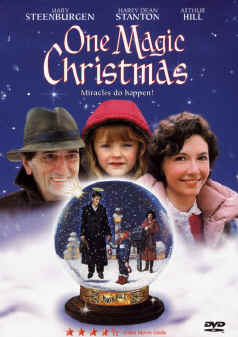 It reminded me of a gloomy "It's a Wonderful Life," with Mary Steenburgen playing the Jimmy Steward role. Like that Frank Capra classic, "One Magic Christmas" also features a guardian angel figure, played by Harry Dean Stanton. Stanton's Gideon is definitely no Clarence, decked out in a black trench coat and looking like someone who would sell drugs to kids. The film also features some desperate moments, including several deaths. These moments are suppose to teach Ginny Grainger (Steenburgen) a lesson. You see, Ginny is a curmudgeon when it comes to Christmas. She holds a grudge against Santa for not bringing her a certain toy one year. Not that the Grainger family has much to celebrate. Husband Jack (Gary Basarba) has been laid off from his job, and since they live in a company house, they have to be out by the first of the year. Despite the gloomy forecast, Ginny's daughter Abbie Elizabeth Harnois) remains bright and cheery, sure that Santa won't let her family down. While Ginny slaves away at the local market, Jack dreams of opening his own bicycle shop. With little money in the bank, the Graingers could sure use a holiday miracle. The problem I had with the film when I first saw it was that my expectations were all wrong. I was looking forward to a typical Disney holiday comedy-drama. Instead, I got an intelligent, thoughtfully acted and directed story about one woman's difficult journey to rediscover her inner child. I've seen "One Magic Christmas" numerous times since then, and I now cherish this little gem of a movie. It reminded me an awful lot of our family when I was young. We didn't have much money, and some Christmas mornings were pretty lean. I remember feeling disappointed as a child, but looking back on those moments as an adult, I realize that my parents did what they could. Ginny Grainger reminded me a lot of my mom, although my mom actually loved the holidays. You can't blame Ginny for not being up for the holidays. As played by Steenburgen, she's a sensible woman who doesn't want to disillusion her children. Jack on the other hand is an optimist who sees no harm in spending some of their nest egg to make sure the children have presents under the tree. He even insists on working on bicycles for the poor children instead of helping Ginny pack. Even though she is teased by her older brother Cal (Robbie Magwood), Abbie insists that she has seen an angel. His name is Gideon, and he has been assigned to help Ginny believe in Christmas again. It's a tall order, but with a little help from above and the North Pole, Gideon sets out to help Ginny recapture her innocence. Unfortunately, he has to put Ginny through Hell (her journey is filled with more heartache than Jimmy Stewart's) in order to for her to learn to appreciate what she has. Directed with assurance by Phillip Borsos, "One Magic Christmas" is a film that eventually grows on you. There are so many emotional, human moments in the film. I was especially touched by a scene in which the Graingers make one little girl's Christmas. I had to grab the Kleenex I was so moved. Once you get past the film's rough edges, you'll find a charming little movie. The cast is uniformly excellent, especially Steenburgen, who makes you believe Ginny's plight. This film really is magic.
COMPLETE CHECK-UP
VISION: [ X ] 20/20 [ ] Good [ ] Cataracts [ ] Blind
Nicely rendered 1.85:1 widescreen transfer (the DVD also features a full frame presentation). Image quality is sharp, with excellent attention to detail. Colors are warm with excellent saturation that displays no bleeding or fading. Blacks are strong, while a virtually clean negative (there is some flecking) allows for pure whites and shadows. Depth of field is pretty decent considering that most of the film takes place in the snow. No visible compression artifacts or noise.
HEARING: [ ] Excellent [ X ] Minor Hearing Loss [ ] Needs Hearing Aid [ ] Deaf
Surprisingly effective Dolby Digital 5.1 Surround soundtrack. Don't expect it to kick your system's ass, but you will be pleased with the subtlety of the surround and stereo effects. Dialogue mix is strong, while the stereo effects are generous without being obvious. Basses are there but not overused, while middle and high ends sound a little hissy during the quiet moments. Rear speakers generate a nice combination of music and ambient noise and the occasional surround effect.
ORAL: [ ] Excellent [ ] Good [ X ] Poor
No closed captions or subtitles.
COORDINATION: [ ] Excellent [ ] Good [ X ] Clumsy [ ] Weak
The film's original theatrical trailer.
PROGNOSIS: [ X ] Excellent [ ] Fit [ ] Will Live [ ] Resuscitate [ ] Terminal
Thank you Anchor Bay for rescuing this great little movie.
VITALS: $24.98/Rated G/88 Minutes/Color/21 Chapter Stops/Keepcase/#DV10928
ATTENDING RESIDENT: John Larsen
PATIENT: ONE MAGIC CHRISTMAS
BIRTH DATE: 1985
HMO: Anchor Bay Entertainment