The North Avenue Irregulars
Walt Disney's "The North Avenue Irregulars" is what I like to call a goof. Not "goof" as in a mistake, but "a goof" as in something light and frivolous. Walt Disney Pictures liked to call them programmers, films that would fill a slot in theaters (but more often than not the second half of a Disney drive-in bill) and then land on the Disney television program.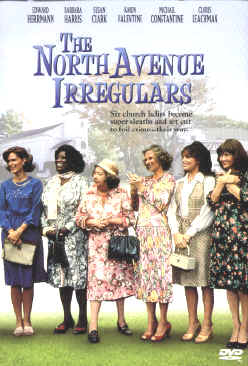 Films like "The North Avenue Irregulars" weren't meant to set the box office on fire. They were made to fill a specific need. Still, "The North Avenue Irregulars" transcends its meager hopes thanks to a notable cast of recognizable faces and a silly, by-the-book script that makes for perfect viewing by children. I'm a sucker for these types of movies, especially when they feature a cast of performers that I like. "The North Avenue Irregulars" is filled to the brim with people I don't mind spending time with, including Edward Herrmann as Reverend Mike Hill, the new minister at the North Avenue Presbyterian Church.
When I first popped in the DVD and saw Herrmann in this film, he looked like Harry Anderson from his early "Night Court" days. Herrmann was just a puppy in this film, an innocence that works well in this film. Reverend Hill has a formidable task ahead of him when he agrees to take over North Avenue. First he must revive the church, and then the attendance. It doesn't help that he's a single father with two children, or that his secretary is the daughter of the former minister who is still holding a grudge.
Then there are the North Avenue Irregulars, a group of women who tend to the church's business. They include young and sprite Jane (Karen Valentine), who is engaged to be married; Claire (Cloris Leachman), who pampers herself as much as her pooch; Cleo (Virginia Capers), who never backs down from anything; Vickie (Barbara Harris), the human child care center; and Rose (Patsy Kelly), who with her husband Delaney (Douglas V. Fowley) helps maintain the church.
Things heat up when Reverend Mike puts Rose in charge of the church's emergency slush fund, and encourages her to find ways to make it grow. Unfortunately, Delaney's plan is to bet the money on a horse. When Reverend Mike attempts to get the money back, he is scoffed at by the bookie. Reverend Mike decides to fight fire with fire, and begins a campaign to run illegal gambling out of town. His campaign is met with resistance from corrupt local officials and the church, which wants him to concentrate on church issues.
His campaign also attracts the attention of the Justice Department, which sends out two agents to help Reverend Mike with his crusade. Using the North Avenue Irregulars as their task force, the agents and Reverend Mike set out to expose and end illegal gambling. While the film, written by Disney veteran Don Tait from the book br Rev. Albert Fay Hill, is nothing more than a series of silly moments and chases, it is the charm of the cast that carries the weight.
I love Barbara Harris. I can watch her in anything and be entertained. "Freaky Friday" is one of my favorite films, and it is nice to see Harris back in the fold. One of her co-stars here is Patsy Kelly, who played the cleaning woman in "Freaky Friday." There is also the connection between Karen Valentine and Michael Constantine, who plays Federal Agent Marv. Both Valentine and Constantine shared several seasons together on "Room 222." Susan Clark is wonderful in the girlfriend role, while Cloris Leachman (she would return to the Disney lot for "Herbie Goes Bananas") is always fun. Indeed, "North Avenue Irregulars" is nothing more than a goof.
The special effects are simply atrocious (you never actually believe that any of the women are driving the cars during the chases), but this really isn't a special effects film. It's a fluffy comedy that more than gets the job done. The film was directed by television veteran Bruce Bilson, who manages to get it all up on the screen with minimal distractions. Very serviceable effort.
COMPLETE CHECK-UP
VISION: [ ] 20/20 [ X ] Good [ ] Cataracts [ ] Blind
A mixed bag. While some scenes are absolutely striking, others looks faded and washed out, but I suspect that this is a flaw of the original negative, which also includes numerous blemishes and scratches. The overall effect isn't annoying, but it is obvious. Delivered in the film's original 1.66:1 widescreen ratio (there is also a full-frame version on the flip side), the quality of the transfer is dictated by the negative. Most of the time the blacks are strong, but there are moments where they tend to look more gray than black. The flesh tones are always flattering, while the color and their saturation is strong. The best looking scenes are the interiors, where warm lighting keeps everything in check. Depth of field is almost non- existent in some scenes, very detailed in other.
HEARING: [ ] Excellent [ X ] Minor Hearing Loss [ ] Needs Hearing Aid [ ] Deaf
The Dolby Digital mono soundtrack seems low, forcing me to turn up the volume loud enough to hear some background distortion. The dialogue is occasionally hard to decipher without such an adjustment. Okay, but no big deal.
ORAL: [ ] Excellent [ ] Good [ X ] Poor
No closed captions or subtitles.
COORDINATION: [ ] Excellent [ ] Good [ ] Clumsy [ X ] Weak
You get the movie. That's it. Now move on.
PROGNOSIS: [ ] Excellent [ X ] Fit [ ] Will Live [ ] Resuscitate [ ] Terminal
Rent the film for your kids. They will enjoy it.
VITALS: $24.99/Rated G/100 Minutes/Color/17 Chapter Stops/Keepcase/#DV10829
ATTENDING RESIDENT: John Larsen
PATIENT: THE NORTH AVENUE IRREGULARS
BIRTH DATE: 1977
HMO: Anchor Bay Entertainment