A Nightmare On Elm Street
Classic horror villains all have one thing in common: longevity. Even if you kill them, a great villain will find a way out of the grave in order to continue their reign of terror. They must also have enduring qualities that force an audience to want to spend more time with them. They don't have to be charming, but they do have to have screen presence.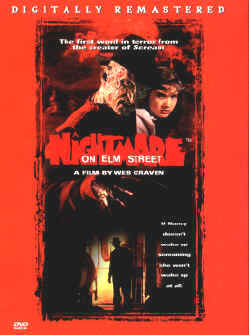 All the best classic horror villains, Frankenstein, Dracula, the Mummy, the Creature from the Black Lagoon, transcend the films they are in and become part of pop culture. While Jason was still haunting the campground of Camp Crystal Lake, I must have seen hundreds of kids wear hockey masks on Halloween.
Like Jason, you just can't keep child killer Freddy Krueger down. Sprung from the mind of writer-director Wes Craven ("Scream"), Freddy Krueger started from humble beginnings in the original "A Nightmare on Elm Street" film, where he and actor Robert Englund were relegated to a co-starring role. All that changed when the second film came out. By that time, Freddy Krueger and Englund were gold in the bank. Kids dropped their hockey masks and picked up plastic razor fingers like the one Krueger wears in the film.
All of a sudden brown Fedora hats were in fashion. Like the film in which he made his debut, what made Krueger original was his unpredictability. In the first film we don't learn very much about Krueger except for the fact that he was a child killer who was burned to death by vindictive neighbors after he was freed over a legal technicality. Now he's come back to haunt the dreams of their children, killing them one by one while they sleep. Having a character imbedded in a dream world allowed Craven and Krueger to involve themselves in any sort of mayhem they wanted, and the first film is just a tip of that iceberg.
The first film is a testament to Craven's ability to reinvent a genre that had been saturated with stalking maniacs. Freddy does his share of stalking, but it's usually with a twist. When he's not hanging out in a dark, creepy boiler room, he's invading the bedrooms of his victims, turning them into instant bloodbaths. The catch is that is his victims die in their dreams, it carries over into real life. That means if Freddy slices and dices you into a million pieces, your bed is going to look like a meat packing plant on a bad day. The heroine of the piece of Nancy Thompson, an extremely effective Heather Langenkamp.
Nancy doesn't understand the violent dreams she has been having, and tries to blame them on her parent's bitter divorce. When Nancy learns that her friends have been having similar dreams, she suspects that something is wrong. Hey, I didn't say she was a MENSA student. When her friends start getting slaughtered in their sleep, Nancy forces the truth out of her mother. Now Nancy must go to sleep one last time in order to stop Freddy. Craven's screenplay does hit some rough spots, especially towards the end when Nancy is in peril and tries to seek outside help. Other than that, it's a fine tuned horror film with just enough thrills and chills to warrant a sequel.
Craven does an excellent job of moving between the character's reality and dream states, and creates images that are truly nightmarish. The young cast, including Johnny Depp making his first big splash in films, are attractive and effective, while John Saxon and Ronee Blakley have some nice moments as Nancy's parents. True to form, Freddy Krueger returned in six more sequels, with at least one more in the works. While each successive edition featured more elaborate set pieces, none of them were as original and creepy as the first.
COMPLETE CHECK-UP
VISION: [ X ] 20/20 [ ] Good [ ] Cataracts [ ] Blind
Nicely mastered 1.85:1 widescreen transfer enhanced at 16:9 for widescreen televisions. Warm colors and vivid images go a long way, with strong blacks. Clean negative allows for pure whites and shadows, while depth of field is good. Colors are especially vivid, including blood reds and golden ambers. Flesh tones are realistic, while attention to detail is excellent. Extremely minute trace of flecking. Otherwise, the images are sharp.
HEARING: [ X ] Excellent [ ] Minor Hearing Loss [ ] Needs Hearing Aid [ ] Deaf
Full-bodied remastered 5.1 Dolby Digital Surround soundtrack completely engulfs you in a complex web of distinctive sounds and noises. Even though you're able to access the film's original mono soundtrack, the remastered soundtrack is the one to choose. It comes alive with booming basses, crystal clear high ends, and sustaining middles that combine to create a sound field that will raise the hair on the back of your neck. Surround effects are okay, but it's the strong musical cues and ambient noise that grab you. Stereo effects (left to right) are effective without being obvious, while I didn't notice any hiss or distortion.
ORAL: [ ] Excellent [ X ] Good [ ] Poor
Closed captions in English for the hard of hearing.
COORDINATION: [ ] Excellent [ X ] Good [ ] Clumsy [ ] Weak
Creepy main menu, plus handsome scene index. There's also a special menu so you can jump to your favorite nightmare. I was especially pleased with the audio commentary by director Wes Craven, actress Heather Langenkamp, actor John Saxon and the film's director of photography. Listen closely and you'll learn that the commentary was recorded for the laser disc version a couple of years ago. Not that it matters, because the conversation is lively (but not fluid), with all sorts of inside information being dispensed. There is some down time, but when these four start talking, they provide the information fans love to hear. They give away some of the tricks of the trade, and if you look closely on the DVD, you can see obvious safety devices get in the frame. The DVD also features the original theatrical trailer, plus a handful of production notes and bios. DVD-ROM features include a "New Dream World" trivia game, plus the ability to read the screenplay while you watch the film. There are also web links for up-to-the- minute information. My only question is where was Robert Englund when all of this was being done? He should have been on the commentary.
PROGNOSIS: [ X ] Excellent [ ] Fit [ ] Will Live [ ] Resuscitate [ ] Terminal
For its time, one of the most original and scary nightmares on the block. It still packs quite a punch.
VITALS: $24.98/Rated R/92 Minutes/Color/25 Chapter Stops/Snapcase/#N4664
ATTENDING RESIDENT: John Larsen
PATIENT: A NIGHTMARE ON ELM STREET
BIRTH DATE: 1984
HMO: New Line Home Video