Nicholas Nickleby
As light and breezy as Calista Flockhart caught in a Santa Ana wind, the latest incarnation of Charles Dickens' "Nicholas Nickleby" is a joy to behold. Featuring an extremely likeable cast and a streamlined, engaging screenplay by director Douglas McGrath, "Nicholas Nickleby" is just the ticket for audiences who hate stuffy British drama.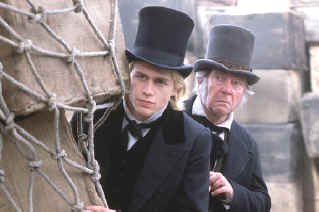 Charlie Hunnam (the British production of "Queer as Folk,") is perfectly cast as Dickens noble hero Nicholas, a handsome chap forced to fend for his family and family's honor after his father dies and leaves them in debt.
When his scheming uncle Ralph (a dastardly Christopher Plummer) pays off the family debt in exchange for services due, Nicholas is thrown from one adventure after another in his attempt to earn enough money to free his mother (Stella Gonet) and sister (Romola Garai) from familial servitude.
McGrath, an actor-turned-writer-turned director, serves up Dickens' words with relish. McGrath has cut out most of the fat from the story, and even though some moments feel truncated, what remains serves the story and characters well.
With "Emma," McGrath proved capable of mixing drama and social comedy without prejudice, and his screenplay for and direction of "Nicholas Nickleby" continues that tradition. The class distinction (and look) of 1850's London is perfectly realized, from the high class haves to the poor-as-dirt have-nots.
The cards are instantly stacked against Ralph, a man of money and very little scruples, who has no problem sending off Nicholas to work in a detestable boy's school while he exploits the weaknesses and charms of Nicholas' mother and sister. Nicholas befriends young, crippled Smike (Jamie Bell), the headmaster's (Jim Broadbent) favorite whipping boy, and eventually helps him escape.
On the road, the two encounter a theatrical troupe led by showman Mr. Crummles (Nathan Lane), who recruits them as actors for his traveling production of "Romeo and Juliet," which eventually takes them back to London for a final confrontation with Uncle Ralph.
There are many pleasures to behold in "Nicholas Nickleby," including a terrific cast led by Hunnam. Plummer is appropriately loathsome as Uncle Ralph, who sees no wrong in taking advantage of family and friends alike. Jamie Bell is hopeful and heartbreaking as the emotionally deprived Smike. Jim Broadbent Plummer a run for his money as the equally detestable headmaster.
Nathan Lane is at his best as the showy showman who could sell snow cones to Eskimos, while Alan Cumming and Barry Humphries sparkle as two of his devoted thespians. Anne Hathaway (The Princess Diaries) is stunning as the pretty artist who is attracted to Nicholas but agrees to be married to old and stuffy Sir Mulberry Hawk (Edward Fox) in order to satisfy her father's debt.
DANDY DICKENS Likeable cast, vibrant script bring "Nickleby" to life
NICHOLAS NICKLEBY
Charlie Hunnam, Christopher Plummer, Jamie Bell, Jim Broadbent, Nathan Lane, Anne Hathaway, Romola Garai, Alan Cumming, Sir Tom Courtenay, Edward Fox, Barry Humphries, Juliet Stevenson. Directed by Douglas McGrath. Rated PG. 130 Minutes.
LARSEN RATING: $6.00