Nashville
When Robert Altman's "Nashville" first graced theater screens in 1975, I wasn't old enough to fully appreciate the effort. I was quite impressed with the musical soundtrack (which as a collector of soundtracks, I immediately went out and bought a copy), but the film's structure and character development totally escaped me.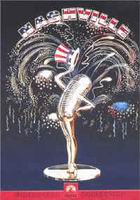 It wasn't until several years later when I caught the film on a double-bill that I began to appreciate what Altman was trying to do. There was something especial about "Nashville," a voice that kept calling me back time and time again. Now after numerous visits, I consider "Nashville" one of the ten best films ever made.
Altman is a director who takes chances, turning convention on its head whenever possible. I was 12 years old when "M*A*S*H" came out, and except for the obvious humor (Hot Lips in the shower, the raunchy football game), I didn't get it. Here was a film that everyone was talking about as one of the funniest films they had ever seen. It wasn't until I was in college that the subtleties of the script and Altman's direction came through.
"Nashville" isn't just a movie, it's a living tapestry of human emotion and circumstance. With more than 25 major speaking roles, the film is a kaleidoscope of interesting characters and equally fascinating situations. The action takes place in the city of Nashville over a five-day period. The bustling home to country and western music is preparing to open its arms to Replacement Party Presidential Candidate Hal Phillip Walker.
In a brilliant stroke of writer Joan Tewkesbury's pen, we never meet the candidate. We only see him through his campaign posters and bumper stickers. He's not important, but his impending arrival is. It sets the stage for the director and writer to tell us several stories, most unrelated to each other but connected by an underlying theme.
"Nashville" is a place where singers and songwriters come to fulfill their dreams. It's a town filled with heartache and happiness, pain and joy. These emotions are explored through the characters who filter through the film's numerous sub-plots. One way or another, their lives become affected by a man they neither know or will never meet.
First and foremost is Lily Tomlin, in an Oscar-nominated performance, as a bored housewife whose brief affair with a singer/songwriter played by Keith Carradine provides her with the spiritual freedom she so desperately needs. Tomlin is remarkable as a woman on the edge who doesn't even recognize the fact. When we first meet her, Tomlin's character is so fragile and vulnerable. We want her to take a chance and sleep with singer Tom Frank (Carradine). When she does, it releases within her a dormant passion that provides her with strength and self-worth.
Frank is something of a cad, a modern day troubadour who thinks nothing of picking up, sleeping with, and then discarding women. Carradine is excellent (and won an Oscar for his song "I'm Easy") as a man who sees women as a release and nothing more. Tomlin's character deserves better, but by showing her the same discourtesy as everyone else, he actually empowers her. When she leaves his room we know that she's a better person. He didn't use her, she used him. He's too shallow to know it.
Barbara Harris is simply delightful as a dissatisfied wife on the run from her husband, looking for fame and glory in "Nashville." What she finds is a city filled with people just like her. When she's finally given a shot, it literally comes with a price. I've always been a fan of Harris' work (I've seen "Freaky Friday" more times than I care to count), yet what she does here is remarkable. With Altman's help, Harris fine tunes the character into a woman capable of rising to the occasion. We see her growth, even if it's only minor.
As Tomlin's husband, Ned Beatty shows us a man who is married in name only. There's no love in his marriage, much less interest, and Beatty does a splendid job of showing us a man who is disenfranchised. When we learn that he hasn't even taken the time to learn sign language so he can talk with his deaf children, you feel pity into of sorrow for him. It would have been so easy Beatty to shade the character as a villain, yet he and Altman avoid that cliche.
What I most appreciate about an Altman film is his casting. He's very unconventional in his choices, and yet when you see them, you think how could this get any better? When "Nashville" was filmed, no one thought of Lily Tomlin as a dramatic actress. She was the funny lady from "Laugh-In." Her performance is so honest and emotionally full, you see her in a different light.
Same goes for Henry Gibson, who pedaled flower power on "Laugh-In" and yet is so affecting as a country western singer you thank Altman for casting him.
Even though "Nashville" feels loose and accessible, there is a method to Altman's madness. Hiding underneath the party atmosphere is a scary little drama about a mentally ill country and western singer named Barbara Jean (Ronnee Blakely in a performance that is genuinely honest) and the men in her life. They include her overprotective husband (Allan Garfield), a young soldier who stands guard over her hospital room, and a drifter whose presence doesn't become clear until the final act. Of all of the vignettes that make up "Nashville," this one perfectly reflects the tone of the time.
There are so many great characters and set-ups in "Nashville," it would impossible to peg them all. I especially liked Geraldine Chaplin's goofy Opal of the BBC, a flighty reporter whose flowery descriptions are a hoot. Barbara Baxley, a grand old dame, is excellent as Gibson's gal, a tough cookie who has seen her share of political candidates come through town. There's real history in every one of Baxley's words, delivered with the sort of conviction that can only come with being there.
Gwen Welles is poignant as a waitress who wants to be a singer but would be better off stripping. "Nashville" features more than an hours worth of musical performances, and even though they're not the polished musical numbers of Hollywood's golden age, they are refreshingly real. All of the actors sing their own songs (with many writing them as well), and while they are not great singers, they more than get the job done.
Like in "M*A*S*H" and his later films, Altman creates a startling sense of reality by having the actors talk over each other's lines. I like this device, which forces us to pay attention. Altman and his extremely talented crew have created a perfect little slice of Americana, one that will hold up over the years. The dialogue is so refreshing and relevant that it never ages. The performances are ageless.
"Nashville" isn't just a city. It's a state of mind. Altman is the perfect tour guide.
COMPLETE CHECK-UP
VISION: Good
2.35:1 Widescreen
16:9 Enhanced
RSDL
Good but not spectacular digital transfer. There's really no issues with the transfer, which is sharp and vivid when it's allowed. The problem lies with some of Altman's original film choices. A lot of the film takes place in small bars and nightclubs, and the lighting and film stock don't allow very much depth of field and absolutely no attention to detail. There is definition, but it's not definitive. Flesh tones are handsome, but colors are generally muted. Outdoor scenes fare the best, which are bright and cheery. Saturation is okay, with no bleeding. Blacks are okay but not solid, while the original print is clean enough to provide for clear whites. No real compression artifacts to speak of.
HEARING: Good
Dolby Digital 5.1 Surround
Ample play in all of the sound fields, but nothing here suggests state of the art. Which is only fitting, considering that the film's original soundtrack was intended for mediocre theater sound systems. Dialogue mix is strong enough to support the various overlays, allowing us to pinpoint every word. Musical cues are clean and presented without any distortion or hiss. Rear speakers are add ons, with the occasional sound or musical cue filling in for ambient noise. Surround effects are not an issue one way or the other, while the front stage stereo mix is okay but nothing to wrote home about. Basically, the soundtrack gets the job done. Anything else is a bonus.
ORAL: Good
Closed Captions in English for the Hard of Hearing
COORDINATION: Good
Exclusive interview with director Altman, offering an extensive, in-depth look at the difficulties of getting the film made, financed, and then cast. Altman goes through each cast member and provides insight into their character and the reason he chose them. Quite impressive.
Full-length audio commentary with director Altman is all that it can be, and more. Altman is such a natural moderator that his commentary feels like a discussion with an old friend. He delves into every aspect of making the film, the coordination of the music, and the special techniques he created to make "Nashville" an experience unlike any other. The commentary is clear and concise, and Altman is always engaging and informative.
Original Theatrical Trailer that starts off looking like crap (the Paramount logo is grainy and scratched) and ends up looking crisp and clear. The preview is a must-see, a demonstration of how Hollywood could package a complex movie without giving away the goods.
Handsome main and scene access menus.
PROGNOSIS: Excellent
It's "Nashville." What more can I say?
ATTENDING RESIDENT: John Larsen
PATIENT: NASHVILLE
BIRTH DATE: 1975
HMO: Paramount Home Video