Mystic River
Even though "Mystic River," Clint Eastwood's twenty-fourth film as a director, takes on water at the end, the journey remains a memorable experience. Based on Dennis Lehane's page-turner, "Mystic River" benefits from a faithful, intelligent and involved screenplay by Brian Helgeland, whose keen knowledge of police and procedurals earned him an Oscar for "L.A. Confidential."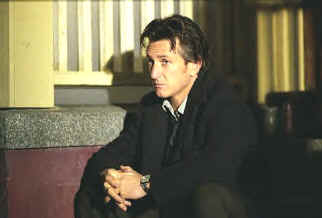 "Mystic River" is a rare cinematic experience where direction, performance, and writing merge to create something truly special, a powerful, emotionally devastating story about friendship lost and found, tested loyalties, lies and deceit, and personal conviction.
The look and tone of "Mystic River" reminded me of David Lynch's "Blue Velvet," pretty images hiding an ugly interior, connected by a current of underlying suspense that slowly creeps up on you and strikes without warning. Lehane, like Stephen King and Lorenzo Carcaterra ("Sleepers"), frames his story with a tragic event that affects and binds the lives of a group of childhood friends. When tragedy strikes again, the friends, now adults, learn that time doesn't heal all wounds.
Eastwood makes specific choices on what he shows us, and how he shows it to us. "Mystic River" is a thriller, but it's not really thrilling. Instead, Eastwood and Helgeland lead us on a calculated, gripping exploration of the human condition, allowing the actors to ignite the emotional fireworks of the incendiary topic.
That topic, the murder of a loved one, allow the characters to connect, and because of their multi- layered back stories and rich personal detail, the audience to connect with them as well. It's important that we not only understand what the characters are going through, but feel their pain and anguish. Sean Penn, Tim Robbins and Kevin Bacon, doing some of the best work of their careers, make that transference believable, and when required, uncomfortable.
Entertainment isn't always entertaining, and "Mystic River" is proof of that. While we may find ourselves engaged, there are moments in "Mystic River" that challenge us with their horrifying themes and conclusions.
Penn is exceptional as Jimmy Markum, who as a child growing up on the streets of Boston, played with best friends Dave Boyle (Tim Robbins) and Sean Devine (Kevin Bacon). When something horrible happens to Dave, Jimmy and Sean find themselves scarred for life. Years later, all three men arrive at a crossroads in their lives.
Dave is married (Marcia Gay Harden) and has a kid, but memories of his past still haunt him. Jimmy, who survived an unlawful youth and a bad marriage, now runs a convenience store with his second wife (Laura Linney) and nineteen year old daughter Katie (Emmy Rossum). Sean is an Massachusetts Police Officer, perhaps as a reaction to his childhood trauma.
The murder of Katie is the catalyst that reunites all three men, who not only deal with the grisly crime and its after effects, but are forced to examine the different paths each took. It's these personal insights, delivered with conviction, that alter a standard issue murder thriller into a story about people and the tough life choices they make. As the usual suspects begin to line-up, we find ourselves rooting for Jimmy, even though he has secured the help of local thugs to keep the investigation on its toes.
Penn takes us on an emotional roller coaster ride, leaving us breathless and grief-stricken with his ability to live in the moment. Eastwood wisely surrounds Penn with equally talented and strong actors. Bacon is sullen but determined as a man who must place a professional distance between himself and his assignment. Robbins is flawless as a shell of a man, someone who expects a pass because of his past, especially when he becomes a suspect in their murder.
As director, Eastwood etches each and every character with precision. The situations, emotions, conflicts and characters all feel real. It would have been easy to turn all of this into melodrama, but Eastwood avoids the obvious. As an actor, Eastwood understands and appreciates the caliber of talent in front of his camera. Penn and several others take tremendous leaps of faith, and Eastwood tightly woven direction and Helgeland's sturdy script are always there to catch them.
Lehane was hesitant to sell his novel to Hollywood, because he felt that a movie would never do the novel justice. He was wrong. Stirring, unsettling, powerful and devastating, "Mystic River" goes beyond being just a movie and becomes an experience that will haunt you long after the film is over.
"RIVER" OF NO RETURNEastwood navigates current of emotions
MYSTIC RIVER
Sean Penn, Tim Robbins, Kevin Bacon, Marcia Gay Harden, Laurence Fishburne, Sarah Silverman, Laura Linney. Directed by Clint Eastwood. Rated R. 137 Minutes.
LARSEN RATING: $8.00