My Favorite Martian
Like most kids my age on my block, I found myself glued to my television set on Sunday evening at 7:30 p.m. for "My Favorite Martian." It was my parent's antidote to "The Wonderful World of Color" on NBC. I grew up watching and enjoying shows like "My Favorite Martian" and "Bewitched," so whenever Hollywood gets the notion to turn them into big screen entertainment, I usually cringe.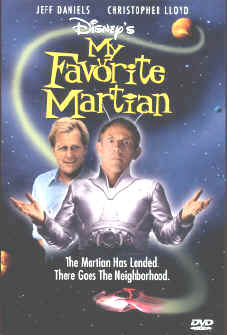 There have been some exceptions to the rule ("The Brady Bunch"), but for the most part, Hollywood usually gets it wrong. That is why I didn't catch "My Favorite Martian" when it played in theaters. I didn't want people to see me cry. Now that I've seen the film on tape and DVD, I'm proud to say that I didn't cringe. I wasn't thrilled with the effort, but I understood it. I understood that some films aren't made to impress me. They're made to entertain certain audience members, and even though I wasn't ecstatic over "My Favorite Martian," I believe that children will get a kick out of it. All of the familiar elements are in place from the television series, but the film has been updated for the 90s, and that is where it loses its nostalgic charm. It only makes sense that the filmmakers would want to be all that they can be in terms of special and visual effects. It also makes sense that the film would arrive with some dicey humor in order to satisfy those 8- year-old kids with an adult sense of humor. The humor in the Sherri Stoner and Deanna Oliver screenplay is aimed squarely at juveniles who appreciate talking space suits with an edgy sense of humor. The cast survives for the most part, but subtlety definitely wasn't on the call sheet. The performances are played over the top in order to accommodate the elaborate visual effects, which are a mixed bag. Some of the effects are sly, while others seem showy to the point of distraction. Jeff Daniels plays television producer Tim O'Hara, who is looking for his big break. While he makes time and covers human interest stories with the station's daughter (Elizabeth Hurley), Tim dreams of his big break. He gets it one evening while driving home. He's almost run off the road by an alien spaceship, and then ends up becoming host to the ship's occupant. The alien takes on human form and becomes Tim's Uncle Martin, a wacky individual stuck on our planet until her can repair his craft. That leaves him plenty of time to create chaos in Tim's life, including setting him up with his lovely assistant Lizzie (Daryl Hannah, back on track). A minimal amount of suspense is created when Martin finds himself the target of an obsessive government agency anxious to dissect him. It's all done as a big goof, and none of this can be taken seriously. Instead, less demanding kids should find themselves tickled by the numerous sight gags that permeate the film. Christopher Lloyd is a good fit as Uncle Martin, creating just the right blend of zaniness to pull the charade off. I also liked Christine Ebersol as Tim's neighbor, the vivacious Mrs. Lorelei Brown. Director Donald Petrie does an admirable job of pulling everything together, but all of his hard work won't impress adults, who will find most of this silly rather than engaging.
COMPLETE CHECK-UP
VISION: [ X ] 20/20 [ ] Good [ ] Cataracts [ ] Blind
Sharp, vivid images are just the beginning. The 1.85:1 widescreen transfer features excellent color saturation with realistic flesh tones. The color scheme is bright without bleeding or hot spots. Blacks are industrial strength, while a clean negative allows for pure whites and shadows. Depth of field and attention to detail is strong and vivid. No compression artifacts but a minute amount of flecking. The images are sturdy and avoid all of the evil compression pitfalls.
HEARING: [ X ] Excellent [ ] Minor Hearing Loss [ ] Needs Hearing Aid [ ] Deaf
Dolby Digital 5.1 Surround soundtrack makes it easy to appreciate the effort. Strong dialogue mix punches up the jokes, while the stereo split (left to right) is distinctive. Front to rear spatial separation is effective, while the rear speakers come alive with all sorts of ambient noises, musical and dialogue cues. Basses are strong and impressive, while middle and high ends are clean and vivid. Surround effects are awesome and frequent, while I noticed no distortion or audible hiss. All sound fields kick in with assurance, creating an experience that engulfs you.
ORAL: [ ] Excellent [ X ] Good [ ] Poor
Closed captions in English for the hard of hearing.
COORDINATION: [ ] Excellent [ ] Good [ X ] Clumsy [ ] Weak
A small production featurette, the film's original theatrical trailer, and some Reel Recommendations.
PROGNOSIS: [ ] Excellent [ X ] Fit [ ] Will Live [ ] Resuscitate [ ] Terminal
Kids will appreciate the silly antics of this playful romp.
VITALS: $29.98/Rated PG/94 Minutes/Color/20 Chapter Stops/Keepcase/#17380
ATTENDING RESIDENT: John Larsen
PATIENT: MY FAVORITE MARTIAN
BIRTH DATE: 1999
HMO: Walt Disney Home Video