Muppets From Space
How delightful it is to have the Muppets back on the big screen. I absolutely adore them, and have supported each and every one of their theatrical adventures.
Having them back is like catching up with old friends you haven't seen in a while.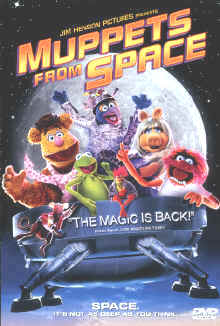 The emphasis this outing is on cute, adorable Gonzo, who finally learns of his origins. The film opens with a funny bit with Gonzo trying to gain entrance on the Ark when Moses (F. Murray Abraham) breaks the bad news.
Since there is only one of him, Gonzo can't board the Ark. The dream sends Gonzo on a search for his heritage. What Gonzo learns is that his relatives are more out of this world than the rest of his Muppet friends.
When word leaks out on Miss Piggy's television show that Gonzo's family is coming for a visit, he is abducted by K. Edgar Singer (Jeffrey Tambor), a member of a secret government agency.
Singer wants to capture Gonzo and his family to prove that aliens exist. It's up to the Muppets to come to Gonzo's rescue and save the day. The plot is thin, but the jokes and visual gags are plentiful.
Three writers (Jerry Juhl, Joseph Mazzarino and Ken Kaufman) provide the Muppets with plenty to say and do, while the live actors (including David Arquette, Josh Charles, Hollywood "Hulk" Hogan, Ray Liotta and Andie McDowell) are just along for the ride.
Tambor makes an excellent foe, while director Tim Hill keeps everything short and sweet. The Muppet puppeteers and performers (among them Frank Oz, Dave Golez and Steve Whitmire) keep the old magic alive, while the film's visual and special effects are appropriately cheesy.
The Muppets are back, and the DVD provides them with the proper respect they deserve.
COMPLETE CHECK-UP
VISION: Excellent

1.85:1 Widescreen & Full Frame

Anamorphic Enhanced

Sharp, vivid digital transfer delivers quality color and saturation, good flesh tones and strong but not invincible blacks. The colors are absolutely striking. Amazing depth of field and attention to detail. No compression artifacts or noise visible. Clean negative allows for pure whites and stunning grays.
HEARING: Excellent

5.1 Dolby Digital Surround

2.0 Dolby Digital Surround

Playful 5.1 Dolby Digital Surround soundtrack is as animated as the film itself. Sound effects play a major role in the film, and they punch through the crystal clear musical soundtrack and strong dialogue mix. Stereo separation is superior, with all sorts of ambient noise coming at you from every direction. Basses are strong, while middle and high ends are so clean they squeak. Surround effects are plentiful, while back speakers carry more than their share of the load, dispensing bristling musical cues and ambient noise with authority. All sound fields are clean.
ORAL: Good

Closed captions in English for the hard of hearing.
COORDINATION: Excellent

Funny, creative main and scene access menus.

Taking a cue from their recent "Ghostbusters" DVD, Columbia-TriStar utilize the "Mystery Science Theater 3000" technique of having the performers sit in front of the screen as they deliver their full-length audio commentary. The performers appear as silhouettes, and what a blast it is to watch Kermit, Gonzo, Rizzo and director Tim Hall narrate the film from their seats. There is a lot of action in front of the screen, as Kermit and friends constantly make entrances and exits. The commentary is gag-filled, but those with a weak stomach might find the jokes to broad or cute for their liking. I like silly humor, so I fell for every gag and one-liner.

An outtake reel that proves even puppets can make mistakes.

The music video "Shining Star" by the Dust Brothers featuring Jeymes.

The original theatrical trailer plus bonus trailers.

Talent files and production notes galore.
PROGNOSIS: Excellent

Finally, an invasion that will leave a smile on your face.
VITALS:

$24.95/Rated G/88 Minutes/Color/28 Chapter Stops/Keepcase/#03932
ATTENDING RESIDENT: John Larsen
PATIENT: MUPPETS FROM SPACE
BIRTH DATE: 1999
HMO: Columbia-TriStar Home Video