The Mummy
You know the drill…high priest gets his hand caught in the cookie jar, finds himself being wrapped up for the holidays, only to be resurrected 3,700 years later by a long, long descendant. Hey, it happens all the time, but it happened first on the big screen in "The Mummy."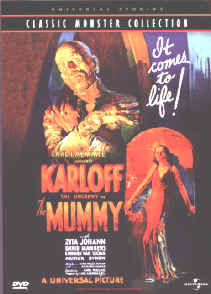 Arriving a year after "Frankenstein," "The Mummy" benefitted from a climate that was hungry for more big screen horror. It also helped that the film starred Boris Karloff, whose monster in "Frankenstein" set a new standard. Audiences couldn't wait to see what Universal and Karloff had up their sleeves (wraps), and made "The Mummy" a box office hit.
Like "Frankenstein," the film took audiences to exotic locations and exposed them to unspeakable horrors. Both films benefitted from moody black and white cinematography that allowed the directors to use light and shadows in the most horrific ways. Karloff once again delivers a stunning, sympathetic performance of a creature trapped in an existence beyond his control.
"The Mummy" was so popular it produced several sequels, not to mention an immensely popular remake earlier this year. By mixing fact and fantasy, the filmmakers create situations that are believable within context of the film. You accept the premise because the actors do. They never approach the material with their tongue in cheek. They take all of this seriously, and as a result make it easy to invest in their dilemma.
You feel for Helen Grosvenor (Zita Johann), the woman Im-Ho-Tep (Karloff) has chosen as the reincarnation of his long lost love. The stage actress is excellent as a woman whose destiny has been chosen for her. Director Karl Freund does an exceptional job of creating time and place. The film has an authentic, musty look. I won't ramble on. The DVD is filled with all sorts of background information.
COMPLETE CHECK-UP
VISION: Good

1.33:1 Full Frame

Nicely rendered full-frame black and white digital transfer. Aside from the obvious age issues, the film looks marvelous. The original negative looks like it has been restored, providing for sharp, clean images. Blacks are strong, while whites and grays are decent. Not much depth of field, but attention to detail is better than expected. No compression artifacts or noise visible.
HEARING: Good

2.0 Dolby Digital Mono

Highly effective 2.0 Mono soundtrack gets the job done. The soundtrack sounds remarkably clean (there is some low level hiss during quiet moments, but that is to be expected), with excellent dialogue mix.
ORAL: Good

Closed captions in English for the hard of hearing, subtitles in French,
COORDINATION: Good
Here are the DVD extra features:

"Mummy Dearest," a wonderful documentary on the history of "The Mummy," featuring fascinating recollections from historians and offspring of those involved, plus numerous clips from "The Mummy" series of films. You'll learn a lot by taking this mini-history lesson.

A full-length audio commentary featuring film historian Paul M. Jensen. Unfortunately, Jensen's commentary sounds like a staid film history professor who has little to say beyond what is printed on the script. Instead of reveling in the process of a running audio commentary, Jensen sounds like he's scared to death. He spouts off facts and observations like we're supposed to take notes.

"The Mummy Archives," a great little gallery of stills and artwork from the film.

The original theatrical trailer. I was surprised that Universal didn't slip in the theatrical trailers for the new version of "The Mummy."

Production notes, plus a handful of cast & filmmaker bios and filmographies.

Web links to Universal Studios Home Video Internet site.

Handsome main and scene access menus.
PROGNOSIS: Excellent

Wrap it up…another great title in the Universal Classic Monster Collection.
VITALS:

$29.98/Not Rated/74 Minutes/B&W/18 Chapter Stops/Keepcase/#20327
ATTENDING RESIDENT: John Larsen
PATIENT: THE MUMMY-CLASSIC MONSTER COLLECTION
BIRTH DATE: 1932
HMO: Universal Studios Home Video