Modern Vampires
Stylish vampire film looks great, but after all is said and done, the effort becomes anemic. Director Richard Elfman does an excellent job of making the film an exercise in visual delights, but the screenplay by Matthew Bright is extremely pedestrian.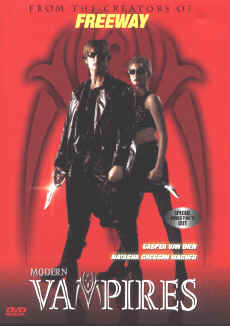 Natasha Gregson Wagner is decent as the "Hollywood Slasher," a female vampire whose exploits are threatening the underground vampire movement in Los Angeles. While the rest of the blood suckers want her dead, Nico (Wagner) seeks out Dallas (Casper Van Dien), a vampire whose bite can grant Nico immortality.
Not only are Nico and Dallas forced dodge the rest of the bloodsuckers, they also have to dodge Dr. Frederick van Helsing (Rod Steiger), the infamous vampire hunter seeking revenge for his son. In a novel twist, van Helsing hires gang bangers from the streets to act as vampire hunters. After all, who knows the streets better?
The film looks good and has a vicious, sexy side, yet everything after the first fifteen minutes seems familiar. The supporting cast tries in vein to make something out of nothing, including the sexy Kim Cattrall and Natasha Lyonne. Steiger is so over-the-top as the good doctor that you wonder if he dropped in from another film.
Familiar faces dot the landscape, including Robert Pastorelli from "Murphy Brown," Craig Ferguson from "The Drew Carey Show," and Udo Kier, one of the greatest blood suckers of all time in "Andy Warhol's Frankenstein." Like the scenery, they are nice to look at, but ultimately they become flat and uninteresting.
COMPLETE CHECK-UP
VISION: Good

1.33:1 Aspect Ratio

Decent transfer is delivered in full frame rather than widescreen, and for the life of me I cannot understand why Sterling Home Entertainment keeps doing this. Obviously the film was shot for theatrical release (either here or abroad), so why not transfer it in widescreen. By delivering the film full frame it looks no better than standard direct-to-cable fare. The images are sharp, and the colors and their saturation are strong. Flesh tones look nice, while blacks seem to hold up. Not much depth of field, while attention to detail is sketchy. No real compression artifacts to speak of.
HEARING: Good

Dolby Surround

Sturdy Dolby Surround soundtrack gets the job done with minimal effort. The stereo effects are adequate but don't really grab you. Dialogue mix is strong, while ambient noise and musical cues sound clean.
ORAL: Poor

Spanish subtitles.
COORDINATION: Good

Creepy but efficient main and scene access menus that feature motion images.

Audio commentary track featuring director Richard Elfman and star Casper Van Dien. If nothing else, you learn early on that these two are horn dogs. This becomes immediately apparent as they both comment on Natasha Gregson Wagner's rear end as she enters a scene. The rest is pretty much pedestrian fare as far as running commentaries go, with the usual look at this or how difficult was that chatter. There is some attempts at depth, but it seems that neither gentleman is up to the challenge.

A behind-the-scenes featurette in which literally everyone connected with the film kisses up to Rod Steiger. The interviews are nothing more than a love fest, which is okay but not very fulfilling.

The film's original theatrical trailer, plus a special bonus trailer of "Progeny."

A handful of sketchy cast & crew bios and filmographies.
PROGNOSIS: Resuscitate

Not a bad film, but every time the DVD locked on me, I wanted to bite it. After chapter three the disc would freeze and then jump to the next chapter. Then it would freeze, and jump to the next chapter. What is that all about?
VITALS:

$29.98/Unrated/95 Minutes/Color/20 Chapter Stops/Keepcase/#7345
ATTENDING RESIDENT: John Larsen
PATIENT: MODERN VAMPIRES: SPECIAL DIRECTOR'S CUT
BIRTH DATE: 1998
HMO: Sterling Home Entertainment