A Mighty Wind
To truly appreciate writer-director Christopher Guest's latest mock-u-mentary "A Mighty Wind," you have to understand where Guest is coming from. Because my mom believed that folk music was the tamest transition from country-western music to rock and roll, I was already familiar with Peter, Paul and Mary, the New Christy Minstrels, and Ian and Sylvia, among others.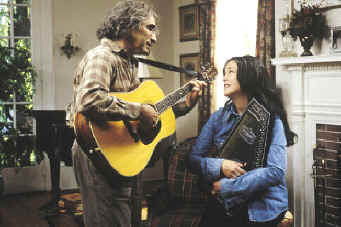 That primer was enough to help me relish Guest's warm, affectionate, and frequently funny homage to the singers and songwriters of the era. Although the names (and in some cases, genders) have been changed to protect the innocent, "A Mighty Wind" is a pleasurable blast from the past, set during a modern day reunion concert, where three popular acts struggle with their self-identity and inner demons.
Not nearly as fall-down funny as Guest's "Best in Show" and "Waiting for Guffman," "A Mighty Wind" still manages to tickle the funny bone, and in one rare moment, evoke honest sentiment. Using his talented troupe of regular performers, Guest has fashioned another sly comedy that builds momentum as it goes along, ending in a joyous finale that is sure to leave a smile on your face.
The only thing the film has going against it is that unlike Guest's previous documentary spoofs, "A Mighty Wind" contains strands of a straightforward narrative, moments where the filmmaker pulls back from the film-within-a-film to divulge certain plot points. This deviation from the documentary format reminds us that we're watching a film rather than a carefully conceived spoof.
That aside, it's business as usual for Guest and company, who work overtime to create characters and situations that ring true. After legendary folk music producer Irving Steinbloom passes away, his children, including son Jonathan (Bob Balaban), decide the best way to honor his memory is to stage a reunion concert of his three biggest acts. They include the all-male Peter, Paul and Mary clone The Folksman (Harry Shearer, Michael McKean, and Guest with a shaved pate), The New Main Street Singers (with last remaining original member Paul Dooley, and newcomers Parker Posey, John Michael Higgins, Jane Lynch), and Mitch and Mickey (Eugene Levy and Catherine O'Hara).
With only a two-week window available, Jonathan has to deal with fragile egos, hot shot public broadcast network executives (Ed Begley Jr. as a Jewish Swede), lack of interest, and most of all, getting commitments from the groups. Commitment is the key word for Mitch, who after his break-up with Mickey and two failed solo albums, ended up in a mental institution and on heavy medication. While everyone in the cast inhabits their roles with perfection, it's Levy and O'Hara who steal the spotlight, laughs, and eventually our heart as the former lovers who must overcome years of self-doubt in order to perform.
Guest and co-writer Levy fill the script with keen, funny, amusing observations that make the characters interesting and engaging. The writers and cast are so adept at creating this alternate reality, their use of shorthand allows us to learn so much about them in a scant, breezy ninety minutes. Those willing to look a little closer will discover some great in-jokes, especially the thinly-veiled resemblance between Mitch and Mickey and Bob Dylan and Joan Baez.
Vital to the film's illusion are the songs, and like the characters, they are pitch perfect. They manage to evoke the sound of the period while making a statement of their own. Lurking on the sidelines are equally memorable characters like Fred Willard's obnoxious manager, Larry Miller's ubiquitous P. R. guy, and his assistant, played by the fabulous Jennifer Coolidge as if she's had one too many Botox lip injections, and Michael Hitchcock's venue manager who would rather star on rather than sweep down the stage.
Not everyone's cup of tea, "A Mighty Wind" will surely appeal to fans of Guest's previous work.
RIOTOUS REUNIONNew Guest Comedy A Mighty Wind of Joy
A MIGHTY WIND
Christopher Guest, Michael McKean, Harry Shearer, Catherine O'Hara, Eugene Levy, Parker Posey, Fred Willard. Directed by Christopher Guest. Rated PG-13. 90 Minutes.
LARSEN RATING: $6.00