Memento DVD
Memory can be a tricky thing. Just ask Leonard Shelby (Guy Pearce). The victim of a vicious attack, Shelby has lost his short term memory. He has no problem remembering events before the attack, but can't tell you what happened ten minutes ago. That means every time Shelby goes to sleep, he wakes up a stranger in a strange land.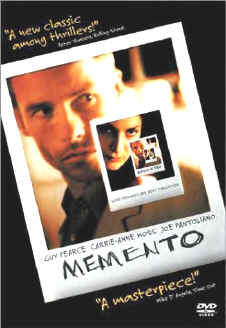 Welcome to "Memento," the first really great film of 2001. The sophomore effort of writer-director Christopher Nolan, "Memento" is the sort of film that grabs you by the throat and goes for the jugular. It leaves you little time to breathe, much less catch your breathe. Hold on for the mind game of your life.
"Memento" is about manipulation and perception, all brilliantly tweaked by Nolan, who creates a slice of film noir that instantly draws you into it's web of deceit. From the first frame you know you're in for something special. What transpires after the first frame will keep you guessing right up until the end titles. "Memento" is as crafty and clever as anything that has been put on film.
What makes "Memento" so memorable is the way Nolan tweaks with time. He boldly begins his story at the end, and then works backwards. It sounds silly, but it's not. It's a bold experiment that not only works, but works so well you feel compelled to see the film again right away.
Guy Pearce, an Australian actor, who like fellow countryman Russell Crowe plays American better than most Americans, is absolutely compelling as Leonard Shelby. It's a difficult role, one which requires complete conviction. Pearce doesn't just stand in front of the camera and recite lines. He becomes Shelby, warts and all. The ambiguous nature of the plot demands that we totally invest our faith in Shelby, and Pearce makes the investment pay off.
When we first meet Shelby, he's just killed the man he suspects raped and killed his wife. We don't know this to be fact, but we have to trust Shelby's instincts. We don't have a choice. He's our only link to the truth. Or is it the truth? Like Shelby, we're never sure. All he has to go on are the notes, Polaroids and tattoos he uses as crib notes to his past.
Pearce is so perfect in the role of Shelby that we rally behind him even though we have no idea what is real or imagined. We only know what he knows. So as we watch him dispatch the victim at the beginning of the film, we take for granted that the guy obviously had it coming. Then as the film begins to backtrack, we begin to suspect that not all is right.
Shifting time frames has been popular ever since Quentin Tarantino pulled it off in "Pulp Fiction." In most of the clones that followed, the gimmick became just that, a gimmick. It takes a director of immense vision and skill to make it work, and Nolan is that director. At first the device is disconcerting, but as the film progresses, you realize that it couldn't be told any other way.
"Memento" begins at the end, and then flashes back to various points in Shelby's investigation until we arrive at the beginning. So what we're seeing are events that have transpired, told from the point of view of someone who has no idea how he got there. They're little glimpses of his life which we get to revisit until all of the pieces of the puzzle have been filled in.
In his search, Shelby encounters numerous seedy characters, all willing to take advantage of his condition. They humor him along, knowing full well whatever they say and do won't matter ten minutes later. In order to keep his facts straight, Shelby takes Polaroids of important things in his life: people, the hotel he is staying at, his car. His body is covered with tattoos that contain important information: names, dates, license plate numbers, and such haunting slogans as "Find Him and Kill Him" and "Memory is Treachery."
His encounters as he works his way back in time include a guy named Teddy (Joe Pantoliano), who may or may not be his friend; a bartender (Carrie-Anne Moss) whose boyfriend has mysteriously disappeared; a motel deskman (Mark Boone Junior) who sees opportunity knocking; and a thug who wants him dead. You can't take any of these characters at face value, because we first meet them at the end of their relationship with Shelby. The real joy of the film is learning how these characters arrived at this point.
There's not a bad performance in the bunch, especially Moss as the put upon barkeep who seems to show real interest and sympathy in Shelby, and Pantoliano as the friend anxious to help him rediscover his past. Nolan connects the flashbacks with a powerful story about another man who suffers from short term memory and the affects it had on his long-suffering wife. Stephen Tobolowsky and Harriet Sansom Harris are outstanding as the couple who haunt Shelby's long-term memory.
Nolan, working from a short story by Jonathan Nolan, shows great skill as both a writer and director. He creates characters and situations that challenge us at every turn. The characters are so real and natural you feel as if you stepped into their lives.
"Memento" comes from independent producer New Market, who should be congratulated for seeing the forest from the trees. "Memento" is so bold and daring that I doubt any major studio would make it, much less consider it. It's way too smart for mass consumption. It requires the audience to pay attention and process information. Those willing to expend the effort will discover a film that will not only blow your socks off, it will send them into orbit.
COMPLETE CHECK-UP
VISION: 20/20

2.35:1 Widescreen

16:9 Enhanced
Excellent digital transfer that perfectly captures the extreme moods of the cinematography. Colors are sharp with good saturation and no noticeable fading or bleeding. Blacks are superior and hold up under the most extreme conditions. Flesh tones are flattering, while attention to detail, even in the shadows, is exceptional. Depth of field is sharp, and even though there is minimal edge enhancement in a couple of scenes, it is negligible. Clean print provides for a clean transfer with no artifacts or noise.
HEARING: Excellent

5.1 Dolby Digital Surround

2.0 Dolby Digital Stereo
Expressive 5.1 Dolby Digital Surround soundtrack is just as tricky as the film's plot. Overall sound reproduction is appealing with no noticeable hiss or distortion. Soundtrack perfectly replicates the sound editor's desire to draw the viewer in with subtlety, and then hit them over the head when the film jumps into a flashback mode. This audio trick creates a very distinctive set of sound experiences. Front sound field is perfect, with discernable left-to-right stereo split and a strong dialogue mix that stands out. Surround effects are limited but very effective, while rear speakers filter through some wisely chosen sound, musical and ambient noise cues that really make a difference. Middle and high ends are clean, while basses are present but not overpowering.
ORAL: Good

Closed Captions in English for the Hard of Hearing

Subtitles in English and Spanish
COORDINATION: Good

"Memento," an interactive feature that allows you to pick up clues along the way providing additional background information on the plot and characters. Interesting concept.

The complete text of the original short story "Memento Mori," written by Jonathan Nolan, the brother of writer-director Christopher.

A "Tattoo Gallery" that provides a split-screen guided tour of Leonard's tattoos. One side of the screen provides us with an artist rendering of the tattoo, the other the actual tattoo as seen in the film. A click of a switch allows you to full-frame either image,

A lengthy interview with writer-director Christopher Nolan as originally seen on the Independent Film Channel.

The film's original theatrical trailer, plus a trailer of Nolan's first film "Following."

Television Spot.

Filmmaker and cast biographies.

Stylish, film-theme menus that incorporate elements of the plot into the navigation.
PROGNOSIS: Excellent

One of the best films of 2001 comes to DVD with an excellent transfer and enough catchy extras to make owning a copy a must.
VITALS:

$24.99/Rated R/113 Minutes/Color/Keepcase
ATTENDING RESIDENT: John Larsen
PATIENT: MEMENTO
BIRTH DATE: 2001
HMO: Columbia-TriStar Home Video