The Mask of Zorro DVD
When I was a child, I remember watching "Zorro" on television. It starred Guy Williams, and was a campy concoction but fun nonetheless. That was then. Along came "Zorro: The Gay Blade," starring George Hamilton in an attempt to capitalize on his success from "Love at First Bite." More corny than campy, it didn't ring any mission bells.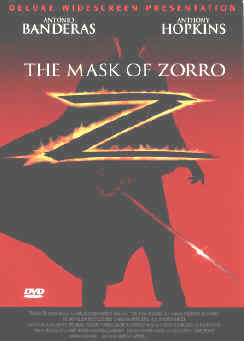 Now comes "The Mask of Zorro," a rousing, big-budget adventure that rides to the rescue of the Zorro legend. Told against gorgeous vistas, the film is alive with spirited action scenes and bristling dialogue that make the quieter scenes sparkle. Directed with flair by Martin Campbell, the man who reinvigorated the James Bond franchise with "Goldeneye," "The Mask of Zorro" is a handsome, engaging film.
Filled with noble heroes, despicable villains and a lovely damsel who is definitely not in distress, the film captures the imagination with clever action and the heart with a love story that's both passionate and satisfying. Anthony Hopkins is outstanding as Don Diego de la Vega, the rich nobleman who dons the trademark mask and becomes Zorro, fighter of the oppressed. His heroics are welcomed by the poor peasants of California in 1821, but rub tyrannical Spanish governor Don Rafael Montero (Stuart Wilson) the wrong way.
With Santa Ana's campaign against Spain coming to an end, Montero sets up one last trap to catch Zorro, the public execution of three innocent men. Indeed, Zorro does arrive in the nick of time, saving the men and befriending two you brothers. Ready to hang up the mask forever, Don Diego arrives back home to his lovely wife and new daughter Elena.
Desperate to get even with Zorro, Montero and his men show up at Don Diego's spacious residence, and in their struggle to capture him, kill his wife. To teach Don Diego a lesson, Montero torches his house, kidnaps his baby daughter, and imprisons him for twenty years in a hell hole. Definitely not a nice guy. Twenty years later, Don Diego makes a spectacular escape from the prison, and in an attempt to assassinate Montero, discovers that Montero's daughter is actually his precious Elena (Catherine Zeta-Jones).
Forced to recalculate his revenge, Don Diego finds salvation in Alejandro Murrieta (Antonio Banderas), a con on the run who also happens to be one of the brothers who helped Zorro twenty years earlier. Both men have scores to settle, Don Diego with Montero, Alejandro with the evil Calvary officer (Matt Letscher) who killed his brother. With Don Diego's help, Alejandro is transformed into the new Zorro. After extensive training, Zorro makes his mark, much to the dismay of Montero.
The real fun begins when Alejandro and Don Diego impersonate a wealthy Don and his assistant and manage to work their way into Montero's private circle. There, Alejandro finds himself drawn to Elena, while the Calvary Captain suspects that Alejandro isn't who he claims to be. There's a sub-plot involving Montero's plan to buy California from Santa Ana with his own gold, and romance between Zorro and Elena that begins with a sizzling dance and gets hotter from there. Carefully plotted and exquisitely executed, "The Mask of Zorro" does nicely by its stars.
Banderas is perfect as the swarthy hero with a bit of a rascal in him. He's strong yet graceful, and looks tremendous in a mask and cape. Hopkins is always a delight to watch, but there's an inner fire inside his Don Diego that slowly builds until the action-packed climax where revenge and justice are enacted. There's nobility in his words. The screen radiates whenever Catherine Zeta-Jones appears, and even though she's shot in an annoying soft-focus for half the film, she is sensational.
Her Elena is spunky and vibrant, obviously the bi-product of Don Diego and not the stodgy Montero, well played by Stuart Wilson. Matt Letscher's evil Captain Harrison Love is one moustache twirl away from being a caricature, but he pulls back at just the moments. Finally, I really like L.Q. Jones colorful Three-Fingered Jack, a character that seemed to have strolled in from a Sam Peckinpah western.
Director Campbell redeems the Zorro legend nicely. With Phil Meheux's picture postcard cinematography and Cecilia Montiel's dazzling production design, the film looks sharp and authentic. James Horner's music is as adventurous as the rest of the film. "The Mask of Zorro" is a Zorro for the ages, a film that proves they do make them like they used to.
COMPLETE CHECK-UP
VISION: [ X ] 20/20 [ ] Good [ ] Cataracts [ ] Blind : [ X ] 20/20 [ ] Good [ ] Cataracts [ ] Blind
Simply beautiful. The 2.35:1 widescreen transfer (enhanced at 16:9 for widescreen televisions) is one of the most vibrant and beautiful I have seen in some time. Gorgeous color saturation makes every scene come alive, while the blacks are so strong they never waver. I didn't notice any trace of compression artifacts or pixelation. The test of an excellent transfer is to be able to freeze any frame and end up with a picture postcard. Check out the scene at the beginning of the film where Zorro literally rides off into the sunset. The scene is so vivid and clear you just know you're watching a quality transfer. The colors are extremely vivid, including the bright reds and the awe inspiring blues. The flesh tones are warm and realistic.
HEARING: [ X ] Excellent [ ] Minor Hearing Loss [ ] Needs Hearing Aid [ ] Deaf
Boisterous 5.1 Dolby Digital Surround soundtrack makes good use of the spacial stereo separation, sending thundering horses racing through your living room, and brassy basses that vibrate with every explosion. Extremely expressive soundtrack features an excellent dialogue mix that never gets lost in the constant action. I didn't notice any hiss or distortion. What I did notice was a superior range of powerful sound that creates an aural wall that completely engulfs you. The ambient noise is so realistic you might catch yourself looking around the room to find out where it's coming from. The James Horner musical score sounds lively and full bodied. "The Mask of Zorro" DVD also features an equally impressive 2.0 Dolby Digital Surround track.
ORAL: [ ] Excellent [ X ] Good [ ] Poor
Closed captions for the hard of hearing.
COORDINATION: [ ] Excellent [ X ] Good [ ] Clumsy [ ] Weak
The DVD of "The Mask of Zorro" contains a promotional featurette on the making of the film, which is more of a sales tool than a behind-the-scenes documentary. It's sweet and pleasant, and all of the major talent clocks in with their encouraging words of wisdom. There's also a photo gallery of promotional and behind-the-scenes stills that are a little disappointing. They look like bad scans, and have a greenish tint. Toss in some zippy main and scene access menus (the scene access menus feature clips from each scene), and the original theatrical trailer, and it's not a bad set of extras.
PROGNOSIS: [ X ] Excellent [ ] Fit [ ] Will Live [ ] Resuscitate [ ] Terminal
"The Mask of Zorro" revives a genre and a franchise with exciting action, an excellent cast and a funny and literate script. A keeper.
VITALS: $24.98/Rated PG-13/137 Minutes/Color/28 Chapter Stops/Keepcase/#21699
ATTENDING RESIDENT: John Larsen
PATIENT: THE MASK OF ZORRO
BIRTH DATE: 1998
HMO: Columbia-TriStar Home Video