Man on the Moon
My parents were right. The older I get, the faster time seems to fly by. The longer the trip, the more things start to blur. Things that deeply affected us twenty years ago are now seen through rose colored glasses. We fondly look back on our past, even embracing moments we hated at the time.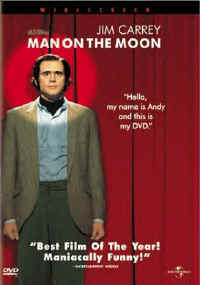 All of this leads up to "Man on the Moon," director Milos Forman's bio-pic about late comedian Andy Kaufman. When Kaufman was alive, practically everyone vilified him or his behavior. A handful of people thought he was brilliant, but most thought he was just crazy.
A lot of time has passed since Kaufman's death in the early 1980s. Everyone who either hated or despised Kaufman now proclaim him a comic genius. It's fashionable right now to be on the Andy Kaufman bandwagon. Every hayseed who ever met Kaufman is jumping on.
There's a lot of butt kissing going on in "Man on the Moon." The rose colored glasses here are so thick it is embarrassing. Instead of a hard-hitting expose into the mind of madness, "Man on the Moon" is nothing more than a Kaufman greatest hits collection.
This is a major disappointment coming from writers Scott Alexander and Larry Karazewski, who have created a cottage industry penning quirky bio-pics. The duo are responsible for "Ed Wood" and "The People Vs. Larry Flynt," two films that explored both the private and public side of their subjects.
The duo shortchange us on "Man on the Moon." Except for a few fleeting flashbacks, we're never privy to the private side of Kaufman's life. Instead, the writers focus on the public persona that Kaufman projected. The film becomes nothing more than a recreation of Kaufman's most noted and notorious public moments.
Jim Carrey's uncanny impersonation serves these recreations well, yet after all is said and done, the film seems hollow. You don't come away knowing anything more about Kaufman than you did going in.
Carrey is so in tune with Kaufman that you forget you're watching a performance. Too bad the filmmakers couldn't come up with something more for Carrey to do than the usual Kaufman bits. They had the perfect opportunity to take us back stage and get into Kaufman's mind and they failed. Ultimately, the film becomes "Kaufman-mania." It's not really Kaufman, but it is as close as you're going to get.
Director Forman, whose work on "The People Vs. Larry Flynt" was dynamic and involving, never warms up to his subject. He seems as perplexed as the people who orbited Kaufman's bright star.
Those people include Kaufman's agent George Shapiro, played here by Danny DeVito, and Bob Zmuda, Kaufman's co-hort in comedy crime, well played by Paul Giamatti. Courtney Love co-stars as Kaufman's soul mate, who spends most of her time defending him against friends and foes alike.
Technically, "Man on the Moon" is sound. It looks sharp, thanks to Anastas Michos crisp cinematography. Production designer Patrizia Von Brandenstein does an excellent job of turning back time, while R.E.M. contributes their title song and an impressive musical score.
I had such high hopes for "Man on the Moon." I was never a big fan of Andy Kaufman, but I did appreciate his audacious humor. I was hoping that "Man on the Moon" would have shed more light on what made Kaufman tick.
Maybe the problem is that no one really knows what made Kaufman tick. If that's true, then this film never should have been made.
The purpose of a bio-pic is to expose us to a side of a person we never knew. We already knew that Andy Kaufman was a wild and crazy comedian. What I wanted to know was why. What compelled him to challenge convention? Did he actually march to a different drummer, or was it all just an act? The film raises more questions than it answers.
If it weren't for Carrey's genuine and honest performance, "Man on the Moon" would be a total waste of time. If you want to see Kaufman routines, there are several recent videos where you can catch the real thing.
COMPLETE CHECK-UP
VISION: Okay

2.35:1 Widescreen

16:9 Enhanced

RSDL
All of the elements are in place, but for some reason they don't gel. While the overall image quality is good, there are some problems with the digital transfer that are noticeable. The images aren't always sharp and vivid, displaying soft edges at times. The colors are good but not overly brilliant, while flesh tones look okay but a little flat. There are also some issues with compression artifacts, which aren't helped by weaker than usual blacks. Depth of field is all over the place, and attention to detail comes and goes. A pristine original negative allows for clean whites and pure grays. More attention should have been spent on the mastering.
HEARING: Good

Dolby Digital & DTS 5.1 Surround

Dolby Digital 2.0 Surround French Language
Even though a lot of time and attention was spent delivering a DTS soundtrack, it mostly goes to waste because the film is dialogue driven. The dialogue mix is terrific, and the front sound fields work their butt off, but there isn't much in the way of surround effects or ambient noise. There are some arena effects when Kaufman plays live, and the surround effect do make you feel like you're part of the action. Rear speakers are underused, but what little information that pours from the speakers sounds sharp. Bass gets the short shrift, but middle and high ends sound clean.
ORAL: Good

Closed Captions in English for the Hard of Hearing.
COORDINATION: Good

Animated main and scene access menus, utilizing the film's theme, plus song menu.

Behind-the-scenes documentary "Spotlight on Location," which is a 20-minute collection of interviews with the stars and behind-the camera talent. These are always interesting, especially when they offer more than just the basics, and this one spotlights Kaufman's life and career with affection

Eight deleted scenes that are further proof of the brilliance of Jim Carrey.

The film's original theatrical trailer, plus the trailer for "The Nutty Professor 2: The Klumps."

Soundtrack presentation featuring music videos of R.E.M.'s "Man on the Moon" and "The Great Beyond." Those familiar with DVD extras will know to click on the images of Kaufman for a special treat.

Cast and crew bios & filmographies, plus production notes. There's also a separate bio section on Andy Kaufman.

DVD-ROM features include interviews, web links and sound clips.
PROGNOSIS: Will Live

I didn't think the film did Kaufman justice. The DVD is for fans of Carrey and Kaufman who are more forgiving.
VITALS: $24.98/Rated R/119m/Color/20 Chapter Stops/Keepcase
ATTENDING RESIDENT: John Larsen
PATIENT: MAN ON THE MOON – SPECIAL EDITION
BIRTH DATE: 1999
HMO: Universal Studios Home Video