Magnolia DVD
Grey skies are going to clear up, but not before writer-director P.T. Anderson drags his characters through heaven and hell in "Magnolia." One half biblical epic, one half human opera, "Magnolia" emerges as one of the best films of 1999.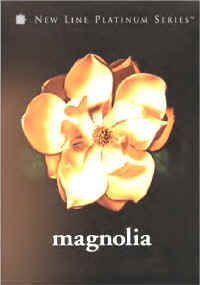 "Magnolia" arrives two years after "Boogie Nights," Anderson's deliciously decadent and sprawling look at the adult film business in the late 1970s. The critical success of "Boogie Nights" has allowed Anderson to create a film that is even more personal, yet just as epic.
At first I didn't know what to think about "Magnolia." It's not a film you can easily dismiss, even though some have. Anderson's film puts a lot of demands on the audience, including that they pay attention. Those willing to go along for the ride will be rewarded with a film that is both deep and soulful.
Great directors attract great talent, and Anderson has rounded up a glittery constellation of familiar faces and sturdy character actors to relate his day-in-the-life tale of several San Fernando Valley denizens. Like Mamet, Altman and Rudolph before him, Anderson's greatest strength is creating ensemble pieces that feel like a whole rather than many parts.
"Magnolia" reminded me a lot of Altman's "Short Cuts" and "Nashville," which in my opinion is one of the greatest American films ever made. Like Altman, Anderson magically weaves together several storylines without leaving the audience feeling disjointed or lost. Even though he twists the time frame, Anderson's transitions are so seamless you never feel like you're being manipulated.
On the surface "Magnolia" looks like just another film about a day in the life of several characters in a large city. Look closer and will you will find something even more intriguing. Even though the film is set up like a three-act opera, it is actually a modern day biblical epic. Those who instantly dismiss the film fail to understand its undercurrents.
Anderson is very subtle about this, yet all of the clues are there. He fills the film with familiar religious figures, including a false prophet played by Tom Cruise, three wise men, and even unleashes a flood and a plague upon the characters.
My first clue was Jon Brion's musical score, which constantly reminded me of those great religious sand and sandal epics from the 1950s. He provides each vignette with its own musical cue, and there were moments where you would close your eyes and picture camels crossing the desert.
Tom Cruise is electrifying as the false prophet, motivational speaker Frank Mackey. Spouting the wisdom of the macho male animal, Mackey is actually covering up a painful past that comes back to haunt him during an interview. Cruise has never been better, especially when he confronts his dying father Earl Partridge (Jason Robards). There is real anguish and pain in his performance.
Cruise is in good company. Anderson's film, a detailed observation of the lives of a dozen or so people who inhabit the Valley, is a performer's showcase. With Anderson's words and direction, the actors make the character's lives extremely accessible. You feel you know these people, and in some cases, wish you didn't.
The three wise men include Patrol Officer Kurring, earnestly played by John C. Reilly. For Kurring, the day is like any other, until he meets Claudia (Melora Waters), a drug-addicted heroine looking for a knight in shining armor. Kurring lives for these moments, and does his best to turn a noise complaint call into a first date.
The second wise man is Stanley Spector (a powerful Jeremy Blackman), a brilliant whiz kid currently wowing television audiences on a game show. Even though Stanley has the nation's attention, what he really wants is the love of his father and a chance to go to bathroom.
William H. Macy, possibly one of the best character actors working today, plays the third wise man, former television whiz kid Donnie Smith, who is still trying to skirt by on his fading popularity. Stuck in a dead end job at an electronics store and desperately in love with a hunky bartender with braces, Donnie wants nothing more than to feel wanted.
Anderson deftly weaves these storylines together into a solid framework filled with many memorable moments and surprises. Anderson's unrelated prelude tries to convince us that all actions are related, and before "Magnolia" is done he has you believing it. Even though some characters in "Magnolia" never meet, their destinies are dependent on one another.
The wonderful Philip Seymour Hoffman plays Earl's care giver Phil, a wonderfully gentle man whose knowledge of adult magazines provides the key to reaching Mackey. Phil's gentle nature is a far cry from that of Linda Partridge (Julianne Moore), Earl's gorgeous wife who married him for the money but has since fallen in love with him. Lost and distraught, Linda buries her hurt with pills and alcohol.
Moore, so terrific in Anderson's "Boogie Nights," ignites the screen with her explosive performance. You can see and feel the heartache and pain that haunts her world. The same applies to Philip Baker Hall, another Anderson troupe player whose performance as an aging game show host facing personal demons is right on the money.
As if the character's lives weren't complicated enough, Anderson forces them to face their pasts and futures during the middle of a torrential down pour of Ark proportions. This creates the illusion that all of the characters are trying desperately to stay afloat in a sea of despair and futility. Instead of a life preserver all they have is their hope and fath. The strong ones weather the storm. The weak ones disappear under the surface like Leonardo DiCaprio in "Titanic."
Anderson never attempts to be clever, but he is audacious. His attempt to tie up all of the loose ends include a most unusual sing-a-long and a biblical plague that will amaze some while irritating others. One you recognize the underlying themes in "Magnolia," these moments become clearer.
While it's easy for me to rave about "Magnolia," it is also a difficult film to recommend. It is not a film for everyone. Some will complain about the film's length. Others will find some of Anderson's theatrical flourishes totally absurd. Those who came to see Tom Cruise will appreciate the underwear scene but will feel disappointed that he is part of an ensemble and not the star of the film.
I recommend the film to anyone who understands that not all films have to look and feel like a manufactured studio product. Anderson likes to challenge his audiences, and "Magnolia" lays down the gauntlet for anyone looking for a film that defies the rules.
COMPLETE CHECK-UP
VISION: 20/20

2.40:1 Widescreen

16:9 Enhanced

RSDL
Digital transfer totally respects the hard work of director Anderson and his director of photography John Elswit. The images are breathtaking, including the surreal images that permeate the film. First and foremost the images are sharp, with no soft edges or color bleeding. Color saturation is strong, with honest rendering. A lot of the action takes place at night or inside, and the shadows and blacks never waver. No visible compression artifacts. Pristine negative allows for pure whites and grays, while depth of field is incredible. You feel like you can reach into the screen. Attention to detail is also potent, allowing you to see each and every raindrop that falls from the sky. Flesh tones are always accurate, making everyone look healthy (even the sickly Jason Robards character) and alive.
HEARING: Good

Dolby Digital 5.1 Surround

Dolby Digital 2.0 Surround
The emphasis is on the dialogue, and it's crystal clear. The mix is superior, allowing each and every line to rise above the lower level ambient noise. Not much in the way of rear speaker or surround action, although it's there. Most of the action takes place in the front sound stage, with authentic stereo split. Basses are okay but not booming, and high ends are clean. Rear speakers hook up with the occasional ambient noise and musical cue, especially during the weather scenes. Music pours from all speakers with authority, creating an ethereal experience that is pleasing and inviting.
ORAL: Good

Closed Captions in English for the Hard of Hearing
COORDINATION: Excellent

Two disc set includes the film on disc one, and the extras on disc two. The extras include:

The full-length T.J. Mackey Instructional Video and "Seduce & Destroy" infomercial that includes additional footage not seen in the film. It's hard to believe that these spots played on television, even during late night. These little goofs are the brainstorm of the director, and they are hilarious. They are presented with such conviction you almost believe them. Tom Cruise really shines here.

"The Moment," one of the most in-depth documentaries compiled especially for a DVD release. Documentary filmmaker Mark Rance accepted director Anderson's invitation to completely document the filmmaking process behind "Magnolia." What emerges is an honest, reflective, and informative forum where cast and crew behave like people instead of movie stars. Rance displays a unique talent for dispensing with the traditional star trips and getting to the heart of the matter. He gets the stars and the director to tell it like it is, showing us the reality of making a movie rather than the usual P.R. package pumped out by the studio. A lot of time and effort went into this documentary, and it is well worth a look, especially for anyone interested in the art of filmmaking.

The film's original theatrical and teaser trailer, plus nine television spots. The trailers are presented in anamorphic widescreen.

Aimee Mann's seductive "Save Me" music video.

Cast & crew bios.
PROGNOSIS: Excellent

A no brainer. Get this "Magnolia" while it is in bloom.
VITALS: $29.98/Rated R/188 Minutes/Color/Slipcase
ATTENDING RESIDENT: John Larsen
PATIENT: MAGNOLIA-PLATINUM SERIES
BIRTH DATE: 1999
HMO: New Line Home Video