Mafia!
What do you get when mix "The Godfather" (both I & II), "Casino," "Showgirls," "Il Postino," "Forrest Gump," "GoodFellas" and just about every other mob movie you can think of? Why, "Mafia!" of course. It was inevitable. In fact, several have tried and failed.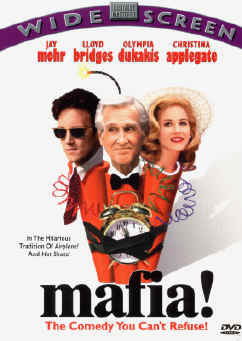 So it comes as no surprise that 1/3 of the team behind the classic spoofs "Airplane," "Top Secret" and "The Naked Gun" would eventually get around to spoofing "The Godfather" and all of its ilk. "Mafia!" was co-written and directed by Jim Abrahams, one third of ZAZ, the Zucker-Abrahams-Zucker team that also gave us "Ruthless People." On his own, Abrahams has delivered "Hots Shots!" and it's sequel, "Hot Shots! Part Deux." Even though his individual work isn't nearly as sharp as his team work, Abrahams still manages to come up enough gags and jokes to fuel a 90 minute movie.
Abrahams and co-writer Greg Norberg take aim at modern gangster films and hit their target about 80% of the time. That's pretty good odds. The references come fast and furious as "Mafia!" tells the epic story of how one man, Vincenzo Cortino (the late and dearly missed Lloyd Bridges) became the "Godfather" of all crime families. Forced to flee to America from Italy by a local gangster, young Vincenzo quickly learns the lessons of the mean streets of New York.
Even though these flashback scene have that cheesy studio back lot look they still are effective. Vincenzo has two sons, the hot headed Joey (Billy Burke, whose sex scene is a keeper), and Anthony (Jay Mohr), just back from his tour of duty in Korea, lovely fiancee Diane (Christina Applegate) in tow. When Vincenzo is gunned down at Joey's wedding by a rival gang, war breaks out, with Anthony agreeing to kill the men who set up the hit. Thanks to his aggressiveness, Anthony is picked by Vincenzo to take over the family when he dies.
After murdering the two men who set up the hit, Anthony hides out in Las Vegas, where he meets showgirl Pepper Gianini (Pamela Gidley), falls in love, and gets married. Anthony soon rises through the ranks in Las Vegas, becoming the mover and shaker behind the mob's casinos. While his status rises, he marriage falls apart, and Anthony eventually finds Pepper in bed with his brother Joey. Oh life is all so complicated. Along the way Abrahams and Norberg leave no mob movie unturned. It's all there, from the orchestrated slaughter during Anthony's wedding, to his being blown up in his Cadillac in a fiery opening sequence that not only spoofs "Casino" but all of the "Bond" films as well. There's a lot of sly humor in "Mafia!," but the broad jokes are the ones that nail you.
For instance, Bridges is priceless as he smokes the tail of a cat. The cast is game, willing to give their all to the cause. Mohr and Applegate are especially funny. Mohr has the deadpan delivery down to a science, while Applegate delivers some of the film's best lines with conviction. It's not a classic, and it probably won't stay with you long after you're done watching it, still "Mafia!" (Which is still titled "Jane Austen's Mafia!" on the print) is an enjoyable escape for an hour and a half.
COMPLETE CHECK-UP
VISION: [ ] 20/20 [ X ] Good [ ] Cataracts [ ] Blind
The digital transfer has a hard time nailing down certain patterns, especially those on silk ties. Otherwise, the picture is vibrant, with striking color saturation and flattering flesh tones. The blacks aren't definitive (the low lit interiors seem a little fuzzy), but they do hold together rather well. Likewise, the shadows and whites look sharp and vivid. There's hardly a trace of compression elements, and the depth of field is shallow as well. Still, for this type of film, the final result is more than adequate.
HEARING: [ X ] Excellent [ ] Minor Hearing Loss [ ] Needs Hearing Aid [ ] Deaf
Very expressive 5.1 Dolby Digital Surround track with striking high and low ends, and very definite ambient noise that seems to come at you from all directions. There are a lot of audio gags in "Mafia," and none of then slip by thanks to the soundtrack's clarity and outstanding stereo separation. The L-R split is distinct, while the front to rear separation hits the mark every time. The basses are encompassing without being overwhelming, while the middle and high ends sound crystal clear. Excellent dialogue mix puts the jokes front and center.
ORAL: [ ] Excellent [ X ] Good [ ] Poor
Closed Captions for the Hard of Hearing in English.
COORDINATION: [ ] Excellent [ ] Good [ X ] Clumsy [ ] Weak
Standard issue main and scene access menus, a small assortment of alternate title selections, and what's billed as a "production featurette" but is actually a two-minute promotional spot.
PROGNOSIS: [ ] Excellent [ X ] Fit [ ] Will Live [ ] Resuscitate [ ] Terminal
Comedies like "Mafia!" are funny for the moment (even though their predecessors like "Airplane" and "The Naked Gun" are more enduring), which means this DVD is good for a few laughs, but probably won't lend much prestige to your library.
VITALS: $29.99/Rated PG-13/87 Minutes/Color/14 Chapter Stops/Keepcase/#16320
ATTENDING RESIDENT: John Larsen
PATIENT: MAFIA!
BIRTH DATE: 1998
HMO: Touchstone Home Video