The Low Down
Frank's life is in a rut. In his late-twenties, Frank is only beginning to realize that fact. He still shares the same flat with a friend from school. He still works in the same job, where the same employee always arrives late with an excuse. Every night he has to listen to the same woman "yell" Paul outside his window, which is next door to a drug dealer.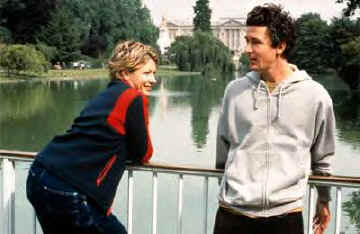 Yep, Frank is in a rut, and what he needs is a good, swift kick in the butt. Meet Ruby, ass-kicker extraordinaire. Ruby is just what Frank needs, a strong, mature, optimistic woman who can help pull him into adulthood. All Frank has to do is make up his mind if he's ready to go.
Welcome to "The Low Down," an engaging character study from writer-director Jamie Thraves. "The Low Down" is the first feature from the former commercial director, and what a refreshing debut it is. Unlike most former commercial directors, who feel the need to show off, Thraves creates a film of uncommon subtlety. Indeed, "The Low Down" is as low key as you can get.
Except for less than a handful of cinematic flourishes (freeze frames, fast motion), "The Low Down" feels like real life. At first the pace is annoying. You wonder if the film is ever going to get started. The film meanders, much like Frank's life. There are no major story arcs. Things don't blow up, there are no car chases, and no one dies.
Then you begin to realize that is the beauty of "The Low Down." It's about people, not things or events. The way the director frames the actors, using the camera to include us in their most intimate moments, makes the film alive.
It's like a mirror. It doesn't take long before you know the characters, and begin to see pieces of yourself in them. It's this connection that allows Thraves the luxury of taking his time to tell his story.
Aidan Gillen delivers a seamless performance as Frank. It's hard to believe he's acting, but anyone who has seen Gillen in the BBC's "Queer a Folk" will know better. Frank isn't an emotional cripple, but he does use his friends as crutches. They help hold him up. Gillen does an excellent job of examining Frank's inner conflict.
When his friends take steps down the path to maturity, Frank decides it's time to join them. His search for a new flat leads him to Ruby, a real estate agent who shares his nervous habit of chewing on the tops of pens. It's not love at first site, but there is a mutual attraction that leads Frank and Ruby to explore their wants and needs.
During their first intimate yet non-sexual moment in bed, the boy in Frank has nothing on his mind except getting laid. He wants to have sex with her, but as she slips his hands down her pants, he looks in her eyes and realizes that she has much more to offer. It's a wonderful realization, perfectly played out by both actors.
As their relationship grows, so does Frank's desire to get out of his rut. He begins to take his job as a prop builder for game and variety shows seriously, demanding more from his coworkers and friends.
That means cracking down on perpetually late friend John, who always arrives with some lame excuse. John is one of those creative people who believes he has true vision, but Frank doesn't buy into it. As Frank tells us "Creative people do something great and they think that makes them great."
It doesn't. Frank knows his creations are good, but they're not great. His life is like the props he makes. They're colorful, they serve a purpose, and then they're forgotten. They serve as props in a game show, much like he is a prop in the game of life. It's only when Frank understands this does he have the courage to move forward.
As Frank's emotional catalyst, Kaye Ashfield is extremely sympathetic as Ruby. She's the same age as Frank, yet much more mature. She's been hurt before, and wears her past on her sleeve. She wants a man, a commitment, a future. She knows Frank isn't at that stage in his life, but she sees a glimmer of hope. Ashfield perfectly conveys Ruby's wide range of emotions.
Frank's group of male buddies are well played by Dean Lennox Kelley as Mike, a good looking chap who has no problem with the ladies; Tobias Menzies as John, the slacker who marches to the beat of a different drum; and Rupert Proctor as Terry, the curly haired loner who finally finds true love. All represent an extension of Frank's life, and each actor hits just the right note.
"The Low Down" has a sparse, low budget look, which actually helps the film to achieve a level of reality. It puts the emphasis on the actors and dialogue, both of which ring true.
PASSING TIME
Group of British friends face The Low Down
THE LOW DOWN
Aidan Gillen, Kate Ashfield, Dean Lennox Kelly, Tobias Menzies, Rupert Proctor. Directed by Jamie Thraves. Not Rated.
LARSEN RATING: $5