Liar Liar
As "Liar Liar" begins, young Max Reede (Justin Cooper) watches as his grade school teacher scribbles the word "Work" across the blackboard. The subject is what parents do for a living. The usual line-up is unveiled: Fireman. Doctor.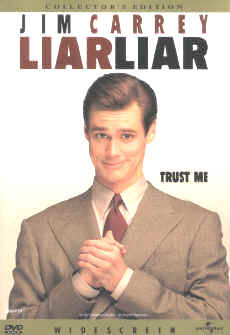 Then Max tells his teacher that his dad is a "Liar." His teacher moves to correct him by suggesting that he meant to say that his dad is a "lawyer." The difference is lost on Max, who knows his dad has never met a lie he didn't like. In fact, Fletcher Reede (Jim Carrey) is a living fib, a man incapable of telling the truth. He lies to everyone, from his colleagues at the office, to his mother. He even lies to Max. When Fletcher fails to make Max's birthday party, Max wishes that his father can't tell a lie for twenty-four hours. That's the set-up of "Liar Liar," Jim Carrey's best film to date. It's not his funniest. The original "Ace Ventura" snags that honor. Still, "Liar Liar" is the perfect showcase for all of Carrey's talents, a film that's both hysterical and heartfelt.
This is the film that allows Carrey the clown and Carrey the actor to meet for the first time. They make a great pair. Director Tom Shadyac makes this union a wonderful blend of outrageous humor and honest sentimentality. Shadyac, who made his director's debut with the original "Ace Ventura" and then went on to direct Eddie Murphy in the hilarious remake of "The Nutty Professor," has displayed a talent for bringing out the best in his performers.
Carrey has never been better. In previous films, he was like a controlled substance that got loose. While Shadyac allows Carrey to go completely nuts in "Liar Liar," he knows when to pull back and allow the human side to play it's hand. Carrey proved he had depth when he starred in the television movie "Doing Time on Maple Drive." He pays off on that promise with a performance that blends honest emotion with Carrey's trademark off-the-wall slapstick. Writers Paul Guay and Stephen Mazur give Carrey plenty of opportunity to let loose. There are three outrageous moments that are fall-down funny.
One involves Fletcher testing his situation by trying to lie about the color of an ink pen. As he tries to convince himself that the pen is red (it's actually blue), an inner struggle wages on inside Fletcher. Another moment involves a disgruntled colleague (Amanda Donohoe) who plans to use Fletcher's predicament against him in a board meeting. How he turns the situation around to his favor is one of the film's highlights. Finally, Fletcher attempts to avoid defending a woman in court by beating himself up in the bathroom.
As Carrey was slamming a toilet seat down on his contorted face, I thought I broke a rib laughing so hard. A good comedy has a good supporting cast, and "Liar Liar" has a wonderful supporting cast. Maura Tierney is excellent as Fletcher's ex-wife who wants to get on with her life. Tierney's character is the voice of reason amidst the chaos, and she handles her duties well. Jennifer Tilly is hysterical as Fletcher's adulteress client who seems willing to sleep with just about anyone.
Anne Haney is fine as Fletcher's overburdened secretary, while newcomer Justin Cooper is wonderful as the put-upon Max. A lot of the laughs in "Liar Liar" are derived from the fact that Fletcher is forced to say a lot of things most of us would never utter out loud. Having Carrey say these things makes them even funnier.
COMPLETE CHECK-UP
VISION: [ X ] 20/20 [ ] Good [ ] Cataracts [ ] Blind
The anamorphic enhanced 1.85:1 widescreen transfer looks marvelous. Excellent color saturation and flattering flesh tones. The colors are especially vibrant and life like, while the blacks are strong and impenetrable. The original negative is clean, allowing for absolutely breathtaking whites and shadows. I was especially pleased with the overall images, which are both sharp and vivid. Depth of field is impressive, as is attention to detail that holds up under the most difficult of circumstances. No compression artifacts or flecking.
HEARING: [ X ] Excellent [ ] Minor Hearing Loss [ ] Needs Hearing Aid [ ] Deaf
Jim Carrey's constant spiel benefits from the DVD's impressive 5.1 Dolby Digital Surround soundtrack (the DVD also features a French Dolby Surround soundtrack), which features a strong dialogue mix and excellent stereo split. Basses aren't booming but they suit the cause, while middle and high ends are as clean as they come. Stereo effects are excellent, as is the front to rear spatial separation. All sound fields come alive with powerful music cues, stereo effects and realistic ambient noise. Rear speakers are frisky, with powerful musical cues and ambient noise. No audible hiss or distortion.
ORAL: [ ] Excellent [ X ] Good [ ] Poor
Closed captions in English for the hard of hearing.
COORDINATION: [ ] Excellent [ X ] Good [ ] Clumsy [ ] Weak
After having released a film-only DVD of the hit comedy, Universal Studios Home Video geared up "Liar Liar" for a Collector's Edition disc. I must admit that I was disappointed with the collection, which are nice but hardly warrant a Collector's Edition price tag.

I liked and even appreciated the behind-the-scenes documentary "Bridging the Comedy Chasm," which features lots of Carrey's antics behind the camera. It runs 20 minutes, and is fun and engaging.

There is also a feature-length commentary with director Tom Shadyac, and like the films he directs, this guy is animated and funny. There is real enthusiasm in his comments, and as one of Hollywood's hottest comedy directors, Shadyac is a delight to listen to.

The DVD features one deleted scene, and it's a winner. The scene shows just how manipulative Carrey's character is as he manages to turn an assault case into one of self-defense. It's a wonderful scene that would have made a nice addition in the film.

The DVD also features outtakes, but unfortunately they only run a minute-and-a-half. Like the "Patch Adams" Collector's Edition, it is hard to believe that there were only a minute-and-a-half worth of outtakes that they could round up. Come on, Carrey creates more outtakes in one take than are included here.

There is a photo gallery that seems to go on forever without much revelation.

The DVD also contains the original theatrical trailer, and when you access Tom Shadyac's bio, you will find theatrical trailers for "The Nutty Professor" and "Patch Adams".

The main menu is handsome, and the transition scenes rae hilarious, but the scene access menu features still frames instead of scenes from the film.

There are also the usual production notes, cast and filmmaker bios and filmographies, and Universal web links.
PROGNOSIS: [ ] Excellent [ X ] Fit [ ] Will Live [ ] Resuscitate [ ] Terminal
I won't lie to you. The extras are nice but not nearly as impressive as other Universal Collector Editions.
VITALS: $34.98/Rated PG-13/87 Minutes/Color/26 Chapter Stops/Keepcase/#20637
ATTENDING RESIDENT: John Larsen
PATIENT: LIAR LIAR-COLLECTOR'S EDITION
BIRTH DATE: 1997
HMO: Universal Studios Home Video