The Legend of Bagger Vance
Movies about sports are always a tough sell. Especially movies that take sports seriously. It's rare when a serious sports movie scores with an audience, but when the connection is made, it's victorious.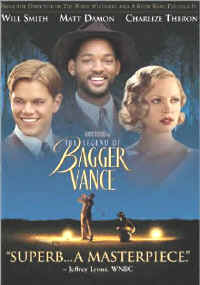 "The Legend of Bagger Vance" is about golf, and that may have been the reason audiences didn't flock to this wonderful film. I don't particularly like golf, but that didn't stop me from sitting through "Caddyshack" a hundred times. I don't watch golf on television, but I do know who the players are. How can you avoid them? Players like Tiger Williams have approached myth-like status.
"The Legend of Bagger Vance" is about myth. Sure, it's about golf, but golf is just a metaphor for life. It deals with how players feel alive while on the links, how their game is guided by spirituality. The connection between the club and the ball, man against the elements.
The film is directed by Robert Redford, who starred in Barry Levinson's mythical "The Natural." I mention this connection because "Bagger Vance" has the same feel and tone. It's a gorgeous film, photographed by the brilliant Michael Ballhaus, and features an ethereal score by Rachel Portman. Redford isn't imitating "The Natural," he's paying homage to it.
He really doesn't have a choice. The similarities between the two films are striking. They both deal with comeback kids who left the game after personal tragedy. in "The Legend of Bagger Vance," Matt Damon stars as Rannulph Junuh, one of the South's best golfers. Junuh's game and life is interrupted by World War I. When he returns from the war, Junuh is a broken man. he doesn't care about the game, much less his life.
Junuh left more than his game behind. He also left behind girlfriend Adele (Charlize Theron), whose father is the richest man in Savannah, Georgia, and owner of the new luxury golf course. When Adele's father commits suicide, leaving her in debt, her only choice to raise the money is a high stakes golf match. Adele manages to attract two of the top players, but is forced by city leaders to include a local player. The only choice is Junuh, whose swing hasn't been the same since returning home.
Based on Steven Pressfield's novel, "The Legend of Bagger Vance" explores how Junuh's life is changed by three people in his life: Adele, who still loves him; 10 year-old Hardy Greaves (J. Michael Moncrief), a golf fanatic who shames him into playing,; and Bagger Vance (Will Smith), the caddy who comes out of nowhere to help him find his game again.
Like most movies about golf, the film ends with a lengthy tournament. Junuh finds his game, but he finds so much more.
Writer Jeremy Leven manages to avoid the usual melodramatic pitfalls and delivers a script filled with emotional honesty. He makes it easy to believe in the film's message and accept its improbabilities. The film is filled with hope, and we share in that emotion. Of course we want Junuh to win the tournament, not because he will emerge a winner, but because he already is a winner. He finds himself surrounded by people who care about him.
The cast is wonderful, especially Damon and Smith, whose share a special relationship that reminded me a lot of "Field of Dreams." There's a bond between these two men that transcends the written page. the respect and admiration they share for each other is the glue that holds the film together. We suspect but aren't sure that Vance's presence is indeed a miracle.
Redford lays all of this out like sweet molasses, taking his time to create a comfortable pace that truly reflects life in the South. Since we know where the film is going, we don't mind spending time with these characters.
COMPLETE CHECK-UP
VISION: 20/20

1.85:1 Widescreen

16:9 Enhanced
Absolutely breathing images, all delivered in crisp, vivid digital. The colors are wonderfully rendered, helping recreate the dream-like feel of the movie. Flesh tones are so pretty they're almost real. Color saturation is outstanding, with no bleeding or fading. Blacks hold up under the toughest of conditions, while shadows and whites are clean and pure. Attention to detail allows you to count almost every blade of grass, while depth of field is amazing. Like the Who once said, you can see for miles and miles.
HEARING: Excellent

5.1 DTS Surround

5.1 Dolby Digital Surround

2.0 Dolby Digital Surround
The beauty of the soundtrack is its delicacy. While all sound fields are represented, marvel at the intimacy of the signals which make the experience truly special. Ambient noise is so realistic you'll feel as if you're outdoors, while the dialogue mix is strong and to the point. Both the front-to-right front stereo split and the front-to-rear spatial separation sound exact. Rear speakers are used sparingly but wisely, making good use of the film's ambient noise and musical cues. Basses are there but not ominous, while middle and high ends are clean.
ORAL: Good

Closed Captions in English for the Hard of Hearing
COORDINATION: Good

"Robert Redford: Insight into The Legend of Bagger Vance." Listen as Robert Redford examines the mythology behind the film and his desire to bring it to the screen. Still photos from the film and behind the camera fill the screen as Redford delivers his recollections.

Production featurette is short and to the point, but no big deal. It's your standard-issue promotional featurette with the usual array of mini-interviews and insights.

Theatrical trailer.

Production Notes.

Cast & Crew Biographies, including most of the major players.

Outstanding main and scene selection menus.
PROGNOSIS: Fit

You don't have to be a fan to appreciate the beauty of this film. The DVD is an excellent presentation.
VITALS:

$26.95/Rated PG-13/127 Minutes/Color/20 Chapter Stops/Keepcase
ATTENDING RESIDENT: John Larsen
PATIENT: THE LEGEND OF BAGGER VANCE
BIRTH DATE: 2000
HMO: DreamWorks Home Video