Kinsey
Taken at face value, Kinsey is a funny, touching but occasionally disturbing look at the man whose name became synonymous with sex. Like A Beautiful Mind, Ron Howard's shiny reflection of mathematician John Nash, Kinsey doesn't pretend to a definitive portrait. Instead, it opens up avenues of discussion that will continue long after the film ends.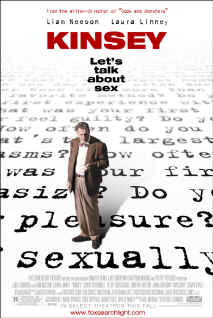 Most people of my generation know more about the outcome of Kinsey's studies than the man himself. Writer-director Bill Condon, whose examination of Frankenstein director James Whale in Gods and Monsters was both entertaining and involving, does an adequate job of humanizing a man considered by many to be immoral and opportunistic.
I would love to have been a fly on the wall as the censors, excuse me, the ratings board, argued about the film's content. How do you accurately depict the work and findings of a pioneering sex researcher within the confines of an R rating? Is sex, both the act and still images, considered obscene within context? How much sex talk is acceptable? How graphic? Within what boundaries?
Show too much and Kinsey becomes pornographic (not my term but one usually used by groups with the word Family in the title), show too little and Kinsey becomes titillating. Kinsey is like The Three Bears, each taking a poke at poor Goldilocks. Too much, too little, just right. Condon and his talented cast are the perfect fit. Each and every character arrives with purpose and emotional weight.
Liam Neeson musters just the right amount of authority and inquisitiveness as Kinsey, whose repressed childhood (under the stern guidance of father John Lithgow, channeling himself from Footloose) leads him on a life-long journey to uncover the sexual secrets of the world. Laura Linney is exceptional as his prim but sexually enthusiastic wife Clara, whose love and understanding provides Kinsey the freedom to explore his bisexuality with research assistant Clyde Martin (Peter Sarsgaard), who in turn finds himself attracted to Clara.
With Kinsey, Condon reaffirms an ability to draw honest performances out of a cast. Even small roles, like Lynn Redgrave's heartfelt lesbian, are extremely powerful. In one microscopic moment, with minimal dialogue, Redgrave exposes every vulnerability of a woman trapped by societal fears.
Detractors will argue that Condon fails to adequately address Kinsey's illegal sexual proclivities. It's not a complete whitewash (this isn't Fox News, and Kinsey isn't Bush), but it does compel the viewer to seek out of the facts.
Sex Education 101
The Doctor is In and Out in Kinsey
KINSEY
Liam Neeson, Laura Linney, Peter Sarsgaard, Timothy Hutton, Chris O'Donnell, John Lithgow, Lynn Redgrave. Directed by Bill Condon. Rated R. 118 Minutes.
LARSEN RATING: $5.00