K-Pax
His name is Prot (rhymes with vote, not rot) and he claims he's from the planet K-PAX. The declaration leads to two possible hypothesis: either he's telling the truth or he's crazy. Forced to make that distinction is Dr. Mark Powell, chief of psychiatry at the Psychiatric Institute of Manhattan.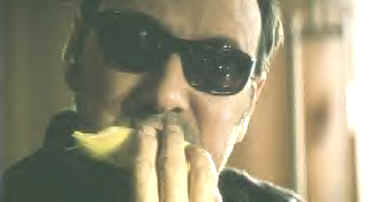 After years of treating a veritable "Cuckoo's Nest" of patients, Powell meets his match in Prot, who is brought to the institute after scuffling with police in Grand Central Station. Prot defies every one of Powell's expectations, and after spending some time with the good doctor, begins to open Powell's eyes to the possibility that maybe he isn't delusional.
Is he or isn't he? Good question, but not one answered satisfactorily in the new film "K-PAX," an alien update of the wonderful 1971 Anthony Harvey comedy "They Might Be Giants." In that film, George C. Scott played a man who thought he was Sherlock Holmes. Joanne Woodward played his psychiatrist, a doctor named Watson, who gets dragged along into his fantasy world.
In "They Might Be Giants," Woodward becomes so enamored of her patient that she begins to believe in his psychosis. In "K-PAX," Jeff Bridges plays the psychiatrist who is skeptical of his Prot's claims, but suspect that there's more to him that meets the eye.
He would be right. As played by Kevin Spacey, Prot is indeed a conundrum. Is he crazy, a genius, or something else altogether? His stories sound like the usual mix of want and fantasy, yet Prot is so convincing that it doesn't take long before the patient is running the institute. Like the character of Randolph P. McMurphy in Ken Kesey's "One Flew Over the Cuckoo's Nest," Prot rallies the other patients, even helping some of them in the process.
The screenplay by Charles Leavitt, based on the novel by Gene Brewer, makes convincing arguments for both Prot and Powell, but never takes sides. He drops little clues, but in the end, Leavitt wants us to make up our own mind. He's more interested in who these characters are rather than where they're from. To that end, he creates a wildly engaging verbal tennis match between the two.
Every time Powell believes he has the upper hand, Prot proves him wrong. Powell knows from experience that delusional patients eventually show their true colors, yet he can't find any chinks in Prot's armor. Spacey is so perfect as Prot that we as an audience have the same problem. We want to believe that Prot is telling the truth. When he shows up Powell, we beam with approval. When Prot impresses a group of astrologists, our heart tells us he's more than just lucky or a savant. His conversation with a family dog is so natural we buy every word of it.
Spacey, a terrific actor with immense range, is at his best playing characters like Prot. There's a real sense of observance and wonderment in Spacey's Prot. He's not a space case, but a thoughtful, benign character who may either be an alien, or just a man whose life was so horrible he was forced to retreat into a more humane fantasy world.
Prot appears simple on the outside, but underneath Spacey is treating us to a virtual banquet of emotions. There's honest longing and lament in his eyes, joy in his smile, and wisdom in his every word. Spacey is so endearing as Prot that we share in his hope and discovery, forgiving the writer when he succumbs to the obvious or mundane.
What sets Prot apart from the other patients is his sense of who he is. He doesn't think he's an alien, he knows it to be fact. His conviction intrigues Powell, who wants to believe in him. Twice married with a grown son he never sees, Powell spends more time at the institute than at home. He's more concerned with proving that Prot isn't an alien than alienating his family.
Ironically, Powell learns more from Prot than about him. Bridges, who once played an alien in "Starman," is very comfortable on the other side of the chase. Like Spacey, Bridges has shown amazing range as an actor, but he's always at his best playing stand-up guys like Powell.
Powell is the straight man to Prot, yet Bridges invests much more in the character. The closer Powell gets to Prot's secret, Bridges helps us believe that he has Prot's best interests in mind. The respect the two men eventually share is quite refreshing.
Even though "K-PAX" is basically a two person character study, director Iain Softley ("The Wings of the Dove") lines the background with interesting actors. Mary McCormack shares some nice moments with Bridges as his disillusioned wife, while Saul Williams and David Patrick Kelly are stand-outs among the patients who benefit from Prot's incarceration.
Softley, with the amazing John Mathieson behind the camera, creates memorable images that are both beautiful and haunting. His attention to detail is only surpassed by his ability to harvest honest performances from the cast. Softley knows that one weak leak will destroy the illusion, and he takes great care both in front of and behind the camera to make most of this seamless.
Most people think that critics are a bunch of cynics, but that's not true. I prefer to be hopeful. Despite it's cynical ending, "K-PAX" delivers a message of hope that I believe most moviegoers will welcome.
SPACEY CASE
Oscar-winner shows great humanity as amicable alien
K-PAX
Kevin Spacey, Jeff Bridges, Mary McCormack, Alfre Woodard, Brian Howe. Directed by Iain Softley. Rated PG-13. 124 Minutes.
LARSEN RATING: $5.00