Jacob's Ladder
1990 was a good year for screenwriter Bruce Joel Rubin. He won an Oscar for "Ghost," and penned this hallucinatory nightmare for director Adrian Lyne ("Fatal Attraction"). Rubin's fascination with the afterlife began when he wrote the screenplay for "Brainstorm" in 1982.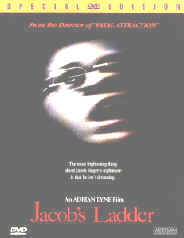 I don't know if he has issues to deal with, but what he puts on paper makes for engaging viewing. Tim Robbins is sensational as Jacob Singer, a common man home from Vietnam after being wounded. Trying to get on with his life, Jacob keeps having nightmarish visions that make little sense. He turns to his new girlfriend Jezzie (Elizabeth Pena) for help, but to no avail. It seems the only person who understands and can help is Jacob's chiropractor Louis (Danny Aiello). Unfortunately, what Louis has to say isn't what Jacob wants to hear.
Trapped in a world between life and death, Jacob examines his life before he reaches a startling conclusion. Haunting stuff well manufactured by Lyne, who chose to create the film's many disturbing images live instead of in the lab, making for a surreal experience that's hard to compare. I remember the crowd reaction when I saw "Jacob's Ladder." We were stunned. It was like the first screening of "Blue Velvet." You weren't sure if you just saw a brilliant film or one of the biggest piece of celluloid crap. It took me several days to reconcile what I thought about both films, and ultimately picked the former.
Using hallucinatory, disturbing images, director Lyne traps us in a world that is as fascinating as it is uncomfortable. Tim Robbins perfectly embodies the soul of a man who isn't sure if he's going insane or just having a bad day. He's a likeable character, and we hate seeing these horrible things happening to him. "Jacob's Ladder" isn't a popcorn movie.
It requires some thought and a little patience. You might not be pleased with the outcome, but you can't deny the film's power. Strong stuff that proves you can entertain as well as challenge.
COMPLETE CHECK-UP
VISION: [ x ] EXCELLENT [ ] GOOD [ ] RESUSCITATE [ ] D.O.A.
Sharply rendered 1.85:1 soft-matted widescreen transfer keeps all of the disturbing, hallucinatory images in check. Jeffrey L. Kimball's cinematography is filled with weird, twisted angles and eerie lighting. Color timing is excellent, and there's no sign of pixelation. There are a few grainy moments, but it's hard to tell if they belong to the cinematographer or are a result of the digital transfer. Lyne's striking color scheme is vivid and appealing. Excellent flesh tones and concrete blacks. The RSDL disc has been enhanced at 16:9 for widescreen televisions.
HEARING: [ x ] EXCELLENT [ ] GOOD [ ] RESUSCITATE [ ] D.O.A.
Lyne's sound design is as intricate as the rest of the film, and the 5.1 Dolby Digital Surround track is one of the best. It completely engulfs you in Singer's nightmarish world. Maurice Jarre's creepy score fills the room down to your spine, while the ambient sounds are all natural. The dialogue is strong and crystal clear, while the special audio effects used during the hallucinations really give the audio system a real workout. Set the audio for this puppy on high and be prepared to share the experience.
ORAL: [ ] EXCELLENT [ x ] GOOD [ ] RESUSCITATE [ ] D.O.A.
Closed captioned for the hearing impaired, and subtitles in Spanish.
COORDINATION: [ x ] EXCELLENT [ ] GOOD [ ] RESUSCITATE [ ] D.O.A.
Outstanding collection of extras. Director Lyne waxes eloquently on an alternate audio track. He's always a pleasure to listen to, and helps shed some light on some of the film's more convoluted moments. I especially appreciated his candor on the film making process, and his insistence to do all of the hallucinatory special effects live instead of in the lab. The Special Edition DVD also features three scenes that were trimmed from the movie, including a truly frightening sequence where Singer attempts to cleanse his inner demons with a special serum. There's also a major revelation with Jezzie, and a spooky scene in a subway station. If that's not enough, there's also a fascinating, behind-the-scenes documentary called "Building Jacob's Ladder" that gets up close and personal with the creative team and stars. There's even some footage of Robbins and mate Susan Sarandon with their baby. Of special interest was how the effects team created the live, on-stage make-up and special effects. The animated interactive menus are eye-catching, and the scene access menus show clips of each scene in a little window. There's the customary cast and crew bios, the original theatrical trailer, and production notes. All in all, a fulfilling DVD package that truly lives up to the name Special Edition.
PROGNOSIS: [ x ] EXCELLENT [ ] GOOD [ ] RESUSCITATE [ ] D.O.A.
Jacob Singer may be dealing with some mental health issues, but you'd be crazy not to add this emotionally draining and haunting DVD to your collection.
VITALS: $29.95/Rated R/116 Min./Color/36 Chapter Stops/Keepcase/#60458
ATTENDING RESIDENT: John Larsen
PATIENT: JACOB'S LADDER-SPECIAL EDITION
BIRTH DATE: 1990
HMO: Artisan Entertainment