House of Wax
There's something about watching socialite Paris Hilton getting her Barbie-doll face impaled by a long, hard, blunt object. First there was her X-rated romp with Rick Salomon, and now, in the remake of House of Wax, Hilton's head is once again open for business.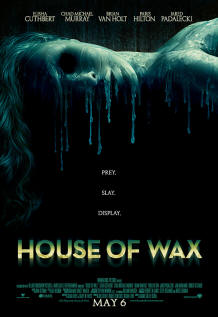 In House of Wax, Hilton melts away all expectations that she herself is anything more than a wax figure: pretty, shiny, yet ultimately hollow. Put a wick on this broad's head and you could sell her at Bed, Bath and Beyond.
Unlike Andre De Toth's 1953 House of Wax, presented in 3-D, the new mold is flat and uninteresting, an extremely long-in-the-tooth exercise in gratuitous slaughter. Produced by the same camp that remade House on Haunted Hill and Thirteen Ghosts, House of Wax is a remake in name only. Much of what made the 1953 film fun (3-D, turn of the century New York production design, Vincent Price's dastardly villain) has been replaced by sanctioned shocks, served up in a vat of innards guaranteed to satisfy the gore audience.
Are today's horror movie audiences so indiscernible they're willing to swallow the same pablum? How many times must we feign interest as a handful of flavor of the months stumble across a backwoods nightmare and end up on the road kill menu? The screenplay for House of Wax would be considered paint-by-numbers if the writers were capable of counting higher than two.
That seems to be the limit on expressions and shocks as a group of friends making their way to a football game end up stranded in the woods outside of Baton Rouge. Through contrivance, the friends become separated, all eventually arriving in a small, seemingly deserted town where the main tourist attraction is the House of Wax. Not just the figures, but the entire house is constructed entirely out of wax.
So must the brains of our heroes, who play dumb in order to wind up as displays in the museum. Indeed there's foul play afoot, most of it involving a pair of twins who make Dr. Jekyll and Mr. Hyde seem like bosom buddies. Much of the film, directed by Juame Collet-Serra, making his debut, plays out like any other run-of-the-mill slasher thriller, with the camera constantly cheating us in order to create suspense. To compensate for lack of original thrills, Collet-Serra delights in grossing us out, especially when one friend attempts to dig another out of their wax cocoon. Peeling flesh from a victim to make our skin crawl just seems redundant.
Wax On, Wax Off
House of Wax Is A Big Drip
House Of Wax
Chad Michael Murray, Brian Van Holt, Paris Hilton, Jared Padalecki, Jon Abrahams, Jon Abrahams. Directed by Juame Collet-Serra. Rated R. 116 Minutes.
Larsen Rating: $3