Holy Man DVD
If audiences can get beyond the smokescreen that is the coming attraction trailer, they're going to find a very different and much more satisfying movie called "Holy Man." The trailers make "Holy Man" look like another outrageous Eddie Murphy comedy. Sure, there are plenty of laughs, yet "Holy Man" is a comedy of substance.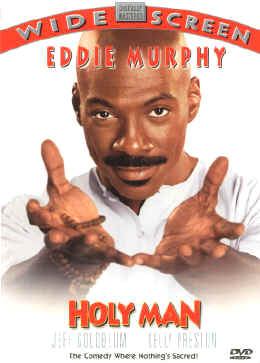 It's not a great film by any means. Tom Schulman's screenplay is serviceable at best, but it does lay the ground work for actors like Jeff Goldblum and Eddie Murphy to do some of their best work.
Along with Kelly Preston and Robert Loggia, the "Holy Man" cast takes pedestrian material and makes it feel refreshing. Jeff Goldblum is very good as the much harried Ricky Hayman, whose 27 month tenure at the Good Buy Shopping Network has produced disappointing results. Ricky's lifestyle has exceeded his productivity, and he desperately needs a raise. Good luck getting it from new network owner John McBainbridge (Robert Loggia), who gives Ricky two weeks to raise his numbers or he's fired. He's given the assistance of the station's new marketing manager Kate Newell (Kelly Preston), who understands the network's need to find an identity. In traditional fashion (or is it cliche), the two instantly dislike each other.
Kate really wants to make a difference. Ricky is too self-absorbed to focus. On their way to a meeting, Hayman's car gets a flat. While Kate and Ricky try to change the tire (there's a funny scene where both of them whip out their cell phones to summon help), they are greeted by G. (Eddie Murphy), a spiritual man on a pilgrimage. Kate warms up to G's sincerity immediately, while Ricky tries to avoid him. That becomes harder to do when Ricky almost backs up into G, causing him to pass out.
Feeling responsible, Ricky offers to let G stay at his swanky high rise apartment. Ricky's offer touches Kate, who begins to see him in a different light. Of course this arrangement sets up numerous "Odd Couple" type misunderstandings. The best comes when G wanders into Ricky's exclusive party for clients. At first Ricky is mortified, but when G begins to dazzle the crowd, he sees something special in his new roommate. Ricky needs a miracle at work, and who better to deliver one than a "Holy Man"? Ricky decides to give G a shot on the show, which turns into a comical disaster.
There are laughs aplenty as G wanders from stage to stage, giving the celebrity hosts a run for their money. Morgan Fairchild is electrifying as she allows her facial features to be grossly distorted by a newfangled face-life device. McBainbridge is ready to can Ricky when Kate shows him the overnight numbers. G hit the spot, and that gives Ricky the authorization to set him up with his own show.
Due to his ability to reach the common man, G becomes an overnight sensation. He develops an immediate fan base and a lot of enemies, especially from competing shopping network executive Scott Hawkes (Eric McCormack), a real slime ball who once dated Kate and would like to destroy both G and Ricky. Even though G delivers, Kate can sense his weariness. She suggests that G be allowed to leave and continue his pilgrimage. Of course this sets up the inevitable conflict between Kate and Ricky, where he has to become a better man in order for their relationship to work.
There's a lot of humor and heart in "Holy Man," but little revelation. You pretty much know where things are headed, but when the actors make the ride so enjoyable, you don't mind traveling down the same road. The subject matter is ripe for satire, and for some reason, Schulman fails to exploit this angle. The PG rating doesn't help matters. Material like this needs to have more of an edge. That said, "Holy Man" feels more like an old Frank Capra comedy than one set in the 1990's. It's sweet and good natured, and on that level, it works extremely well.
Goldblum is at his best exploring characters who are not always decent but can be redeemed. He's great in "Holy Man." Ricky Hayman is a character that fits him well. Murphy, with his shaved head and joyous, good nature, is wonderful as G. When G is walking down a highway median and is hit by a cup full of soda, you believe Murphy when he thanks the culprits for not throwing a can. Even when he's allowed to let loose, Murphy shows depth and maturity. Kate is pretty much a nothing role, yet Preston just shines in it.
She breathes life into the third wheel, and lends the men nice support. It's a thankless role, one with little meat, and still Preston makes it a feast. I liked "Holy Man" for a number of reasons. Under Stephen Herek's fine direction, "Holy Man" looks sharp and moves quickly. The tech credits are first class, while Alan Silvestri's musical score suggests something more significant than a throwaway comedy. Mainly, I liked "Holy Man" because it entertained me and left a smile on my face. I wanted to see where these characters would take me, and what kind of situations they would encounter. When it was over, I felt good. Enough said.
COMPLETE CHECK-UP
VISION: [ X ] 20/20 [ ] Good [ ] Cataracts [ ] Blind
Excellent 2.35:1 widescreen digital transfer with sharp, vivid images, good color and saturation, plus strong blacks. The whites and shadows are equally strong, while the flesh tones are a little hot during indoor scenes, bit are flattering none the less. I didn't catch any sign of compression artifacts, and a clean negative provides for a pristine transfer. Attention to detail is impressive, with good depth of field and definition.
HEARING: [ X ] Excellent [ ] Minor Hearing Loss [ ] Needs Hearing Aid [ ] Deaf
Pleasantly diverting 5.1 Dolby Digital Surround soundtrack gets the job done and more. Impressive stereo split left to right, and spatial separation from front to back. Ambient noise is underused yet distinctive, while the low and high ends are clean and sharp. The basses aren't prominent, but that's the nature of the beast. Alan Silvestri's musical score sounds clean, while the dialogue mix is strong.
ORAL: [ ] Excellent [ X ] Good [ ] Poor
Closed captions in English for the hard of hearing.
COORDINATION: [ ] Excellent [ ] Good [ X ] Clumsy [ ] Weak
Not much more here than main and scene access menus, plus some additional title recommendations.
PROGNOSIS: [ X ] Excellent [ ] Fit [ ] Will Live [ ] Resuscitate [ ] Terminal
This very underrated comedy gets the royal treatment on DVD.
VITALS: $29.99/Rated PG/114 Minutes/Color/23 Chapter Stops/Keepcase/#16536
ATTENDING RESIDENT: John Larsen
PATIENT: HOLY MAN
BIRTH DATE: 1999
HMO: Touchstone Home Video