Hitch
Date doctor Alex "Hitch" Hitchens (Will Smith) is the personification of the old adage: Those who can't, teach; and those who can't teach, teach gym. Hitch doesn't teach gym, but he gets quite a workout paving the road to romance for his clients. When it comes to his own happiness, Hitch takes the road less traveled, one filled with hilarious potholes and the occasional speed bump.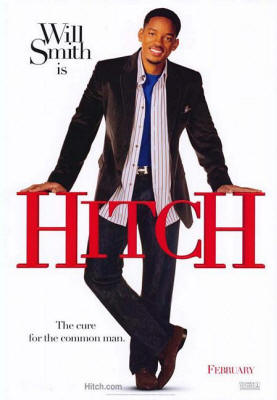 Speed bumps aren't enough to stop Hitch, a cheerfully zany film that shoves star Will Smith into the romantic comedy spotlight, where the former Fresh Prince seems very comfortable. Even when dark clouds of contrived plot complications arrive in the third act, Smith still shines. He's winning as a man who can seemingly fix any relationship but lacks the discipline to help himself.
Hitch exudes confidence as he guides New York's lonely hearts into each other's arms, taking on his biggest challenge in good natured slob Albert Brennaman (Kevin James). Overweight, shy, and lacking self-esteem, Albert not only has a big heart, but big aspirations. He is smitten with beautiful socialite Allegra Cole (Amber Valletta), who only sees Albert as one of her corporate accountants.
Just as Hitch embarks on his latest mission, he encounters gossip columnist Sara Melas (Eva Mendes), who totally rearranges his mental Feng Shui. It's at this juncture that Hitch reaches its potential, drawing laughs from not one but three different sets of unions: Albert and Allegra, Hitch and Sara, and funniest of all, Hitch and Albert. Watching Smith and James (The King of Queens) go through the motions is a hoot, especially when it comes to the more delicate matters of the heart.
Writer Kevin Bisch finds plenty of humor in the premise, and even though he uses shorthand to get the ball rolling, never shortchanges the characters or their motives. Even when the script veers towards slapstick comedy, it never feels like a cheat. Instead, the actors make these moments their own, allowing us to embrace rather than reject the silliness.
When Hitch isn't being silly it's actually quite smart. The film has a lot to say about the condition of the human heart, and why someone like Hitch exists. He's slick and effective, something Hitch lacks when the tables are turned. Eva Mendes (Stuck On You) is a real sport as Sara, who literally turns the doctor into a babbling patient. Smith rarely portrays characters that lack confidence, and watching him trying to hinder Hitch's slide is quite engaging.
James is equally effective and sincere, making us believe not only can someone like Albert win the heart of someone like Allegra, he deserves to. Likewise, Amber Valletta equalizes the rich bitch socialite role with a sympathetic nod, turning a caricature into flesh and blood person. A lot of romantic comedies are played so broad it becomes impossible to identify with or invest in the characters. We not only like these characters, we want to see them succeed. Hitch doesn't deal with life or death situations, and it won't solve the world's problems, but as lightweight entertainment, it floats like a butterfly and stings like, well that was another Will Smith movie.
Director Andy Tennant must moonlight for Hallmark Cards. Hitch joins such Tennant Valentines as Sweet Home, Alabama and Ever After, and with few reservations, arrives first class. Valentine's Day may be over, but where there's a Will…
The Doctor is In
Smith Hitches Star to Romantic Comedy
HITCH
Will Smith, Eva Mendes, Kevin James, Amber Valletta, Michael Rapaport, Adam Arkin. Directed by Andy Tennant. Rated PG-13. 118 Minutes.
$7.00