High Fidelity DVD
"High Fidelity" begins with John Cusack's character, Rob Gordon, asking which came first,"the music or the misery?" It's rare for a film to speak with such a distinctive voice. "High Fidelity" is that rarity, a film so honest and real you feel like you've accidentally stumbled into someone's life.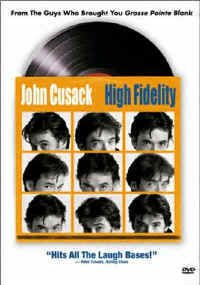 "High Fidelity" spoke to me like "The Big Chill" spoke to the generation before mine. As a baby boomer, I not only recognized the characters in the film, I identified with them. Hell, I was them, or parts of them. I saw a lot of myself in "High Fidelity," and how refreshing to realize that I'm not alone.
First and foremost, "High Fidelity" benefits from a brilliantly observant script by Cusack and his co- writing buddies from "Grosse Pointe Blank," D.V. DeVincentis and Steve Pink. Along with some help from writer Scott Rosenberg, the guys have fashioned a script that is both funny and touching. They take a lot of chances, all of which pay off under the guidance of director Stephen Frears.
Frears understands the connection between people, and helps the actors connect with the inspired dialogue. Under his direction, they deliver performances of uncommon depth. Anyone over 30 will empathize with Gordon, who owns a used vinyl record store in Chicago, and is just breaking up with his current girlfriend Laura (Swedish actress Iben Hjejle, putting most of her American counterparts to shame).
The break-up provides Gordon the opportunity to reflect on his past relationships and why they failed. One of the film's conceits is that Gordon addresses these issues looking directly at the camera. It's a tricky device that works here because the director and the actor make us feel like we're part of the action. Instead of taking away from the film, these moments actually add to the enjoyment level.
So do the constant top five lists Gordon and his record store employees Dick (Todd Louiso) and Barry (Jack Black) rattle off whenever the mood hits them. This is a clever device as it allows us to peek into the psyche of the characters without loading us down with windy speeches or excess baggage. When a character's father dies, instead of feeling sad, the guys instantly whip off their favorite top five songs dealing with death.
There is a lot going on in "High Fidelity," but the film's best moments happen in Gordon's record store, where they only deal in originals and not re-issues. The record store is as much a character as Gordon and the rest. It lives and breathes, and exudes a charm all its own. It's only appropriate that the action that takes place inside is just as lively.
When they're not feuding, Gordon, Dick and Barry delight in embarrassing customers who defend their sensibilities. Not only does one customer's request for a syrupy Stevie Wonder song set Barry off, it incites him to rattle off a top five list of sell-out artists. Anyone who lived through those times will find the humor in the situation.
Like Gordon's current state of mind after his break-up, the film and script are very reflective. It is obvious that the writers have been through all of this. There is truth in every word, and even though the film is extremely funny, the humor comes from the truth of the situation. Not once does Frears stretch to capture a comic moment. Instead, he and the cast understand the irony of the script and exploit its potential.
There's plenty to enjoy in "High Fidelity," including a terrific cast of performers.
John Cusack has never been better. He obviously writes from experience, and uses those experiences to show us a character who is more than convention. There are many layers to his performance, and Cusack masterfully unmasks each one. He uses his sad sack, bad puppy look to great advantage. You immediately sense you're in the company of someone who is at a crossroad in his life.
Jack Black and Todd Louiso emerge as the new Laurel and Hardy. Black is the big, loud one, who constantly berates everyone, while Louiso is the small, silent type who only wants to please everyone. As Barry and Dick, Black and Louiso are outstanding. They play off each other and the rest of the cast so well that I wanted to see a movie about them.
Black, one-half of the outrageous musical duo Tenacious D, is a stand-out as Barry, whose abrasive behavior is hysterical. There's always a point to his madness, and when he finally gets a chance to shift gears, the trip becomes even more enjoyable. Louiso is absolutely precious as Dick, almost a wisp of a man. Louiso is so good, you feel the need to protect him.
Hjejle, who just amazed me with her flawless performance, is in good company. "High Fidelity" features earthy performances from a number of great actresses, including Lili Taylor, Catherine Zeta-Jones, Sara Gilbert, Joan Cusack, Lisa Bonet and Natasha Gregson-Wagner. They play the women who filter in and out of Gordon's life, and each one leaves a memorable presence.
"High Fidelity" reminded me of some of Frears' best work, including "The Snapper" and "My Beautiful Launderette," two films that showcased the director's strengths. Those strengths are apparent in "High Fidelity," which I loved so much I wanted to go up in the projector booth and take the film home with me.
COMPLETE CHECK-UP
VISION: Good

1.85:1 Widescreen

16:9 Enhanced
Good but not spectacular digital transfer is a little grainy at times, but not enough to deter a purchase. The rest of the transfer looks great, with handsome flesh tones, good color saturation that never bleeds or fades, and good depth of field. Attention to detail is okay by not definitive, while blacks are solid most of the time.
HEARING: Excellent

5.1 Dolby Digital Surround English
Excellent 5.1 Dolby Digital Surround soundtrack perfectly conveys the rock and roll heart of the film. The dialogue mix is solid, but it's the musical cues that pump life into the speakers. Front sound field is strong, with obvious stereo separation. Basses are light, but middle and high ends are clean and purr. Surround effects are relegated to musical cues, as are rear speakers. Outstanding effort shows how dynamic music can be without sacrificing the ambient noise and dialogue tracks.
ORAL: Good

Closed Captions in English for the Hard of Hearing

Subtitles in Spanish
COORDINATION: Excellent

Filmed interviews with director Frears and star Cusack, each about fifteen minutes long, and divided into five segments. While the interviews are timeless in coordination with the film, the presentation is a little off. You have to each segment in order to enjoy the whole interview. Some DVDs have a button that plays all chapters so you don't have to keep clicking. The interviews are filled with all sorts of interesting tidbits, and run about 30 minutes combined.

Nine deleted scenes that actually enhance the film. Most deleted scenes are deleted for a reason, and end up on DVDs as a selling tool. The deleted scenes here are priceless. There are more cameos and greater insight. Sure, they might have made the film longer, but they're not supplements. They're vital links to the story.

The film's theatrical trailer

Handsome main and scene access menus
PROGNOSIS: Excellent

One of the best films of the year looks good and sounds great on DVD.
VITALS:

$29.99/Rated R/114 Minutes/Color/29 Chapter Stops/Keepcase
ATTENDING RESIDENT: John Larsen
PATIENT: HIGH FIDELITY
BIRTH DATE: 2000
HMO: Touchstone Home Video