Hidalgo
Riding high in the saddle, Viggo Mortensen leaps from one epic adventure (The Lord of the Rings) to another, and while there may be initial interest in this larger-than-life tale of heroism and survival, most audience members will experience a case of Deja Vu. That's because "Hidalgo" borrows more than it births, creating an exciting yet extremely familiar film.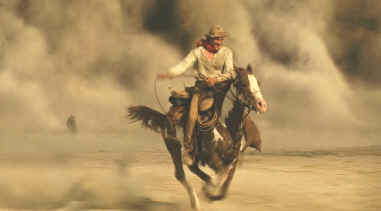 "Hidalgo" awkwardly arrives after "Seabiscuit," also based on a true story. The problem with "Hidalgo" is that "Based On a True Story" are merely catch words and have nothing to do with the truth. Writer John Fusco (Young Guns) has padded the resume of wild west show rider Frank T. Hopkins to the point of embarrassment, manufacturing a troubled yet colorful hero who is too good to be true.
In real life, Hopkins was a marginal player, but in "Hidalgo," he's a bronze God, a stoic rough rider who forms an alliance with his horse to save face by winning a grueling 3,000 mile race across the Arabian desert, or Ocean of Fire as the locals call it. In real life, the race never happened. "Hidalgo" is set in 1890. The first land crossing of the Arabian desert wasn't accomplished until the 1930s.
The filmmakers and advertising department could have saved themselves a lot of headaches by making "Hidalgo" an original story that doesn't have to stand up to historical scrutiny. It's more of an adventure, a throwback to those great desert melodramas where danger lurked around every sand dune.
Indeed, Fusco and director Joe Johnston (October Sky) force Hopkins and his trusted mustang to jump through numerous hoops, including outrunning a dust storm right out of "The Mummy," romancing the daughter of a vengeful Sheik (Omar Sharif), and staying two lengths ahead of the pack and deadly assassins. The result resembles "The Black Stallion" with a visual effects make- over.
Without Mortensen, "Hidalgo" would be little more than an expensive Saturday morning serial: one close call after another, a pre-determined ending and instantly recognizable villains and heroines. Johnston makes every effort to keep "Hidalgo" running at a full gallop, but the drama stops the forward momentum dead in its tracks. These moments are intended to add dramatic ballast to what is essential a chase film. They're unnecessary.
You would think that playing loose with the facts would make the filmmaker's job easier, but they use the freedom to stuff the script with unnecessary pit stops. Less would have made this a horse of a different color.
Ride Like The Wind
Facts are just a mirage in desert horse race
HIDALGO
Viggo Mortensen, Omar Sharif, Zuleikha Robinson, Louise Lombard, Adam Alexi-Malle. Directed by Joe Johnston. Rated PG-13. 136 Minutes.
LARSEN RATING: $4.00