Henry: Portrait of a Serial Killer
"Henry: Portrait of a Serial Killer" almost didn't get made. It's existence was the result of a bad video deal. When the owners of MPI Video refused to pay a higher price on some wrestling video than they had previously negotiated, they found themselves sitting on a nice chunk of change.
Instead of re-invest in back into the video business, they asked an associate named John McNaughton if he would like to make a film with the reserve.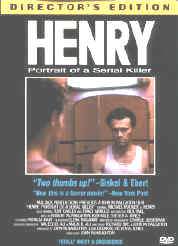 Inspired by a television news program about serial killer Henry Lee Lucas, McNaughton and co-writer Richard Fire set out to make a horror-thriller about Henry.
Armed with $100,000, an eager crew, and actor Michael Rooker (who would later go on to semi-success in Hollywood in films like "Cliffhanger" and "Mallrats"), McNaughton made what would become one of 1990's most controversial films. Told in unflinching, semi-documentary style, "Henry" both fascinated and repulsed audiences. More than 30% of the audience at the Telluride Film Festival walked out of the screening. McNaughton's original cut garnered an "X" rating by the MPAA for "disturbing moral contact.
" It was a first for a film, a first for MPI, and an auspicious debut for McNaughton, who would go on to direct such mainstream films as "Mad Dog & Glory" and "Wild Things." As played by Rooker, Henry is one of the most disturbed characters on the screen since De Niro's Travis Bickle in "Taxi Driver." He kills randomly just for the thrill of killing. We learn that he had a bad childhood, and that he killed his mother because she was a "whore." Obviously Henry has issues to deal with, but instead of seeking therapy, he and his former cell mate from prison Otis (a very creepy Tom Towles) go out and kill people.
It's not just a job, it's an adventure for these two. Tension grows when Otis' sexy sister Becky (Tracy Arnold in the film's only sympathetic performance) comes to stay with them. Becky finds herself attracted to Henry, which is a bad thing. Sexual tension makes his anger even worse. Shot in and around Chicago, "Henry" explores the underbelly of man with a twisted sense of humor. The film's most disturbing images are those caught by Henry and Otis on a video camera as they slaughter a family. It's cinema verite at it's most extreme.
McNaughton shows a lot of courage and talent in "Henry." He dares to draw us into a dark and gritty world and convince us to stay for more than two hours even though we know the payoff isn't going to be pretty. Rooker, in his first major role, is excellent as Henry. He has that Ted Bundy thing going on. "Henry" Portrait of a Serial Killer" isn't as vicious as some current films, but it is equally disturbing.
COMPLETE CHECK-UP
VISION: [ ] EXCELLENT [ X ] GOOD [ ] RESUSCITATE [ ] D.O.A.
Presented in full-frame rather than widescreen, the digital transfer is strong and solid. Some minor compression artifacts dot the landscape every now and then, but the colors are vivid, the flesh tones natural and the blacks solid. I doubt that a widescreen transfer would have made a difference, but then again, isn't that the whole point of DVD versus Video?
HEARING: [ ] EXCELLENT [ ] GOOD [ ] RESUSCITATE [ X ] D.O.A.
The big oops! The Dolby Digital Stereo track is okay, except for one tiny, insignificant thing: the dialogue track is off one-millisecond. Just enough so that their mouths almost match but not really. Either I got used to it around chapter nine or it cleared up, because from that chapter on the dialogue matches. Other than that, the soundtrack is pretty decent. Crisp, clear and nicely mixed. The rear speakers don't get much action except for the occasional whiff of the musical score. Then there's that lip-synch problem that could probably only be appreciated by fans of Japanese "Godzilla" movies or if you're three sheets into the wind.
ORAL: [ X ] EXCELLENT [ ] GOOD [ ] RESUSCITATE [ ] D.O.A.
Subtitles in English, French and Spanish.
COORDINATION: [ ] EXCELLENT [ X ] GOOD [ ] RESUSCITATE [ ] D.O.A.
The Director's edition features a 30-minute documentary where director/co-writer John McNaughton recalls his glory days in video before making the leap to film with "Henry." There's some valuable background information here, but mostly it's just a narrated bio. There's also trailers for this film and the sequel, plus interactive menus, scene access, cast filmographies, and behind-the-scenes notes.
PROGNOSIS: [ ] EXCELLENT [ ] GOOD [ X ] RESUSCITATE [ ] D.O.A.
If it wasn't for the lip-synch problem, I'd be all over this DVD like flies on a rotting corpse. Instead, I'll just buzz off.
VITALS: $24.98/Not Rated/105 Min./Color/16 Chapter Stops/Keepcase/#DVD7382
ATTENDING RESIDENT: John Larsen
PATIENT: HENRY-PORTRAIT OF A SERIAL KILLER
BIRTH DATE: 1990
HMO: MPI Home Video