Heathers
Someone once asked me to describe bad taste, and I told them that it was when someone switched the brownies with dog crap. To me, that's bad taste. I can find humor in almost any situation, it doesn't matter to me. I did stand-up comedy for several years, and only twice did I catch myself saying something that even shocked me. It seems I lost the little mechanism in my head that's supposed to stop the flow of thought before it escapes.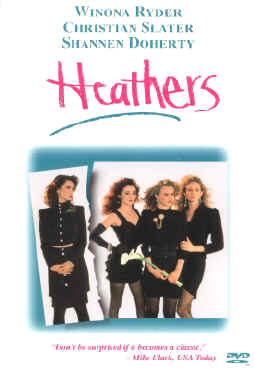 That means I have no problem telling a dirty joke in a crowded room. I know and understand tact, but I also like watching people's faces when I catch them off guard. Most of the time their reaction is one of laughter (even embarrassed laughter), but occasionally you get a reaction that is priceless. I like people with a sense of humor, and rest assured, I don't go out of my way to offend or embarrass people.
I've actually settled down some in the past couple of years (age and gravity does that), but I still like a good dark comedy. That's why it was a real pleasure to revisit "Heathers," a comedy so potent that it doesn't feel 10 years old. Every time I see "Heathers," it makes me laugh – a lot! It's a scathingly funny look at high school as seen through the eyes of Veronica Sawyer (Winona Ryder), who desperately wants to be a "Heather," a popular group of girls led by Heather Chandler (Kim Walker, appropriately bitchy). Veronica is so desperate that she's willing to be used as a croquet target and dismiss her previous friends. Along with Heather Duke (Shannon Doherty) and Heather McNamara (Lisanne Falk), the Heathers rule the school.
They are the envy of the jocks, and the nerds look up to them with disdain. Veronica's desire to be a Heather doesn't stop her from befriending new student Jason Dean (Christian Slater doing his best Jack Nicholson), a loner with a real edge. Dean's demeanor turns on Veronica, who finds herself being drawn to the bad boy. It's not long before Dean convinces Veronica that the Heathers are nothing more than a parasite, and tricks her into killing Heather Chandler with some drain cleaner. No problem. Veronica whips up a suicide note in Chandler's handwriting, and the problem is solved. Not really, because Chandler's flowery suicide note makes her more popular than ever. Before they are done, Jason and Veronica end up taking out two football players who started a nasty rumor about Veronica. Fed up with Jason's fervor for killing, Veronica breaks up with him, sending him into a rage that ultimately ends with an explosive finale.
It would all be so morbid if it weren't for the razor sharp screenplay by Dan Waters, who makes it all grand fun for those willing to accept the film on its own level. Director Michael Lehmann does a superb job of making us care about all of this, even when it gets way out there. What grounds the film is Winona Ryder's outstanding performance. Even during her attempts to please the Heathers, you always sense that Victoria is smart enough to see the light. Smart and hip, even ten years after it's release, "Heathers" is a lot of fun when taken with a grain of salt and a twisted sense of humor.
COMPLETE CHECK-UP
VISION: [ X ] 20/20 [ ] Good [ ] Cataracts [ ] Blind
Outstanding 1.85:1 widescreen transfer, featuring excellent color saturation and industrial strength blacks. The images are sharp and impressive, with outstanding depth of field and attention to detail. Flesh tones are flattering, while I didn't notice hardly any compression artifacts. A clean original negative provides for a smooth, sharp image. Excellent job, Anchor Bay.
HEARING: [ ] Excellent [ X ] Minor Hearing Loss [ ] Needs Hearing Aid [ ] Deaf
The Dolby Digital 2.0 Stereo soundtrack is good but not spectacular. There's nothing wrong with it, it's just not definitive. It's effective, with clear, strong dialogue and unobtrusive low and high ends. The music sounds sensational, but there isn't much going on in the stereo mix. Every now and then you'll get some music out of the rear speakers, but that's about it. There's hardly any ambient noise, which isn't a deal breaker, but the soundtrack never seems to realize its full potential. No noticeable hiss or distortion.
ORAL: [ ] Excellent [ ] Good [ X ] Poor
No subtitles or closed captions.
COORDINATION: [ ] Excellent [ X ] Good [ ] Clumsy [ ] Weak
The usual, standard issue main and scene access menus, and the film's original theatrical trailer. There is a nice but not spectacular featurette on the film with interviews of the cast and some behind-the-scenes stuff. It's more of a publicity piece than a behind-the-scenes look at the film.
PROGNOSIS: [ ] Excellent [ X ] Fit [ ] Will Live [ ] Resuscitate [ ] Terminal
This is one high school clique that clicks on DVD.
VITALS: $24.98/Rated R/119 Minutes/Color/26 Chapter Stops/Keepcase/#DV10672
ATTENDING RESIDENT: John Larsen
PATIENT: HEATHERS
BIRTH DATE: 1989
HMO: Anchor Bay Entertainment