Hearts in Atlantis
When I was a young boy, everyday seemed like an eternity. My mother always used to tell me to enjoy it, because when you're older everything goes by so fast. How true. The older I get, the more nostalgic I become over my youth.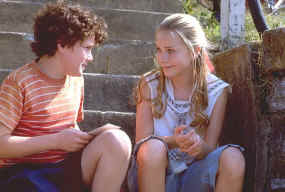 Like "Stand by Me," the film adaptation of Stephen King's story "The Body," "Hearts in Atlantis" is at its best when it deals with fond recollections and trips down memory lane. Based on not one but two stories by King, "Hearts in Atlantis" feels equally divided.
One story is about a brave boy named Bobby Garfield, who discovers growing up in small town Connecticut in the 1950s comes with both happiness and heartbreak. The other story is about a stranger who comes to town, trying to stay one step ahead of a group of mysterious men.
The screenplay for "Hearts in Atlantis" was written by William Goldman, the Oscar-winning screenwriter who adapted King's "Misery" for the big screen. Even though Goldman's script captures the wonderment and innocence of young love, a first kiss, and that giant leap from boy to man, it fails to reconcile major plot threads in a satisfying manner.
Like the characters, we're left wanting. Most problematic is Goldman's juggling act of trying to keep two different stories in rotation without dropping the ball. He fails. Instead of getting one solid film, we get a film that can't make up its mind what it wants to be.
"Hearts in Atlantis" reminded me most of director Rob Reiner's "Stand by Me." It begins with a modern day revelation (the death of a childhood friend) that brings the main character back home where he's overwhelmed by waves of nostalgia. In "Stand by Me," the character was played by Richard Dreyfuss.
The fine actor David Morse ("The Green Mile") plays Bobby Garfield, the link to the past in "Hearts of Atlantis." When a childhood friend dies, Bobby returns to his old stomping ground. More bad news sends Bobby drifting back in time to the 1950s, where he and his self-absorbed mother Liz (Hope Davis at her most distant) tried to make ends. Liz was an unhappy person, blaming everyone and everything for her rotten life.
She tells Bobby that his deceased father is the cause of all of their problems, forcing Liz to take a token job at a real estate office. To Liz, Bobby is nothing more than a reminder of the doomed relationship. Money is tight, but she has no problem spending money on expensive dresses. Bobby even forgives her when she gives him a library card for his birthday instead of the bicycle he so desperately wanted.
Bobby's luck begins to change when Ted Brautigan (Anthony Hopkins), a kind, older man rents the upstairs apartment in their boarding house. Like all men, Liz doesn't like Ted, or the fact that Bobby spends so much time with him. Can you blame Bobby? With his eyesight failing, Ted has agreed to pay Bobby one dollar a week to read the newspaper to him.
Bobby could sure use the money. Not only does he have his sights set on the bicycle of his dreams, he also has his eyes set on the girl of his dreams. She's Carol (Mika Boorem), one of two friends Bobby hangs out with. The other is Sully (Will Rothhaar), who also has a thing for Carol.
Anton Yelchin is amazing as young Bobby, a boy who looks for the silver lining even though he knows it's going to pour. It's a difficult performance, one that requires more than reading lines and hitting a mark. Yelchin shows uncommon maturity for an actor of his or any age. He inhabits every scene with honesty and believability. Yelchin's performance is so truthful Bobby instantly becomes real to us.
Sir Anthony Hopkins has some fine moments as Ted, a man who carries more baggage than what he arrives with. The moments between Hopkins and Yelchin are some of the films best, a surrogate father-son relationship that blossoms right before our eyes. Goldman's screenplay hits a high note with Ted's recollection of football game that also had meaning to Bobby's father.
Up until this moment, "Hearts in Atlantis" is warm and inviting. Then things take a dark turn, and before either director Scott Hicks ("Shine") or Goldman can do anything, the film falls apart. Bobby learns that Ted has psychic powers, and is on the run from a group of shadowy figures. Interesting idea, one that is never fully realized by director and writer.
The heart of the film is the domestic drama that evolves between Bobby, his mother, Carol and Ted. Everything else, especially when it feels more like filler than flesh, is a distraction. The sub- plot is so thin and artificial that it fails to generate any suspense when the shadow men close in on Ted.
These moments should be as suspenseful as the first kiss on the Ferris wheel between Bobby and Carol is magical. Director Hicks really connects with his child actors. Whenever Yelchin and Boorem ("Along Came a Spider") share the screen time stands still.
Liz is a one-note character, yet Hope Davis plays her with incredible range. We suspect that under all of that hostility and anger, she really loves Bobby. It takes an ugly act of violence for Liz to open her eyes, and Davis makes the character's transformation believable.
Hicks has made a beautiful film, one that perfectly evokes another time and place. I understand the filmmaker's decision to underplay key plot points, I just don't accept them. Hicks and Goldman make us care about these characters and then abandon them to an uncertain fate. The characters and the audience deserve better.
THAT SINKING FEELING
Hearts in Atlantis is warm but way too fuzzy
HEARTS IN ATLANTIS
Anthony Hopkins, Anton Yelchin, Hope Davis, Mika Boorem, David Morse. Directed by Scott Hicks. Rated PG-13. 107 minutes
LARSEN RATING: $4.00