Halloween H20: 20 Years Later DVD
When I was a teenager and anxious to take on the world, my mother would always tell me, "Slow down, because when you get older, everything goes so fast." Yeah, right.
So here it is, the 20th anniversary of John Carpenter's "Halloween," and I'm scratching my head, wondering here the last 20 years of my life went. Well, most of it was spent in movie theaters watching movies like "Halloween."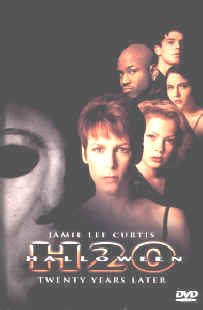 Even though "Halloween" helped kick-start the slasher horror film genre, it was an exception to the rule. The body count was high, but there was very little blood. That honor went to "Friday the 13th" two years later. "Halloween" director John Carpenter created suspense with shadows and music.
"Halloween" went on to become one of the highest grossing independent films ever made, and launched the careers of Carpenter and star Jamie Lee Curtis. It spawned a franchise that included one official sequel and several unofficial follow-ups. Curtis starred in the first two films, and became a late 1970's silver scream queen.
Curtis was a freshly scrubbed teen when she was picked to star as Laurie Strode, the long, lost sister of maniacal killer Michael Myers. The first two films dealt with Laurie's struggle to stay one step ahead of Myers, who has escaped from an insane asylum to torment his sibling and her friends on "Halloween." It's been seventeen years since "Halloween II," and not much has changed for poor Laurie and determined Michael.
"Halloween H20: 20 Years Later" is what they call an official sequel. It pretends that chapters 3-7 never happened. That was some "other" Michael Myers (actually, "Halloween III: Season of the Witch" had nothing to do with the original film).
Jamie Lee Curtis returns as Laurie Strode, now a single mom and headmistress at a quaint Northern California boarding school. She's changed her name to Keri Tate, and tries to put the past behind her. It's tough, especially since Halloween is right around the corner. Laurie's nightmares and paranoid behavior have turned her into a "functional alcoholic" with a medicine cabinet that would put most pharmacies to shame.
She gets help from her understanding son John (Josh Harnett), who desperately wants to get on with his life., and school counselor Will (Adam Arkin), who doesn't realize who he is dating.
Back in Haddonfield, Illinois, Michael Myers has struck again. While searching the office of the psychiatrist played by Donald Pleasance in the first two films for clues about Laurie, Michael kills a nurse and two teenage boys living next door. Then he's on his way to California for fun in the sun and slicing and dicing by the slight of the silvery moon.
The writers, Robert Zappia and Matt Greenberg (with a polish by "Scream" writer Kevin Williamson) carefully orchestrate a series of events that empties the gated school except for Laurie, Will, the security guard (L L Cool J), and unbeknownst to Laurie, her son and three of his friends (including two girls).
What I really loved about this film was the filmmaker's ability to get in, get the job done, and then get out. At just under ninety minutes, "Halloween H20" is nice and tidy.
The private school angle is perfect for a showdown between Laurie and Michael. There's lots of long, dark hallways with billowing curtains, and shadows everywhere you look. Cinematographer Daryn Okada does a splendid job of making everything look eerie and foreboding.
Director Steve Miner, who took over the "Friday the 13th" franchise from Sean S. Cunningham, delivers the goods with "Halloween H20." He has made the film both spooky and fun, with lots of close calls and false alarms. When Laurie and Michael finally face off, the film moves with the speed of light.
I've always liked Jamie Lee Curtis. Sure she's a babe, but she's also a smart babe. She mixes sexuality with smarts to create characters that are more than your usual one-dimensional props. Here, she's all brains and sinew. Laurie Strode is no longer a victim, but a woman desperate to face up to her nightmare and end it once and for all. She has an axe to grind, and Curtis carries it with authority and determination.
Adam Arkin is okay as the good natured counselor who can't understand why Keri (Laurie) is always so tense and nervous. He's especially good during the moment Laurie spills her guts.
The teen actors are fine, especially Josh Harnett as Laurie's son. With a youthful Tony Perkins quality, Harnett is the voice of reason in the film, and redeems himself nicely.
As a kick, the film features Janet Leigh as a school secretary. Leigh is Curtis' mom, and the star of "Psycho." The car she drives away in is the same one she drove in that classic Hitchcock thriller. If you listen closely, you can hear a small strain of Bernard Herrmann's traveling music from "Psycho" in the background.
Fans of "Halloween" will be thrilled with this installment. It's a kick, with all of the pre-requisite pieces in place and used to their full advantage. Newcomers to the series will find plenty to appreciate, including a strong performance from Curtis, and some honestly frightening moments.
COMPLETE CHECK-UP
VISION: Excellent

2.35:1 Widescreen

Wow! What a great transfer. Even though it is not enhanced at 16:9, the transfer is absolutely marvelous. Sharp, distinct colors with excellent saturation are just the beginning. The flesh tones are realistic, while the earth tones are warm and inviting. Reds and blues are extremely hot, providing nice contrast to the mellow yellows and soothing greens. Depth of field is dramatic, with vivid attention to detail. Blacks are strong and dependable, while a pristine negative allows for terrific whites and shadows. No compression artifacts.
HEARING: Excellent

5.1 Dolby Digital Surround

Creepy, full-bodied 5.1 Dolby Digital Surround soundtrack. Excellent ambient noise fills the room from every speaker. Stereo split, both left and right and front to rear, sound authentic. Basses are strong and powerful, while high ends are clean. Rear speakers are constantly pounding out information, including music and dialogue cues. Surround effects are extremely effective, keeping you on the edge. Dialogue mix is excellent.
ORAL: Good

Closed captions in English for the hard of hearing.
COORDINATION: Okay
Here are the extras on the DVD:

"Unmasking the Horror," a 30-minute documentary examining the longevity of the "Halloween" film franchise. There are interviews with creator-director John Carpenter, star Jamie Lee Curtis, the cast of the new film, plus director Steve Miner and "Scream" writer Kevin Williamson. Unfortunately, the documentary never goes beyond the obvious and becomes nothing more than a promotional tool for the film. There are no outtakes, deleted scenes or behind-the-camera shots to satisfy fans of the film.

A music video. I don't know who the band is. They aren't credited.

A so-so trivia contest. You answer correctly and Laurie knocks out Michael Myers with a fire extinguisher. Get the answer wrong and a character gets stabbed in the leg. Answer all of the questions correctly and Laurie decapitates Michael. That's it! No real payoff like bloopers, or a deleted scene.

Pedestrian main and scene access menus.
PROGNOSIS: Will Live

While the movie looks great on DVD, there isn't enough here to justify a Collector's Series disc.
VITALS:

$34.98/Rated R/86 Minutes/Color/13 Chapter Stops/Keepcase/#16785
ATTENDING RESIDENT: John Larsen
PATIENT: HALLOWEEN H20-COLLECTOR'S SERIES
BIRTH DATE: 1998
HMO: Dimension Home Video